Rocketfish Wireless Rear Speaker Kit Review
Rocketfish Wireless Rear Speaker Kit
Summary
Product Name: Wireless Rear Speaker Kit
Manufacturer: Rocketfish
Review Date: October 04, 2007 21:27
MSRP: $ 99.99
Transmitter
Audio Input: 10Vrms max input into 6.6kohms
Input Connections: Connections: Spring clips
Audio Output (wireless): Stereo 16-bit, 48kHz uncompressed wireless; 1.465Mbps (2Mbps raw)
Transition Delay: 15-20ms (use receiver to adjust/shorten delay)
Frequency: 2.4GHz
Receiver
Audio Input (wireless): Stereo 16-bit, 48kHz uncompressed; 87dB SNR; 0.4% THD (at 1kHz output 2Vrms)
Audio Output: 2 x 25Wrms into 4-ohms
Output Connections: Spring clips
THD: <10%
Amplifier: High-efficiency Class-D
Transition Delay: 15-20ms
Power Supply: 120VAC ~60Hz
Power Consumption: 15W
Dimensions (transmitter): 4.125" x 3.375" x 0.875"
Dimensions (transmitter): 8.75" x 6.375" x 1.75"
Supplied Accessories: Stand for vertical mounting the receiver, AC power adapter for sender unit, Two 2-foot 20-gauge speaker cables (unterminated), User Guide
Pros
Consistent sound with no dropouts
Eliminates need for surround speaker wiring
Inexpensive
Cons
Amplifier sounds "thin"
Midrange recessed
Not terribly loud (better with efficient speakers)
Spring clips don't work with most terminated speaker cables
15-20ms delay (drifting)
Gear Corner Review
There are a lot of people out there who have surround sound systems but haven't yet connected their surround speakers. Why? They can't figure out how to run the cabling for their surrounds – or they simply don't have the time. After all, it takes attic or crawl-space access, some general skill and a little bit of effort to do it right. For those holding out, this wireless system by Rocketfish just might be the solution to bring those people into the fold of 5.1 surround bliss. Wireless surround speakers have always been a big deal. It's certainly a lot easier to locate a power outlet than it is to run cabling over, under or around an entire room – especially if you have vaulted ceilings and a slab floor. For those people wireless may be the only practical solution. With that said, we wanted to try out Rocketfish's take on the issue and see if it held up to our rigorous use.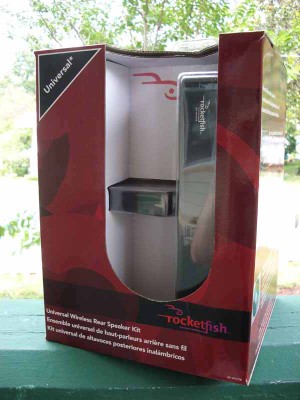 Build Quality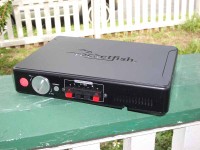 Build quality is always important to me. It's a real quick way to assess the quality of a product and determine how it might perform once everything is properly connected and configured. In this case my first impression was that Rocketfish cut some corners – but they also dropped the cost of entry so low I found it hard to complain. OK, for $99 it's almost impossible to complain. The transmitter unit is about the size of a couple deck of cards laid side-by-side. It's powered by a 5VDC adapter (included) and weights almost nothing. You feed the speaker-level inputs to the plastic spring clips of this unit via the included pair of 24-inch ~20-gauge speaker cables. The box feels cheap, but so do most wireless systems we've seen. I have yet to experience one targeted towards the serious home theater consumer – in a sense it's an oxymoron. If you were serious, I suppose you'd find a way to run the wires (or pay someone else to do it).
The receiver unit is where the "magic" happens. This box is larger, about the size of medium-sized hardback book and features the same spring clips (this time for speaker-level outputs) along with a volume dial and integrated power cord. Both units have red power buttons and the receiver has a large LED on the front that shows when it is powered on. While the transmitter is meant to be set on top of a table or your AV gear, the receiver can be oriented horizontally, vertically (using an included stand) or even wall mounted.
Setup and Use
The receiver states right on it that you can use speakers with impedance values of 4-16-ohms. We wanted to be rather tough on the system, so we connected it up to a pair of 8-ohm RBH Sound 61-SE/R speakers which we positioned in the room as surround speakers. These speakers have a sensitivity of just 87dB (1W/m) and I suspect most people will be connecting much smaller, easier-to-drive speakers the likes of which you see in many home theater-in-a-box systems which leave big box stores in droves each and every day.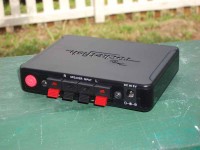 Setup is simple, but there were a few catches. The transmitter goes with your main equipment. The output for your surround speakers (taken from your receiver/amplifier) feeds the transmitter. This is a speaker level signal, so you won't use or require any preamp outputs. This is a good thing and opens up this product to even the most entry-level AV surround receivers in the marketplace. If you have a $199 AV receiver, you can use this system. After connecting the transmitter I plugged it in and made sure it was receiving its 5VDC power from the wall. I used the included cables because, well, they were included. I also quickly realized that no terminated speaker cables were going to stay in the cheesy plastic spring clips for long. Bare wire is your best bet. As long as you match your right and left you should be fine during this step.

For the wireless receiver you'll also want to use bare wire – or if your speakers come hard-wired you can use those cables. If you have Bose or some other brand that terminates into a funky connector you'll either need an adapter or a simple pair of wire cutters/strippers. Bottom line is that the positive and negative connections are easily identified on the wireless receiver and you can always use a AA battery to test your speakers to make sure they are firing in phase (the positive pushes the cones out.) Now realize that there is only one wireless receiver. This is a design flaw in my opinion, though I realize the costs would be higher otherwise. Since you have two surround speakers, it makes more sense to me that there should be two discrete amplifiers and receivers. There are a number of issues associated with this and I'm certain someone over at Rocketfish made an executive decision to keep the street price under $100. What this means to the consumer is that you'll be running your surround speaker wires from a unified centrally-located source. It's still not as bad as running them from the front of the room, but it could be better.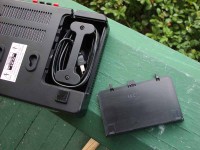 Once the speakers are connected, plug the unit into the wall (the cable is cleverly storable within the unit itself and you don't have to remove all of it if you're only going a short distance), power it up and prepare to send it signal. I always recommend starting with test tones. It will tell you if everything is functioning correctly and it allows you to set up your levels to make sure that the surround field is properly balanced. You'll want to almost max out the amplifier in the Rocketfish system so that you are using most of the amplification power allocated. At that point you can use the level setup system in your AV receiver to configure the proper levels from the front of the room. A RadioShack meter or similar will help you do this more accurately – especially if you aren't using the same speakers all the way around the room. One thing I found, by using an audio test disc, is that there is indeed a 15-20ms delay caused by transmission from the sender to the receiver. That's the rough equivalent of moving your speakers 15-20 feet away from you. With this in mind, note three things:
Most receivers allow for delay compensation, so you can "undercompensate" the delay for the surrounds to better take the existing delay into effect

Compensating for the extra delay to your surround speakers in a smaller room may cause the audio to be slightly offset from the video depending on how your AV receiver works

It is a perfectly acceptable compromise, in my opinion, to have a more excessive delay for the surround speakers. Of all the speakers in your system, that is where a 15-20ms delay would be least offensive
Placement of the Sender and Receiver
I had much less difficulty placing this system than I thought I would. They automatically linked up, so I never even had to use the 'Connect' buttons provided on each. Rocketfish gives no initial advice on placement of the receiver, but I suspect that in most cases the location will be determined by the loudspeakers and practicality, rather than what necessarily delivers the best reception. Still, try to keep the transmitter away from obvious sources of RF interference like large amplifiers or guys holding microwave ovens. I tested the receiver in my home by locating it about 50 feet away from the transmitter. It still played perfectly with not a single dropout. Rocketfish says they can pull up to 100 feet. I capped out at around 60, but I suppose there are conditions that would extend the range – for example, trying it on the International Space Station.
Listening Tests
I lived with the Rocketfish RF-WHTIB for a while and found it to be consistent. The sound was on the "thin" side, with no real oomph coming off of the meager 25W x 2 Class-D amplifiers. It had that generation-1 Class-D sound for those of you who know what I mean (I see you nodding your head over there). I listened to music first, wanting to get a good sampling of how it would handle a full range of instrumentation from Seal to Sting. To do this I simply flipped the wiring so that the system was powering the RBH Sound 61-SE/Rs as my primary left and right speakers. This mimicked what would occur should you decide to use the Rocketfish system as a way to power a second zone or extend audio to another part of your house. On the Seal IV tracks I felt as if it left some of the bandwidth home – lower midrange was where this was most obvious. While the transmitted signal was uncompressed (at least according to Rocketfish's specifications) the Class-D amp left out some of the detail I was used to hearing on these speakers – they are known particularly for their impressive and detailed midrange. These are high-end speakers, and it was my opinion that if I could get even mediocre performance off of these, then the typical home theater-in-a-box user was going to be darn near tickled pink.
Movies fared much better since most of the time the surrounds were utilized for effect and filling in the score. In general this system screams to be used for home theater. It is, after all, dubbed as a Wireless Rear Speaker Kit. Your surrounds are important, but they are hardly the most important speakers in your system and they get the least amount of work of any of the speakers (except, perhaps, the subwoofer). In either case I found the system to operate beautifully for surrounds. I watched several movies on the system, including Gladiator, Star Wars Episode III: Revenge of the Sith and The Incredibles. Whenever elements hit the surrounds the effect was complete and the room quickly filled. Fidelity was less discernible when evaluating movies but I can tell you that the effect was enjoyable and I think that is the exact goal of a product like this. Had it dropped out, fizzled or otherwise lost the integrity of the signal I would be telling a much different story. It did none of this and so I feel that it is a product that does what its designers set out for it to accomplish.
Recommendations
I have suggestions – but they all would classify as being part of a recommended "Level 2" product. For less than $100 I really can't fault anything about the Rocketfish Wireless Rear Speaker Kit – though if you are expecting it to replace a high-end amplifier in a wired second zone you may want to reconsider. Now, if they wanted to I think that a better, more powerful amplifier and more robust chassis with real 5-way binding posts would be a welcome "high-end" model that could fetch at least twice the asking price. I for one could easily see a market for also including dual receivers which could be located at each loudspeaker position. For many room configurations this will be the single thing that keeps people from purchasing this product.
Conclusion
If you can run wiring for your surrounds, do so. I highly recommend it. If, on the other hand, you already bought a surround system (perhaps last Christmas) and you still haven't set up those rear speakers, run to Best Buy and pick this system up. Bose has a similar system for $249. I'm sure it sounds just as good. But while $249 may give you pause, there is no good reason why, for $99, you shouldn't be listening to surround sound in your home. If at a later date you want to hide some wiring behind crown molding or around your baseboards great – but there is now no reason to forego surround sound in your home. Rocketfish hasn't left that option open to you.
Rocketfish Wireless Rear Speaker Kit
$99.99
Rocketfish
7601 Penn Avenue South
Richfield, MN 55423-3645
1-800-620-2790
The Score Card
At Audioholics Gear Corner we give you a quick but comprehensive look at consumer electronics from several different categories. All products in the Gear Corner have been individually evaluated through hands-on testing by our reviewers in order to give you a quick but detailed overview that we hope will help you in your purchasing decisions.
| | | |
| --- | --- | --- |
| The Price: | Bargain | |
| | About right | |
| | Pricey | |
| | | |
| --- | --- | --- |
| Drool Factor: | One drop | |
| | Dripping | |
| | You'll need a towel | |
| | | |
| --- | --- | --- |
| With This Gadget, You Will Be the Envy of: | Anyone who sees it | |
| | Your IT guy from work | |
| | Your buddies | |
| | The soccer mom down the street | |
| | | |
| --- | --- | --- |
| Is it Easy to Use?: | If you have a pulse | |
| | It helps to be a bit geeky | |
| | Not unless you are a rocket scientist | |
Confused about what AV Gear to buy or how to set it up? Join our Exclusive Audioholics E-Book Membership Program!