Fluance Ai41 Powered Bookshelf Bluetooth Speakers Review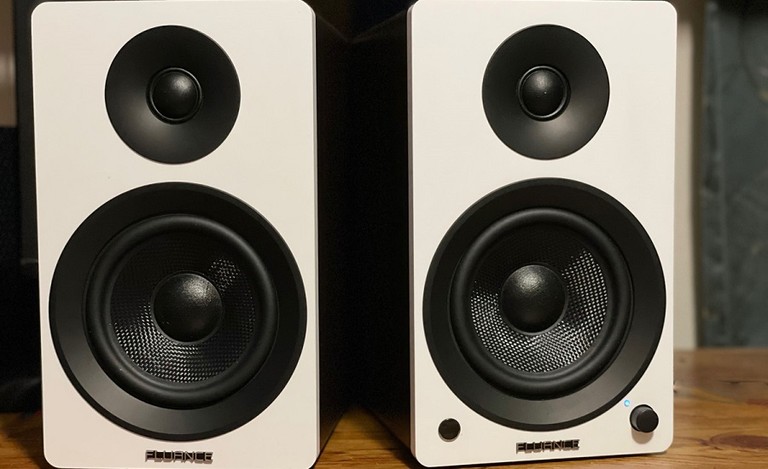 Fluance Ai41
Summary
Product Name:

Ai41 Powered Speaker System

Manufacturer:

Fluance

Review Date:

January 05, 2022 11:50

MSRP: $250
First Impression:

Gotta Have It!
Speaker Configuration 2 Way – 2 Driver Bookshelf Speaker System with Integrated Amplifier (Pair)
Enclosure Tuned Rear Port Bass Reflex Design Dampened
Bluetooth Yes; BT 5.0
Inputs RCA L/R, Bluetooth and Optical TOSLINK
Tweeter 1-inch Silk Soft Dome Neodymium Ferrofluid Cooled
Woofer 5-inch Woven, Glass Fiber Composite Driver with Butyl Rubber Surround
Amplifier Power Class D 90 Watts Continuous Average Output (2 x 45 watts RMS)
Frequency Response 35 Hz – 20KHz (DSP Enhanced)
Crossover Frequency 2800Hz Phase Coherent 12 dB/Oct – PCB Mounted Circuitry
Phono Preamp No
Subwoofer Output Yes
Dimensions (H x W x D) 10.9 x 6.5 x 7.6 inches / 27.7 x 16.5 x 19.3 cm

Speaker Weight Active Speaker: 8.52 lbs.
Passive Speaker: 7.44 lbs
Executive Overview
I've tested my fair share of Fluance products in my years at Audioholics and have thoroughly enjoyed most of them. In fact, I kept the pair of Ai40 powered bookshelf speakers sent to me in 2019 and I use them daily as my office speakers. At $149, I regarded them as one of the best deals around for high quality powered bookshelf and I've often referred people looking for a small sound system or computer speakers to the Ai40s. However, I was disappointed to see that they had retired the model last year. This year, Fluance upgraded their Ai line of powered speakers with their new Ai41 and Ai61 models, so I was thrilled when they offered to send me a pair of Ai41s for review.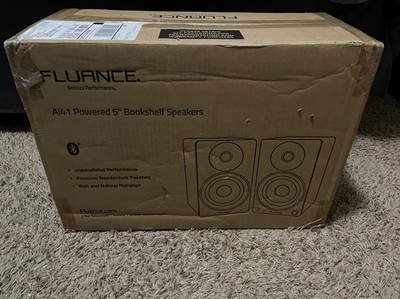 The Ai models from Fluance include both the Ai41, which comes with a 5" woofer and a 90-watt amplifier and a beefier Ai61 model which has a 6.5" woofer and a 120-watt amp. The Ai41s came in well packed in corrugated cardboard nestled in sturdy Styrofoam inserts. Included in the setup are a remote control, batteries, power cord and 8 feet of 18-gauge speaker wire. I was a little disappointed that Fluance didn't include an RCA to 3.5mm cable to connect an analog source like they did with their Ai40's, but I had extra cables, so it wasn't a huge loss.
After pulling the units out of the packing, I could immediately see that Fluance made some significant upgrades over the previous model, mainly with input options, but we'll get to that later.
How is the Ai41 different from the Ai40?
Power increased from 70 watts to 90 watts
Improved driver and audio performance - Addition of optical and subwoofer connections
Ported cabinet design
Upgraded to Bluetooth 5.0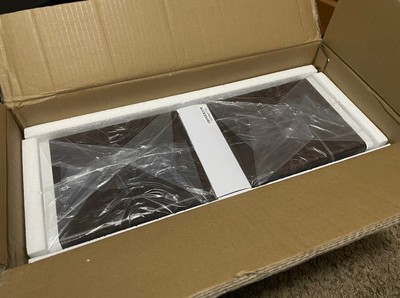 The Ai41 was well packaged in sturdy corrugated cardboard with foam inserts. No double boxing, but I found no damage when the Ai41 was unveiled.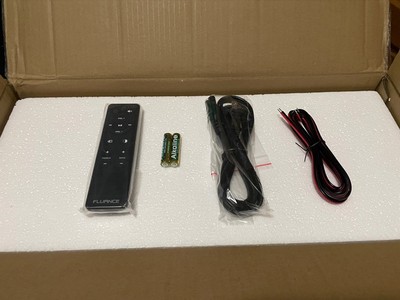 Remote control, batteries, power cord and 8ft of 18-gauge speaker wire are included in the box. Sadly, no 3.5mm to RCA cord.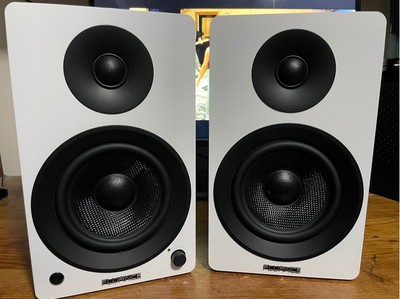 Fluance sent me the White Walnut finish. The Ai41 also comes in Black Ash, Black Walnut and White Bamboo. With four finishes to choose from, I am sure the Ai41 can easily find its way into any décor. The thick MDF (medium density fiberboard) gives a solid feel to the speakers; much better than cheap, highly- resonating plastic enclosures.  The solid build of the wood cabinet with curved edges is very similar to the Ai40, but with the walnut finish it feels a bit like kitchen cabinets from the early 80's. No grilles are offered and in that regard, none are needed. Why hide the beauty of the 1-inch silk soft dome ferrofluid cooled tweeters and 5-inch woven glass fiber composite drivers?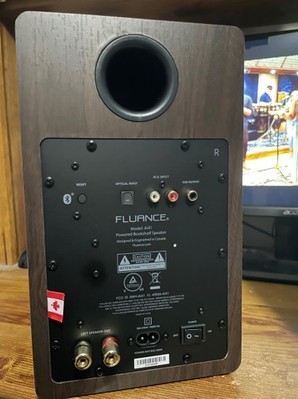 The back of the speaker shows the newly designed port. Fluance switched from a sealed configuration to a ported speaker. , and it is worth noting that opinions still greatly vary on which is better, sealed or ported speakers. For more information on the difference between them, read our article on Sealed vs Ported Loudspeakers: Which is Better?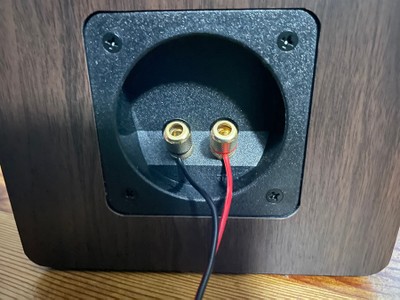 On the back of the active (right) speaker, you will also find the Bluetooth Reset Pairing button, RCA input, Left Speaker Output, DC Input and Power Switch. The Ai40 does come with high quality binding posts instead of the flimsier spring clips that you'll see on cheaper Bluetooth speaker pairs. I like that you have the option of using your own speaker cable if you have over 8' between the speakers. Many Bluetooth speakers come with proprietary cables that makes this impossible.
We like to think Audioholics reviewers influence the design decisions at audio companies. To that end, we said of the Fluance' Ai40 model, "Like other speakers in this price range it would have been nice to see a sub out and optical input for an easy-to-install, easy-to-use sound bar killer."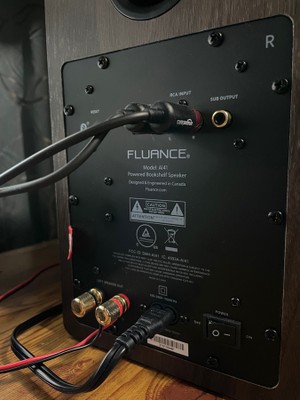 Good news! The new Ai41 comes with BOTH a sub out and optical input. This expands the usability of this speaker system. Now you can have everything from a simple, easy-to-connect pair of Bluetooth speakers, to a computer/gamer system, and even a true stereo 2.1 music or home theater system. The Ai41 still doesn't come with its own app for room correction or detailed equalization, nor will it decode Dolby Digital or DTS Audio, but the audio codecs and simple treble/bass EQ is enough for most people looking to use this as a ready-to-go system.
With an integrated 90W amplifier, these active speakers deliver a balanced sound with refined detail and clean, room-filling stereo sound that elevates your musical experience. High-performance tweeters produce an immersive stereo soundstage while providing spacious off axis dispersion, allowing you to hear beautifully expressed highs. Light and rigid 5-inch woven glass fiber drivers produce detailed midrange frequencies and clean, undistorted bass with stunning acoustic accuracy. Enjoy warm sound from the internally braced MDF wood cabinets, meticulously engineered to remove unwanted resonances with a rear bass port for full and natural bass. Easily connect to your audio source through RCA and Optical inputs or Bluetooth 5.0 for wireless streaming without the need for a separate amplifier or receiver and add more bass with the subwoofer out.
-Fluance

Listening Tests
In a side by side comparison with the older Ai40 I found that the sealed Ai40 had slightly more bass than the ported newer model. This doesn't mean that the Ai41 was completely devoid of bass. It had accurate low end which should satisfy all but the most devout bass heads. However, the addition of the subwoofer completely changed the dynamic of the system.
Bluetooth:
I connected an iPhone 12 Pro to the Ai41 speakers via Bluetooth. Using the Spotify app, I played a variety of music genres, starting with "Patience" by Guns N' Roses. This acoustic song was an excellent test for the dynamics of the Ai41. The mids and highs are the strength of this setup and the speakers recreate Axel Rose's high notes and whistling with precision. Slash's strumming chords of the acoustic guitar come through clean and clear.
Next was "A Sky Full of Stars" by Coldplay. For this song, I expected more bass from the Ai41. Even on the maximum bass EQ setting, the bass was a bit weaker than I'd have liked, but enough came through to give the song a pleasant sound.
Lastly, I turned everything up and cranked "Zombie" by The Cranberries. The heavy metal guitar paired with an almost yodeling refrain definitely pushed the Ai41's to their limit. Even at full volume, the speakers never distorted the sound. I like that Fluance may have sacrificed volume for fidelity. It also protects the speaker from damage at high volumes.
RCA to AUX (3.5mm): Computer Tests
Next, I connected the speakers directly to my desktop using an RCA to AUX cable. Testing began with a high- resolution version of "Dreams" by Van Halen. Starting out was a crisp synthesizer and guitar duo. Alec's percussion and Sammy's vocals were clear as can be. Hearing Eddie's guitar solo through the Ai41 speakers was a joy to listen to. I scrolled through various artists I had on my music server with similar results: great highs and mids, with an exceptional soundstage for the price of the speakers.
Optical to Apple TV: Subwoofer addition
Here's where things get interesting. I connected the Ai41's to my Apple TV using an optical cable and also connected an old Onyx X-Sub budget subwoofer ($200 in 2006) to the sub output. I set the speakers to either side of the TV cabinet, and I placed the sub on the floor on the left side of the setup.
Tomorrow War
This made for Amazon Prime feature movie with Chris Pratt had everything I needed to sample the full potential of the Ai41 speaker system. There was enough soft dialogue to see how the system handled speech without a center channel option. Conversations between Chris Pratt and the other characters throughout the movie were definitely a step up from the Samsung TV factory speakers. The jump scene rocketing Chris Pratt into Miami was riveting. The addition of the subwoofer brought the movie to life in all its explosive, violent, and over the top glory. With 80Hz low-pass frequency cutoff, the addition of the subwoofer was a huge plus for this system.
Conclusion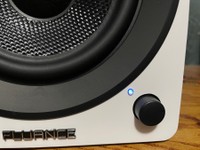 At $250 the Fluance Ai41 is in a very crowded field of contenders for very well-made powered bookshelf speakers, including brands like ELAC, Edifier, and Polk. At $300, we're getting into Hi-Fi Wi-Fi powered speakers as well. The Fluance speakers I've reviewed in the past will not win any awards for the prettiest speakers available, but they all have been rock solid in design, ease of use, and build quality. I love the fact that they added the optical in and subwoofer out ports, which gives the Ai41 an edge over many other $250 powered speakers on the market. You can easily add a turntable, like the Fluance RT80 which comes with its own preamp for a compact, ready-to-go vinyl system. Overall, the Fluance Ai41 speakers are an impressive addition to your desktop sound system. Whether it's music, gaming, or podcasts, you won't be disappointed.
Unless otherwise indicated, this is a preview article for the featured product. A formal review may or may not follow in the future.
Confused about what AV Gear to buy or how to set it up? Join our Exclusive Audioholics E-Book Membership Program!