Edifier E3350 2.1 Desktop Speakers
Edifier E3350 2.1 Desktop Speakers
by
Aaron Howard
—
July 03, 2008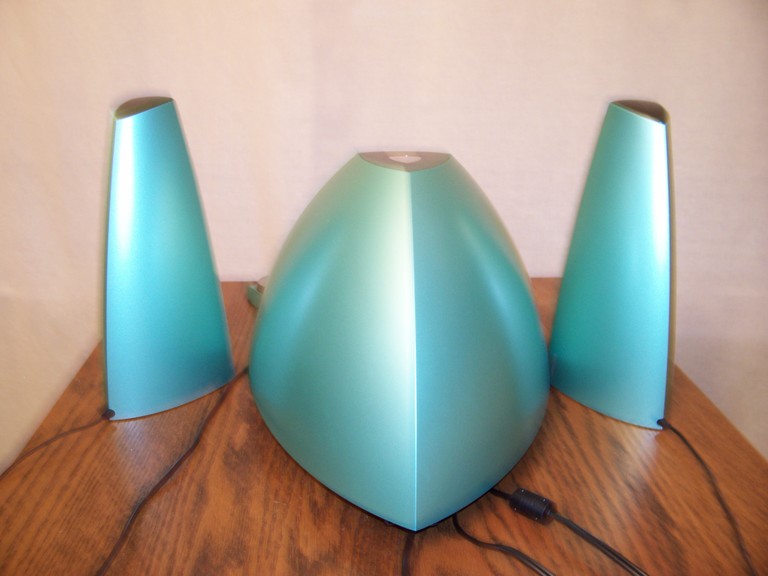 Edifier E3350 2.1 Desktop Speakers
Type: 2.1 speaker system
Colors: Black, Burnt Gold, Ice Green, Cobalt Blue, Metallic Mauve, Gem blue, Metallic Purple
Inputs: 2 x 3.5mm jack. One at sub, one on wired remote.
Power: 2 x 9W + 1 x 32W (rms)
THD: 10% at rated power
SNR: > 85 dBA
Frequency response: R/L 190Hz-20KHz; SW 30Hz-130-Hz
Input Sensitivity: R/L 550mV+ 50mV (Line In); SW 200mV+ 50mV Bass Unit: 5" down firing woofer, magnetically shielded
Mid-rate unit: (2) 0.75" magnetically shielded
Gross Weight: 11.2 lbs
Dimensions: 3.75" W X 4.5" D X 9.5" (satellites); 10" W X 12" D X 7.5" T (sub)
Included cables: 11.6' power cable, 6' 3.5mm cable, 6' speaker cable (One cords splits to both speakers), 6' wired remote cable
Pros
Visually appealing
Easy on the budget
Good mid to high range
Two external inputs
Cons
Bass distortion at lower volume
Wired remote
Some finishes smudge easily
Introduction
The impossible; that's what motivates me. In fact, isn't that what motivates all of humanity? The first astronaut in space, an electric powered car, the telephone, the atomic bomb. There are so many examples of people achieving what was once thought the impossible. Our personal impossible achievements may not be on the same level as the printing press, but still the impossible is what drives us. When reviewing the E3350 system by Edifier, I wondered if they set out to achieve the impossible. Did they ask themselves, "Can we make a sound system that is both an audio and visual piece of entertainment? Can our sound system also be its own art collection?" I believe that these questions drove the design of the E3350.

See also:
Confused about what AV Gear to buy or how to set it up? Join our Exclusive Audioholics E-Book Membership Program!
Recent Forum Posts:
Adam posts on July 06, 2008 11:50
Thanks for taking the time to look all of that information up, Chris! I sure appreciate it.
WmAx posts on July 06, 2008 11:43
Adam, post: 430339
Chris, where can you get them for $200/pair. Amazon had them for $250/each.

Thanks!
Wow, I just looked, it appears this item has very recently been discontinued and replaced with the Rokit 5 Generation 2. The G2 may have the same performance, but they have raised the price $50 each; the Rokit G2 is $300/pair. Unfortunately, I can not guarantee the G2 is of the same high quality without personally analyzing/measuring a sample.
Looks like the last chance to get them 100 each is from Woodwind-Brasswind. They are listed as 'on order', so they may have one last batch on the way - I recommend that you call and verify this. I have purchased and returned gear to Woodwind-Brasswind in the past, and I had a good customer service experience.
http://www.wwbw.com/KRK-RP5_Rokit_Studio_Monitor_(Single)-i132625.music?cm_mmc=GoogleBase-_-KRK-_-Studio%20Monitors_Studio%20Monitors_Powered%20(Active)%20Studio%20Monitors-_-RP5%20Rokit%20Studio%20Monitor%20(Single)&mr:trackingCode=C23C03DF-F64A-DD11-98CA-001422107090&mr:referralID=NA
It appears that 8th Street Music has some left, at $140 each + shipping, if you want to get them at the higher price from a place that lists them as active stock.
http://www.amazon.com/dp/B000HDFWZS?smid=A3ET1CHCB2RN4K&tag=nextag-mi-mp-20&linkCode=asn
There is also an eBay seller with 11 new units left, at $149.50(free shipping) each.
http://cgi.ebay.com/KRK-Systems-Rokit-RP-5-Two-Way-Active-Studio-Monitor_W0QQitemZ230231763776QQihZ013QQcategoryZ47093QQrdZ1QQssPageNameZWD1VQQcmdZViewItemQQ_trksidZp1638Q2em118Q2el1247
-Chris
Adam posts on July 06, 2008 00:03
Chris, where can you get them for $200/pair. Amazon had them for $250/each.

Thanks!
WmAx posts on July 05, 2008 23:53
For $200, one can purchase a pair of KRK Rokit5 mini-monitors. This is an extremely high quality device for the money spent. In fact, when I first saw them, inspected them and listened to them, I thought it was a $400-$500 mini-monitor system. I did not find out the price until later. It is self amplified, relative low resonance, 1st rate fit and finish, 2 way 5" slot ported studio monitor and does not even need a sub when using at lower volume levels for computer use in the near field. This device absolutely shames any computer speaker that I know of, and in fact, it exceeds the performance of the similarly priced AudioEngine 2 considerably, which was the previous best value. I borrowed and measured/analyzed a KRK Rokit 5 and I stand behind it's incredible value for use as an all in one self amplified compact computer speaker system. It is actually a more accurate, overall, amplified monitor, as compared to most larger studio monitors I have tried that cost much more; this being owed to it's relative low resonance cabinet and very good drivers(that have very little residual energy/resonances) and it's very linear/smooth off axis response.
Off axis, 0-90 degrees:
http://www.linaeum.com/productinfo/other/krk_rokit5/frequencyresponse_offaxis_0-90d.gif
On axis, 20Hz-20kHz(LF near field spliced to 1M mid-treble measurement):
http://www.linaeum.com/productinfo/other/krk_rokit5/frequencyresponse_onaxis_spliced.gif
Waterfall/CSD:
http://www.linaeum.com/productinfo/other/krk_rokit5/waterfall.gif
-Chris
Thaedium posts on July 05, 2008 21:09
It looks like a poor joke.

A dancing sub? Come on. Any speaker manufacturer neglecting the basics of their craft is clearly angling for a quick buck at the expense of easily had consumers. On the brightside, at least it isn't priced outrageously. Yet for me, I feel that $100 spent on a product should at least provide some level of quality beyond fit/finish.
Post Reply