Apple's New HomePod Speaker to Compete with Amazon Echo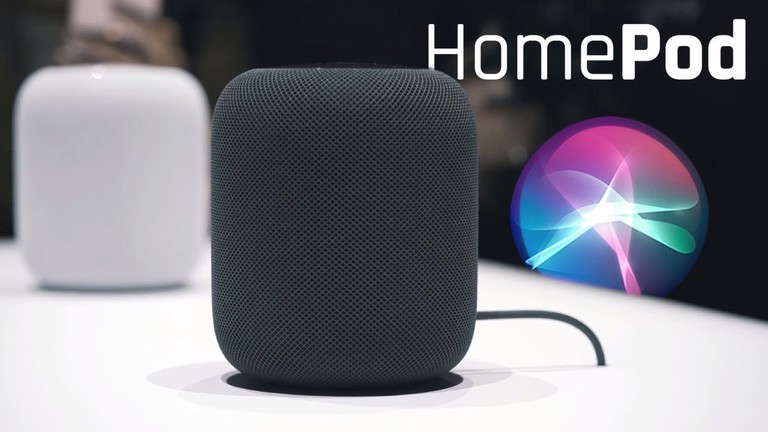 Apple HomePod Speakeer
Summary
Apple A8 Chip
High-excursion 4-inch woofer (upward firing)
Six microphone array
Seven tweeter array
Seamless mesh fabric
Apple Music and Siri compatible
802.11a/b/g/n/ac Wi-Fi with MIMO
Multi-room speaker support w/ AirPlay 2
6.8-inch high, 5.6-inch wide
5.5 pounds (2.5 kg)
Available in black or white
Executive Overview
For years now Apple has built and distributed some of the world's most popular digital media players. However, the Cupertino, California-based company has yet to spring into the home speaker market -- that is, until now.

Earlier this week Apple unveiled the aptly named HomePod, a speaker that stands seven inches tall. Available in white or black, the HomePod, which looks something like a microphone, features seven tweeters and an upward firing 4-inch woofer, six microphones and the same A8 64-bit ARM-based processor used in the iPhone. Apple says the HomePod's tweeter array forms very narrow beams of sound for a 360-degree audio experience. It's expected the HomePod will be available later this year for about $350.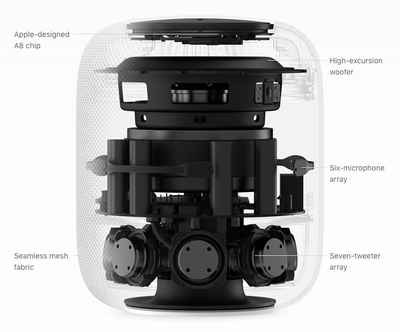 Although the HomePod looks a lot like several competing products from Amazon and Sonos, the company insists it's really quite unique. In a recent interview, Phil Schiller, Apple's Senior Vice President of global marketing, said the HomePod will provide better sound quality than Amazon's Echo and more interactive capabilities than Sonos' line of wireless speakers.

For example, Apple promises that HomePod will employ Siri voice integration, allowing the device to act as a "home assistant." To begin interacting with the HomePod, users will simply need to say "Hey Siri," followed by a question or command. For those concerned about security, Apple says all communications with the HomePod will be encrypted.

It's not yet clear what the HomePod's Siri functionality will help users accomplish. In addition to playing music through iTunes, the device can provide news updates, help with math questions, send messages to friends, mark the calendar, translate certain terms, relay stock news, and even answer basic trivia questions. Still, Apple says the primary focus of HomePod will be music, not home shopping, differentiating it somewhat from the Amazon Echo device.

When asked why it took so long for Apple to release a speaker of this kind, the company's chief executive officer, Tim Cook, said it was a matter of taking the time to build a product consumers would appreciate. "For us, it's not about being first," Cook said. "It's about being the best and giving the user an experience that delights them every time. We don't let that impatience result in shipping something that is just not great."
Conclusion
One major sticking point for consumers may be the HomePod's $350 price tag, which makes it twice as expensive as Amazon's Echo. In explaining this substantial price difference, Apple points to better sound technology in the HomePod. That's a bold claim given that this is Apple's first major foray into the speaker market. And it's not as if the company's ear buds, which it has shipped alongside its various digital media players for years, boast top-notch sound quality. However, Apple does have their own $100 million dollar test chamber originally built for iPhone testing so this could be a BIG small step for them to take into the speaker market.

Nevertheless, it will be interesting to see whether consumers embrace the HomePod in the same way they latched onto the iPod and iPhone.

Confused about what AV Gear to buy or how to set it up? Join our Exclusive Audioholics E-Book Membership Program!
See also:
Recent Forum Posts:
GlocksRock posts on August 09, 2017 09:12
sholling posts on August 04, 2017 02:30
I have two Echos and two Echo Dots that I use for home automation and listening to audiobooks. I plugged-in some cheap ($35) Logitech computer speakers and it sounds much-much better than the regular Echo and even better with some cheap ($99) Edifier R1280 powered speakers. I've also tried them with decent quality headphones and it sounded pretty good.
GlocksRock posts on July 22, 2017 17:20
Engadget recently posted an article stating that Amazon will be releasing a new Echo that is supposed to be more like the homepod. It's said to be smaller, better looking, and have much better sound quality, but no word on a release date or price. I got an Echo on Craigslist for $75, and to me based on the sound quality I'm glad I didn't pay anything more. After having that, I purchased several echo dots for my new house, and where I need an actual speaker connected, I'll just use the 3.5mm output and connect something worth listening to.
sholling posts on June 27, 2017 01:12
BoredSysAdmin, post: 1191653, member: 28046
I see it as a gadget, radio alarm clock with cpu. Not nearly as a replacement for stereo system
I'm with you, I never play music from my Echos. I use them as a smart alarm clock, news, weather, and traffic reports, and to play my audiobooks. I'm also experimenting with smart-home toys and my Echos can kick off scripts to turn on lights and (though my Harmony Hub) turn on my TV and receiver, and turn them all off when I go to bed. I'll be adding more scripts to adjust lighting by dimming the family room for movies.
I'm comfortable with the Echo because Amazon is in the business of selling "stuff" not selling customer data. That could change but I can't see them risking the massive investment that they've made by spying. I won't own Google's competing product because Google's business model is based on monitoring and mining customer communications to target advertising and as a result, I'm not letting a Google microphone into my home. If I were a pod-person/iPerson (Apple fanatic) I'd consider their product because I have about the same amount of faith in their common-sense integrity as Amazon's, but I would no way pay that much for it. As a speaker, (unless sounds better than a Sonos) it's way over-priced, and Siri is probably the least capable of the big-three (Alexa, Google, and Siri) digital assistants.
GFOViedo posts on June 12, 2017 02:01
Wow, $350 dollars!
Post Reply