Audioengine A2 First Impression
Audioengine A2 First Impression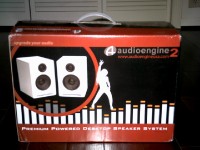 The Audioengine team creates powered speakers for use in home and in office to work with all types of music but are specifically made for digital audio.  Audioengine has been in business since 2002 and released their first product, the A5, in the fall of 2005.  It is still a young company, so I am not too ashamed for never having heard about them until I was presented with the A2 speaker system.  The A2 is their attempt to provide a superior choice and sonic experience for digital music listeners and video gamers.
The Audioengine A2 speaker system can be found well secured within a box about half the size of a carry-on piece of luggage.  The contents are held in place by semi-flexible, shock absorbing foam and will not shift, or move for that matter, during transport.  It is almost safe enough for Ace Ventura to deliver it (watch the beginning of that movie). The "Audioengine-ers" went further and encased each speaker in its own protective reusable sock.  They did the same for the power supply and the bundle of included cables and speaker wire.  If you do not plan on moving the speakers around a whole lot, those protective socks can be good for storing a portable digital music device, jewelry, jacks, marbles, or the loose pieces of a board game.  But seriously, at least use the socks to transport the speakers.  As pretty as they are, they do not deserve to be scratched.  And just like toys should always come with the required batteries, the A2 system is supplied with a 2' and 6.5' mini-jack audio cable as well as 6.5' of 16 AWG pre-stripped speaker wire to get them ready for use right away.
Design Overview
The A2 is a bass reflex (ported) design featuring a 2.75" Kevlar woofer and 0.75" silk dome tweeter.  The drivers are recessed perfectly flush into the front baffle which is  slot-ported in the front just under the woofer.  I must report, for a pair of multimedia speakers, these are the prettiest I have ever seen.  The cabinets are made of MDF, rather than plastic. You would not know it unless you were told because the finish is a smooth, glossy type that surrounds the entire box design (except for the back plate) and makes it look like a one-piece enclosure.  The small dimensions make it very sturdy as not to vibrate during use.  They are also magnetically shielded and are available in white or black and have a slip resistant pad adhered to the bottom of each.  It would have bee nice to have a thin, soft cloth grille to complete the speakers' look.  Ideally the grilles would be the same height and width and color as the cabinets.  
The Drivers
As mentioned before, the woofer is 2.75" with a Kevlar cone and is supported by a butyl rubber surround.  Can you really believe that?  Yes.  That little driver is called a woofer.  I remember a time when any speaker less than 4 inches in diameter was a tweeter.  Well, based on how these perform, they honestly deserve the name.

The tweeter is a 0.75" silk dome with neodymium magnet.  Most likely used for its low profile design to save precious space.  While capable of reaching high frequencies, it seemed that these tended to have a very mild case of laryngitis.
The Rear
The right side speaker is very simple.  A metal backplate held in place by six screws.  There are two knurled knobs (the + and – connectors) that stick out a half-inch.
The left side speaker has the same as the right speaker with some more.  There is the keyed (one-way only) connection for the power, RCA left and right (Input A) and
" mini-jack (Input B), and the volume control knob.  The connections for the audio source can both be used at the same time if needed.  The volume control also acts as the power on/off switch.  The switch seems to be of a high quality.  It starts in the 7 o'clock position and turning it clockwise, it's range of motion ends in the 5 o'clock position.  It offers a snug, even resistance through the entire range of motion.  The placement of it, however, is not ideal.  If being used as computer speakers, one would have to reach over or around to adjust it.  If you have a small desk up against a wall, this becomes a nuisance.  On the other hand, keeping it in the back allows the speaker to keep a classic appearance.
Confused about what AV Gear to buy or how to set it up? Join our Exclusive Audioholics E-Book Membership Program!
See also:
Recent Forum Posts:
emorphien posts on December 16, 2010 14:12
Just came across this thread and am glad to see these speakers still hold their own. I honestly expected that by now there would be more offering similar to them for less or that would try to best them at their own price point.

I've been using mine for just shy of three years now and I'm serious when I say they still continue to impress me. I am about two feet from each of them and have them angled towards me a bit. The laid back treble you noted has never really caught my attention much, they have an overall 'relaxed' sound without really losing much detail which I quite like at my computer. Compared to any other computer speakers system I've heard so far I agree these are still no brainers.
WmAx posts on July 01, 2010 13:35
admin, post: 728123
Small dimensions, a pretty finish, power to spare, and two accommodating inputs, you can be sure Audioengine's Desktop A2 speaker system will augment your CD player, DVD player, computer, game console, portable music player, or any other product with a mini-jack or RCA output. The A2 is a two-way system with a 2.75†woofer that simply amazes you with the amount of bass it can produce. I am happy with the quality of this product especially when used with my Playstation 2. The 3-year warranty is automatic, and transferable, which means there is no need to register. Recommended!



Discuss "Audioengine A2 Desktop Speakers" here. Read the article.
Indeed, very nice value and very appealing for compact speakers. Also, one can reap great rewards by adding a proper active xover to filter bass from these and direct it towards a proper subwoofer - if they want to improve/upgrade sound quality even further with little effort.
-Chris
haraldo posts on July 01, 2010 13:29
I have the A2 myself and they are in a different universe than the ubiquitous Creative and Logitech "pure crap" plastic speakers, the A2's easily outperform all of these…. at least all that I have heard….

I agree with the treble issue…. but…..

For the price and where space is concerns, these are no brainers, incredible value. and that small woofer is actually able to do some bass work
gliz posts on June 24, 2010 15:27
2.75 and woofer belong in the same sentice like congress and spending control LOL
its phillip posts on June 23, 2010 16:17
Nice. I usually recommend these along with the comparable M-Audio/Swans/Behringer monitors to users on computer forums asking for sub $200 speakers.
Post Reply