Face-Off III: Axiom Audio M22ti
Face-Off III: Axiom Audio M22ti
Pros
Cons



High-end sound quality

Smooth detailed midrange

Requires subwoofer for full-range sound

Not suited for larger living rooms

Not bi-wireable

prices have gone up substantially since publication of this review

The Axiom Audio M22ti was a last minute surprise contender to this Speaker Face Off III review. Up until a few weeks ago, we never even heard of this company. Our good friend Ray from RLA Home Theatre phoned about this product and claimed we had to acquire a set for review. We must admit that we were skeptical at first once we found out that the retail price of these speakers was only $400/pair. We remember thinking to ourselves, how could these be a serious contender? They are in the price range of the likes of mass market loudspeakers from JBL, Infinity, Cerwin Vega, Bose, etc.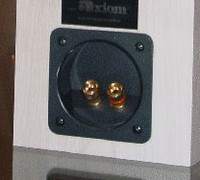 Our first thoughts regarding these speakers upon unboxing them was, how is it possible for a company to offer such a handsomely well-crafted product for such a low price? They must have put all the money into the cosmetics and thus employed low quality drivers as a result. However, after extensively reviewing the build quality and listening to these speakers, our misconceptions disappeared. For starters, we were particularly impressed by the 5-way gold plated binding posts and the rigidity of the fixture affixed to the cabinet.
All we can say is that our initial assumptions about what a pair of $400 speakers should sound like were completely changed after our experience with these divas. In fact, this experience has forced us to re-evaluate what a pair of $1000 speakers should sound like, because these certainly sound as good as any $1000/pair speakers we have ever listened to. The highs were delightfully transparent, and clean. In fact the only speakers in this review we felt to be better in this regard were the considerably more expensive RBH 61-LSE ($1795/pair) and the Monitor Audio GR-10 ($1495/pair).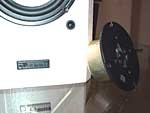 Many attributes of the M22ti's simply dazzled us, especially considering their price point. Most audiophiles are willing to spend in excess of $400 just for a pair of speaker cables or power cords. The M22ti's are an audiophile speaker costing less than these elaborate and mostly unnecessary novelties. They managed to create a wide-open soundstage, while at the same time, portraying a precise stereo image. So precise that at times, these loudspeakers almost seemed to disappear into the room. The midrange was very smooth and neutral sounding. There was little to no coloration when listening to female voices, such as the beautiful voice from Rebecca Pigeon's SACD title song "Spanish Harlem". We did agree however, that the tweeter output may have been a tad high (say 1dB or so) as there was a slight emphasis in the "S's" in her lyrics. Some of the other speakers in this review, such as the Paradigm Studio 40v2, handled these öSä sounds with a bit more softness and finesses. However, this characteristic was not overly apparent in the almost ruler flat frequency response measurements of these speakers published by other professional reviewers. Some of this effect may be emphasized with a combination of reflective room acoustics, and poorly recorded source material. However, we didn't spend much time dwelling on this issue considering it was relatively minor and only the most critical set of ears would care or bother to notice. The M22ti's delicately revealed Rebecca's voice with smooth, broad sound character with only a hint of forwardness and overhang. The slight coloration we heard in her voice may be attributed to cabinet resonance. However, after we experimented with placement of these speakers, most of those characteristics went away. We do however recommend users to match these speakers with warmer sounding electronics if possible.
On the downside, with the exception to the Alon's, these speakers had an almost anemic bass response compared to the others in this review.
The reasons for this are quite simple:
The M22ti's utilized the smallest mid/bass drivers.
Bass costs money.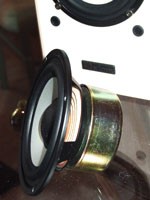 Rather than taking the approach of offering boomy bloated bass, much like the B&W 602's, or the likes of the previously mentioned mass market loudspeakers, Axiom Audio chose to tightly tune the response of the speakers to somewhere on the order of 60Hz. This allowed for a smaller cabinet, while at the same time minimizing cabinet resonances from the lower frequencies, thus allowing for a more cost effective design. While the M22ti's won't rattle your house, they will produce clean tight bass in a low enough region to blend well with a quality sub. In fact, these speakers really came alive and showed their true potential when coupled with a sub. They produced dynamic, articulately, well balanced sound, typical of floor standing speakers costing considerably more money. Figure if you purchase a good sub for about $600 and these speakers for about $400, you have a two channel speaker system for $1000 that would rival most floor standing speakers at this price point, while competing comfortably with many models costing twice as much. The M22ti's sounded their best in small to medium sized rooms. They didn't require enormous amounts of power to play clean and loud. However, when listening to these speakers in a larger living room environment, paired with the Aragon electronics, their dynamic limitations became quite apparent when doing direct comparison between them and the Paradigm Studio 40v2's. But considering the Paradigms retail for more than three times the price of the Axiom Audio's, these results shouldn't be much of a surprise.
If the rest of the Axiom Audio Speaker line-up performs as well as the M22ti's, it would seem that they have a great product line on their hands at an uncommon value.
Best of all, they offer direct sales to their customers with free shipping and a 30 day money back guarantee. The direct sales approach is most likely what allows these speakers to reach consumers at such an affordable price. Direct sales cuts out the middle man (the Electronics Store) turning what is ordinarily a 50 point line to a 20 point line, yielding at least a 30% savings to the consumer. With so many positives going for this speaker, it is easy to recommend these to anyone looking for affordable high-end audio that doesn't consume exorbitant amounts of space.
Confused about what AV Gear to buy or how to set it up? Join our Exclusive Audioholics E-Book Membership Program!