52-SE Recommendations and Measurements
52-SE Recommendations and Measurements
The Dynaudio Audience 52 SE's proved to be an enjoyable speaker to both listen to and review. Though I was a bit perplexed by a few inherent design anomalies such as the lack of recessing the woofer into the baffle and lack of countermeasures to ensure no woofer bottoming. Perhaps a different bass alignment would be more appropriate in this design. I couldn't help to wonder just how much further Dynaudio could have pushed the envelope of performance by employing a few design techniques to overcome the deficiencies noted. In any case, overall, these were fine sounding, well crafted loudspeakers and if used within the defined limits stipulated in this review, they should serve well for critical two channel listening and a full blown home theater system.

Measurements and Analysis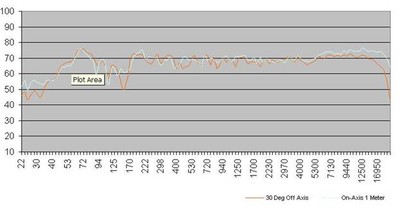 On / Off Axis 1 Meter In Room Nearfield Frequency Response
The 52-SE's exhibited excellent frequency extension, but with a slight de-emphasis of about 6-7 dB in the midrange between 500Hz and 4kHz. This explains why I felt the midrange performance was a bit lacking in this speaker or another way to put it was the high frequency extension was a bit more upfront. The dip between 90Hz to 170Hz was likely attributed to a measurement anomaly as it did not surface when retaken at the listening position. Usable bass extension was about 45Hz as promised in the design, but because of the potential of bottoming the woofers, I would recommend crossing them over at about 60-80Hz and mate them with a subwoofer. Off axis response of the speaker was uniformly good and I recommend a slight toe-in to achieve the smoothest response at the listening position.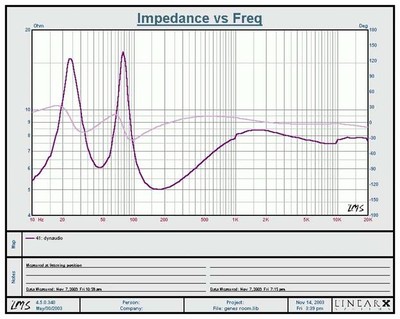 Impedance / Phase Response
The impedance plot (dark purple) of the 52-SE's was generally excellent and should prove a moderately easy load for any decent amplifier in a receiver to drive. The impedance dips to 5 ohms from 100Hz to 400Hz but overall maintains around 8 ohms impedance. I am puzzled why Dynaudio conservatively rated them as a 4 ohm load impedance. Perhaps they did so to be on the safe side, especially given their moderately low sensitivity. The port tuning of 45Hz as specified by the manufacturer, appears as measured in the frequency response as well as the saddle point between the two peaks in the impedance plot.
The phase plot (light purple) is also excellent, maintaining a +- 30 degree window within the low to mid bass region and almost a resistive load impedance above 500Hz. This is better than specified by the manufacturer and again indicating a rather benign load impedance and relative easy load for an amplifier.
The Score Card
The scoring below is based on each piece of equipment doing the duty it is designed for. The numbers are weighed heavily with respect to the individual cost of each unit, thus giving a rating roughly equal to:
Performance × Price Factor/Value = Rating
Audioholics.com note: The ratings indicated below are based on subjective listening and objective testing of the product in question. The rating scale is based on performance/value ratio. If you notice better performing products in future reviews that have lower numbers in certain areas, be aware that the value factor is most likely the culprit. Other Audioholics reviewers may rate products solely based on performance, and each reviewer has his/her own system for ratings.
Audioholics Rating Scale
— Excellent
— Very Good
— Good
— Fair
— Poor
| Metric | Rating |
| --- | --- |
| Build Quality | |
| Appearance | |
| Treble Extension | |
| Treble Smoothness | |
| Midrange Accuracy | |
| Bass Extension | |
| Bass Accuracy | |
| Imaging | |
| Soundstage | |
| Dynamic Range | |
| Performance | |
| Value | |
Confused about what AV Gear to buy or how to set it up? Join our Exclusive Audioholics E-Book Membership Program!