Epic Midi - Build Quality and System Setup
Epic Midi - Build Quality and System Setup
I have to be careful with this review not to completely blow off the M2 speakers. They did great, with accurate sound and good detail and soundstaging. They were, however, so overshadowed by the incredible performance of the EP400 subwoofer that came with the Epic Midi 400 system that it was hard not to keep turning back again and again to the cubic monster sitting on the floor. In fact, all of our listening tests went really well, but the 500W mini monster sub was the defining factor in almost every test.
Build Quality & Setup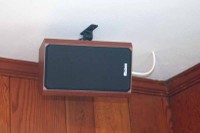 There is no question that the build quality of Axiom Audio products is well executed. In fact, the M2's, weighing 11 pounds each are tight little products that leave little in the way of room for improvement given their price ($280/pair) and finish. The M2s have a single 1-inch dome tweeter and a single shielded 5 1/4-inch woofer in a trapezoidal cabinet that easily passes our patented (not) knuckle knock test. The M2s are unique in that they share a lot of engineering with the well-regarded M22ti speakers. They had a very similar sound but with less output capability and midrange detail. The high quality binding posts used on the rear of the speakers is above-par and we like Axiom's "puckered" style of rear port which serves to diffract and disperse the air coming out so as to reduce noise.
Because the speakers are rear-ported, you won't want to install them (at least not too tightly) into an enclosed space. These speakers are meant to breathe - preferably via speaker stands. As you'll see below, we used a non-traditional mounting method for these speakers. It worked, but Axiom would do well to bring to market a mounting system or adapter worthy of its little M2 speakers.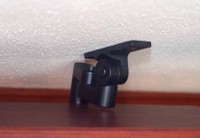 While Axiom Audio provides compatible brackets with which to mount the M2s, their Full Metal Ceiling Brackets are truly made to fit best with their QS4/8 speakers. For the M2s, they ended up being a very tight fit and with the net effect of only being able to mount the speakers in a horizontal orientation (which makes the non-rotatable Axiom logo appear sideways as well). To mount the speakers with this bracket we first secured the top part to the ceiling by anchoring it to a joist with two lag-style bolts. Next, the vertical speaker mount was attached to the speaker and secured with the included mounting bolt. Once this was completed we could attach the pivoting piece to the ceiling mount and then lift and set the speaker into the ceiling mounting assembly and tighten the bolts. It's several steps, but they all make sense and offer you the flexibility to place the speakers in the best possible orientation to the listening position. Keep in mind that if you require too steep of an angle you'll be hampered by the maximum allowed range of the tilting mechanism before it contacts the ceiling (see inset photo).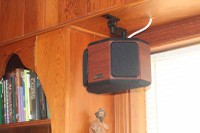 The QS4s are great surround speakers, though pricey, and we were excited to see how they would sound mounted behind the listening position as part of our 5.1 system. We mounted the QS4s in the same way as the M2s, but these were oriented vertically, as expected, and were much easier to manage overall. The wiring came directly from above through the ceiling and we were able to make a very nice termination at the speaker binding posts with bare wire. Perhaps because of the reduced weight and/or lower angle we found that it was far easier to mount the QS4 speakers using the metal ceiling brackets than the M2s. Both the satellites and the surrounds felt very rigid and solid once mounted and we felt confident enough to sit underneath them and not worry about getting our heads dented in by falling cabinets.
The QS4s are a "quad-pole" surround speaker which really just means that they fire in four directions at once. Two 1-inch dome tweeters face outward at ~30 degree angles while the twin 4-inch woofers fire upwards and downwards. The result is a very diffuse sound that is excellent for home theater and perfect for both rear wall or side wall placement. The QS4s can handle up to 175 Watts according to Axiom (man, I'd love to test that, lol) and with a sensitivity rating of 90dB SPL at 1W/1m we found it was nice and easy to drive to high levels of output.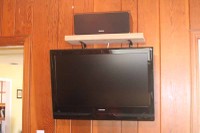 The VP100 Center channel is Axiom's smallest offering and was mounted onto a shelf just above the 32-inch Toshiba LCD TV we utilized in the room. This worked out very well since the system co-existed with a music/Mac rig that lived just below on a desk. The room was very multi-purpose, but it also had great dimensions for ensuring several people could sit and watch or listen without feeling like they were on top of each other. The tallish ceilings meant that we weren't "pushing it" to elevate the television a bit and place the M2s in their ceiling-mount positions. After all, it had to be cleared by a door opening underneath the front left channel. The center channel is the heaviest of the satellite/surround speakers, coming in at around 14 lbs and featuring dual 5 1/4-inch woofers which flanked the 1-inch dome tweeter in an MTM arrangement.
The EP400 subwoofer is a freak of nature. With its single 8-inch driver we didn't expect the unit to go as low as it did (usable bass down to ~25Hz), nor did we count on it being quite so musical or capable of handling very dynamic content without losing its lunch. The EP400 is made almost bullet-proof by Axiom's onboard DSP technology and 500-watt amplifier. The driver is an 8-inch long-throw woofer with cast aluminum basket. There is no port on the sub (despite the typo on their website indicating there is) and for good reason. Subs this size tend to make port noise when trying to play down low.  Instead, Axiom opted for a sealed enclosure with a powerful long throw woofer and proprietary DSP system to take care of any distortion issues while also linearizing the low end response.   This allows the system to function without the aid of a port for easing volume output (despite the fact that its older siblings, the EP500 and EP600 have them).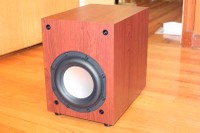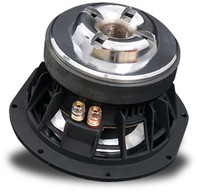 Look at the massive motor structure and superb build quality of the EP400 driver.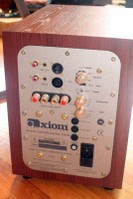 For controls, the sub features both balanced and unbalanced line inputs and outputs, speaker level (high level) inputs, but no speaker level outputs. Before you ask, there ARE processors, like the Denon AVP-A1HDCI which allow for balanced subwoofer outputs. In addition, we've had two different Axiom EP-series subs whose unbalanced connectors broke after just over a year of use, so those XLR inputs are looking pretty good, even if it does require a special cable to utilize them. There is a trim control that can be set to Flat, Half or Full depending upon how much boost you want in the room above 33Hz. We left the setting at Flat since this seemed to do just fine in our 12x13 room. The trim control also has future-only functions like Remote and Load which aren't something you'd use at present (and since they are also present on the EP500 and have never been used, don't expect to any time soon).
The crossover is only adjustable from 40-100Hz in 20 Hz steps and can also be set to Bypass (150Hz). Axiom recommends setting the sub's crossover to the setting just above the setting you use on your AV receiver. It's a little confusing if you follow Axiom Audio's instructions, and since the sub should only be getting low frequencies as determined by the AV receiver, we recommend using Bypass for all settings. Phase can be adjusted via a toggle switch (0 or 180 degrees.) The sub has a 10W Standby mode according to the User Manual, however it isn't obvious and the rear LED doesn't change colors to reflect this. Additionally, it is supposedly "instant" though we don't know exactly what that means. Don't take all this nitpicking too much to heart - for all its (mostly insignificant) quirks, the EP400 sounds great and performs extremely well.
Confused about what AV Gear to buy or how to set it up? Join our Exclusive Audioholics E-Book Membership Program!
fredk posts on December 15, 2008 12:52
Congrats! Let us know how they sound.
Mrdplobrat posts on December 15, 2008 11:42
Got the first part!!

Yes!! I just took delivery of the pair of M2s, pair of QS4s and VP150!!! Now all I need is my VTF-1 subwoofer to complete the setup!! Hopefuully I will be installing the axioms over the course of the week!

Can't wait to try them out!

Thanks to everyone who pitched in to give me some advice!
joabraun posts on December 13, 2008 16:25
fredk posts on December 12, 2008 20:25
Exellent! Let us know how it sounds when you get it all set up.

The EP400 puts our a lot of bass for such a small box!!
MinusTheBear posts on December 12, 2008 19:48
joabraun, post: 496260
Fred, Clint:

I pulled the trigger and went with the Epic Midi 400 system with the M22s. It sounds great, I am happy!
Congratulations joabraun! Us members at AH love people who post pics of their home theatre system. We would love to see yours . If you want to do this you can post pictures of your new system here!
https://forums.audioholics.com/forums/forumdisplay.php?f=13
.
BTW welcome to the forum!
Post Reply