Angel City Audio Trinity L/R & Center Loudspeaker Introduction
Angel City Audio Trinity L/R & Center Loudspeaker Introduction
It's been a couple of years since I wrote a formal review, but that doesn't mean I've stopped critiquing audio. The Audioholics "Get Together Event" was just what I needed to motivate me into writing another article.  I walked into the Angel City Audio room where they had their Trinity L/R speakers set up. The speakers had an M-T-M (midbass-tweeter-midbass) design with a beautiful black piano finish that sounded very sweet. I immediately noticed the ring radiator tweeter by Vifa which I had wanted to listen to for some time and then found out that the mid-bass 7" drivers were custom made. I had no idea at this time that I'd be driving home with this set for review but, lo and behold, the next day my was truck loaded up with speakers.
For this review I took a different approach than with past speaker reviews. Formerly, I had started by taking the speakers apart and examining the build quality. Then I would measure them and finally move on to the listening experience. This time I did not want the build quality or measurements influencing my opinion so I just set them up and started my listening tests.  Since my acoustic panels were not in the ideal place for these speakers, I took them off the wall and placed them on the floor to absorb the direct reflections. I have found that this works best for most speakers and gives them the fairest chance for the smoothest sound. Angel City Audio also had absorption set up the same way at the GTG Event.  Since the speakers have the tweeter offset to one side, I had the option of having the tweeters to the outside edge or the inside edge. Angel City Audio had them set up to the outside edge which they did to widen the listening area. That made perfect sense since several people were listening to them throughout the day. I chose to have the tweeters on the inside edge to reduce baffle diffraction in the sound stage.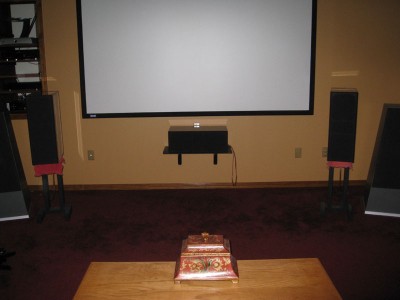 L-C-R Speaker Setup
Confused about what AV Gear to buy or how to set it up? Join our Exclusive Audioholics E-Book Membership Program!
See also:
Recent Forum Posts:
woofersus posts on February 26, 2013 21:29
Thanks for the review guys!
panteragstk posts on February 26, 2013 09:20
I really need to go to one of these GTG's. …someday
BoredSysAdmin posts on February 26, 2013 09:04
I recall from GTG that we (me and wifey) were much more impressed by sound of EMP system than AC speakers …
Post Reply