Angel City Audio Trinity L/R & Center Measurements and Analysis
Angel City Audio Trinity L/R & Center Measurements and Analysis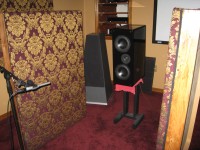 The measurement and analysis I performed for these speakers are very basic; a frequency response at 1 Watt at 1 meter and then the off-axis response. I did take care to isolate the speaker from the room by placing the acoustic panels on either side of the speaker. I usually overlay a near field measurement of the woofer up to 300 Hz with the rest of the response. Since the Trinity's have 2 woofers I didn't do this measurement so don't pay too much attention to the response below 300 Hz. After the direct measurement I did off-axis responses. I used True RTA software because it is easy to use and I like the quick sweep function.
The on-axis frequency response of the Trinity's is very flat above 300Hz except for a small dip at the crossover frequency at 2 KHz. On the low end remember that there was some room interaction.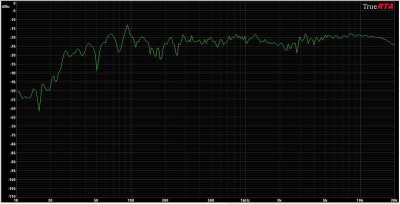 Trinity L/R On Axis Response
For the off-axis response the microphone was place at 30, 45 and 60 degrees off axis. In the Home Acoustics Alliance training certification we take off axis measurements for the purpose of seeing the response shape as the microphone is moved off axis. The shape of the off axis response indicates what kind of acoustical treatment, if any, should be used for the speakers direct reflections. If the shape of each off axis response is identical to the on axis response then direct reflections are okay. If the off axis responses are not the same shape as the on axis response then some sort of acoustical treatment should be used. It is not bad that the responses may not match; it is only an indicator of what to do acoustically. As can be seen for the Trinity's, there is a change in the response shape at 15 kHz which means that these speakers' direct reflections should be absorbed or diffused.  As I mentioned earlier for my listening tests I placed absorption panels on the floor for their direct reflections.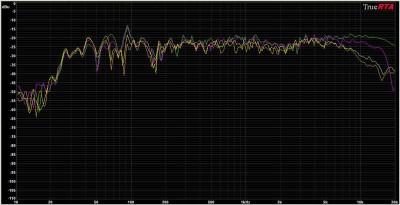 Trinity L/R 30, 45, 60 degree Off Axis Response
Confused about what AV Gear to buy or how to set it up? Join our Exclusive Audioholics E-Book Membership Program!
See also:
Recent Forum Posts:
woofersus posts on February 26, 2013 21:29
Thanks for the review guys!
panteragstk posts on February 26, 2013 09:20
I really need to go to one of these GTG's. …someday
BoredSysAdmin posts on February 26, 2013 09:04
I recall from GTG that we (me and wifey) were much more impressed by sound of EMP system than AC speakers …
Post Reply