Angel City Audio Trinity L/R & Center Build Quality
Angel City Audio Trinity L/R & Center Build Quality
Going back, one of the first thing I noticed with these speakers was the first-rate piano black finish. It was smooth and glossy with no imperfections. Now moving more toward the functionality of the build I noticed that this MTM (midrange-tweeter-midrange) design had the tweeter offset from the center which makes this a mirrored pair of speakers. While this is great for the having non-symmetrical diffraction it clearly is not a D'Appolito design which has its own advantages by having vertical alignment of the drivers and a properly designed crossover. Next, I noticed that they were rear-ported speakers; other than losing 1 or 2 Hz in the low end there is no disadvantage to placing the port in the rear and I've used them in my own design. The main advantage is that the front baffle area can be minimized reducing diffraction effects and another is it aesthetically looks better. Speakers should look good; they are a piece of furniture and most manufacturers put great efforts into aesthetics.  The connectors are 5-way binding posts that accept banana plugs but the spacing doesn't allow dual banana plug connectors.
It probably doesn't matter to most, but the drivers were fastened with Allen head screws. This prevents a screwdriver from slipping off into the cone although most people will never be removing the drivers. Once the drivers were removed the first thing I noticed was the cabinets were completely stuffed with a polyester fill. In addition to the fill all of the walls were lined with ¾" foam.
Trinity L/R Drivers and Bracing
The cabinets were extremely well braced with double layers of shelf bracing. Now I know why I felt no vibration with heavy bass playing. All of the wires from the crossover were soldered to the drivers. I personally do not put a soldering iron to speakers for fear of damaging the voice coil but since I do not know Angel City's process it may be completely safe. I didn't pull the crossovers out but they looked well-constructed with good components.
Trinity L/R Crossover
The center channel speaker is basically the same design as the main speakers except that it is not as deep (4" less deep actually). Having the offset tweeter for the center channel is a pretty good design when you lay it on its side because it gets a little closer to a vertical alignment as opposed to a Midrange-Tweeter-Midrange design where the design concept is completely lost when on its side. I did the same type of design for my own center channel speaker as you can see here.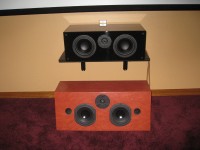 Center speaker design similarities
Confused about what AV Gear to buy or how to set it up? Join our Exclusive Audioholics E-Book Membership Program!
See also:
Recent Forum Posts:
woofersus posts on February 26, 2013 21:29
Thanks for the review guys!
panteragstk posts on February 26, 2013 09:20
I really need to go to one of these GTG's. …someday
BoredSysAdmin posts on February 26, 2013 09:04
I recall from GTG that we (me and wifey) were much more impressed by sound of EMP system than AC speakers …
Post Reply