Scarface DVD Review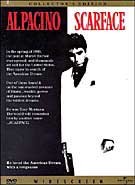 Movie Summary
In the spring of 1980, the port at Mariel Harbor was opened, and thousands set sail for the United States. They came in search of the American Dream. One of them found it on the sun-washed avenues of Miami...wealth, power and passion beyond his wildest dreams. He was Tony Montana. The world will remember him by another name... Scarface. He loved the American Dream. With a vengeance.

Al Pacino gives an unforgettable performance as Tony Montana, one of the most ruthless gangsters ever depicted on film, in this gripping crime epic inspired by the 1932 classic of the same title. Directed by hit-maker Brian DePalma and produced by Martin Bregman who brought both Godfather legends to the screen, Scarface follows the violent career of a small-time Cuban refugee hoodlum who guns his way to the top of Miami's cocaine empire. With its intense screenplay by Academy Award winner Oliver Stone, driving musical score by Giorgio Moroder, and superb insights into Miami's Latin lifestyle, Scarface joins the ranks of Hollywood's greatest underworld dramas, as it lays bare the sordid power of the American drug scene.
Audio Performance
The audio was in 5 channel dolby digital and sounded great, but the original film recording is not perfect. Lovers of this classic will crank up the famous Scarface "ending" scene where Pacino gets high and starts ripping away with his automatic weapons.
Video Performance
The makers did a pretty good job in the video department. The images were crisp and clear for an older movie.
Special Features
This DVD features: Interactive Menus, Production Notes, Scene Access, Making of Scarface, Theatrical Trailers, Cast Bios, Outtakes, still files, other trailers, and Subtitles in English, French, and Spanish. This had a lot of features and gets a perfect five rating.
Interface Presentation
The interface was not gimmicky but no-holds barred average. The score reflects this.
Overall
The 4 rating makes this a must-buy for all fans of Al Pacino and underworld thrillers like this. Go get it!
Happy Viewing!