Toshiba BDX3000 Blu-ray Player Review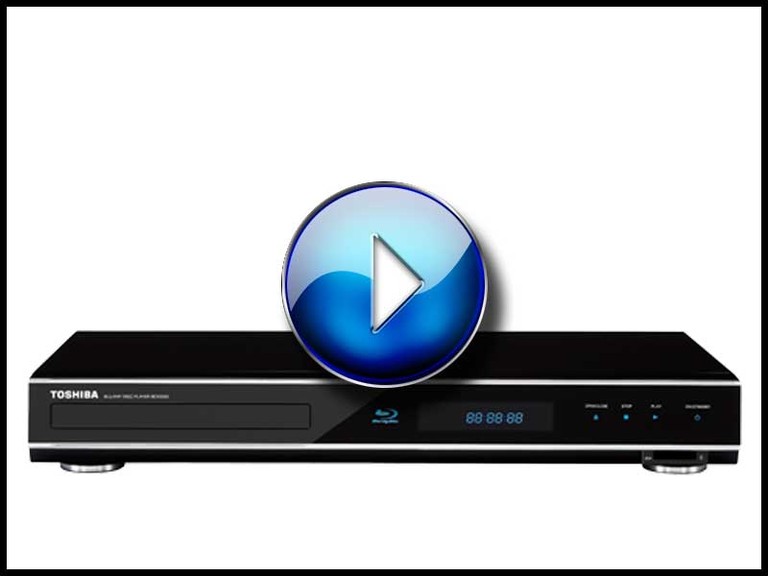 Toshiba BDX3000 Blu-ray Player
Summary
VUDU, Netflix, Pandora, BLOCKBUSTER on Demand
Full HD 1080p/24fps Blu-ray Disc playback, with standard DVD upconversion
Wired Ethernet & Wi-Fi connection
HD audio support, including Dolby True HD and DTS-HD Master Audio | Essential
BD-Live (BD Profile 2.0) and Bonus View compatible
AVCHD video, HD JPEG/JPEG photo, and MP3/WMA audio file playback
HDMI connection with HDMI-CEC control
7.1-Channel analog audio outputs
USB port and SD/SDHC card slot
Energy Star 2.0
Executive Overview
Toshiba is trying to float on top of a veritable sea of products with its BDX3000 3D Blu-ray player. It has just about everything you could possibly need: high quality BD playback, upscaling of DVDs to 1080p, Netflix, Pandora, VUDU and (if they are still in business) Blockbuster Video on Demand. It's also 3D-compatible and includes integrated Wi-Fi. Wi-Fi means that if you have a wireless router that supports 802.11 a/b/g or n, you don't need to run a cable to your TV in order to enjoy streaming movies from Netflix or VUDU, or music from Pandora.
Toshiba has included the same glassy front on the BDX2700 that it includes in some of its top of the line televisions. That, the flush tray, and the capacitance touch controls, give the player a look that says it's OK to put this thing out in the open. It's also not very deep. At just over 8-inches from front to back, this is one product that doesn't make a nuisance of itself - you can put it in front of your TV or place it just about anywhere. Heck, if they had shaved off another inch they could probably  mount it on the wall behind a TV.
Let's talk features. 3D. It does it, so you can... play all... eighteen or so 3D Blu-ray movies that are presently on the market. OK, moving on... The player has a front SD card drive that you can use to show off photos, music or compatible movie files. The rear of the Toshiba BDX3000 has all of the connections you'd expect, and a few more. For example, you can use the player's 7.1 analogue outputs to get surround audio to an older AV receiver.
It's really an incredibly easy player to set up. In fact, it has an interface Wizard that takes you through the critical setup process one step at a time, using a series of basic questions about Language, Resolution, and your TV's aspect ratio. Since it also gives practical defaults, just about anybody could get going quickly.
The Home Screen of the BDX2700 is made up of only two items, until you add more for it to consider. The way it is laid out, it populates itself with more items as they become available. That way, you can't select Blu-ray when there isn't even one in the player. It's a nice way of eliminating useless error messages and clutter. One of the permanent sections, Connected, is where you can access the Network features like Netflix, Pandora, VUDU and Blockbuster.
Now, the player isn't exactly snappy. It took around 18 seconds to get the tray to eject from Off; and another 28 seconds to get the disc to play - a grand total of 46 seconds. Huh... that's like 1/4 of this whole video.
The remote control is pretty well laid out. It's funny to think that the added features of Blu-ray has left us with three Menu buttons: Home Menu, Popup (Top) Menu, and just plain old Menu. Some remotes split off the Home menu from the others, but Toshiba's remote lines them all up in a row, so you're bound to hit the wrong one from time to time. The other thing that we ran into was the menu navigation controls and directional arrows are in a concentric circle with the Skip and Volume buttons. That also had us hitting the wrong buttons periodically. Aside from that, we liked how the buttons weren't all the same size and shape so you can pretty quickly use it without looking.
Most major manufacturers are really doing a good job with video processing and Toshiba's near-flawless performance was no exception. Picture from this player looked flawless - which is to say, accurate. From test material to current movies, the BDX3000 proved to have excellent color and detail. Blu-ray movies look fantastic.
With 3D capability, Wi-Fi and analogue 7.1 outputs, this is a very well-rounded player for $280. It's not snappy, but it's polished and provides excellent quality. If you can handle a few quirks, the BDX3000 is a good buy.

Unless otherwise indicated, this is a preview article for the featured product. A formal review may or may not follow in the future.
mtrycrafts posts on April 07, 2011 15:18
At only $280.00 list? Any equivalent performance and flexibility for less?
Sounds impressive indeed. One is ready for 3D if ever upgrading and is ready for that wireless on line and downloads May have to reconsider upgrading

ps. And just found it at Amazon for $165 or so. Why not?

pps. If I only known about this a few month back, I'd have it now.
Post Reply
Confused about what AV Gear to buy or how to set it up? Join our Exclusive Audioholics E-Book Membership Program!