Toshiba 46WX800U 46" 3D TV Review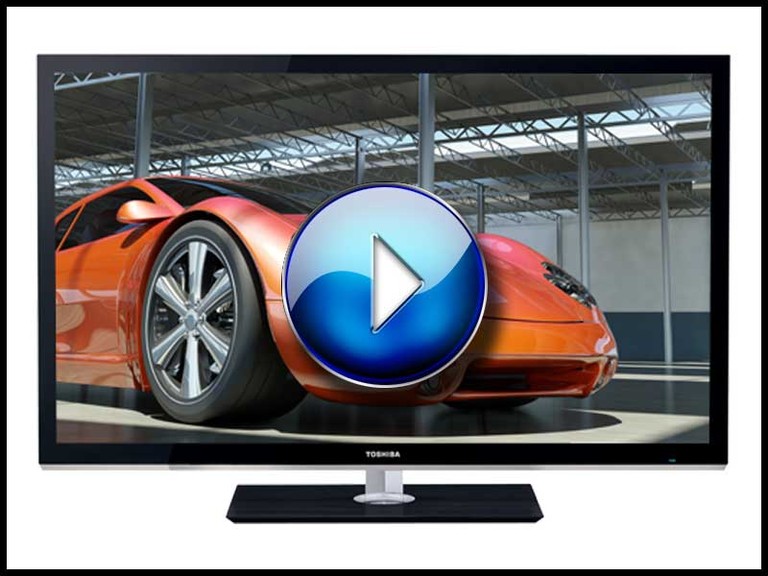 Toshiba 46WX800U 46" 3D LED TV
Summary
Screen Size: 46" diagonal widescreen
Display Type: LED
Native Resolution: 1920x1080
Refresh Rate: ClearFrame 240Hz


Video

Resolution: 1080p
DynaLight Dynamic Backlight Control
Static Gamma
Digital Noise Reduction
Gaming Mode
Cinema Mode 24fps Capability*: 5:5 Pull-Down & Smooth Mode
PixelPure 5G
Resolution+

Inputs/Outputs

HDMI: 4 ports
ColorStream Component Video (Y/Pb/Pr): 1 port
PC Input (15-pin D-sub): 1 port
USB Port: 2 ports
Ethernet Port (RJ-45): 1 port

Features

3D Capability
DLNA Certified
Internet Capability: Enhanced Net TV (Netflix, YouTube, Blockbuster)
InstaPort Fast HDMI Switching
5 item Universal Remote

Physical Description

Width: 43.00"
Height: 26.11" (28.94" with stand)
Depth: 1.15" (11.34" with stand)
Weight: 42.1 lbs (49.8 lbs with stand)
VESA Mounting: 400 x 400mm
Executive Overview
This 46" LED TV from Toshiba is technically an LCD TV - but it uses edge-LEDs for its backlight, which makes it thin, and the entire panel can vary its brightness based on what's on the screen. This happens in real-time and enhances the contrast. It does not have what's known as LOCAL dimming, which is where the TV dims AREAS of the screen in response to what's being shown on it. Typically, in order to do that, the panel would need to be thicker and Toshiba opted for form over function in this model.
Toshiba's first 3D TV has a glass front that is completely flush, with chrome trim across the bottom and sides. A glass face used to indicate plasma, but it looks so good we're seeing lots of LED models use it as well. It's not just pretty outside, though. The user interface, where you access the system menu and Internet apps, is equally gorgeous. When you enter the NetTV mode it gives you access to Netflix, VUDU, Pandora and YouTube, and lines them up in a semicircle underneath your current video source. Blockbuster is listed but wasn't yet ready (even as of the publishing of this review in March of 2011) and YouTube XL wasn't working when we tested this set (*note: this feature was finally working when this review was posted), but it's clear that more apps are possible via firmware updates. Overall it's a beautiful layout that makes it easy to see all of your options. An updatable Yahoo Widget system drives most of the remaining content on the Toshiba, and gives you access to such features as Facebook, Flickr, eBay and other apps and blogs. This content ranges from simple information pages, to full-out HD video programs. There are even tons of local news and radio stations available. To access this content you can connect the TV to your network via Ethernet or the built-in 802.11b/g/n Wi-Fi.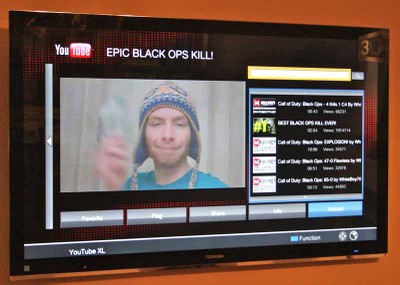 The TV has four HDMI connections that are laid out well on the back. Some thin TVs don't think out the connector layout very well and so you often end up with a TV that can't hug the wall. Not the case with this set. The other thing Toshiba implemented was InstaPort which gives you fast HDMI switching, and it worked pretty well. We found we could quickly switch inputs without the typical delay we're used to seeing with HDMI.
The picture on this TV was exceptional. Colors are accurate and the video processing is top notch. The calibration controls are also well laid out, and we found it easy to get to the places we needed in order to tweak Brightness, Contrast and color. When you adjust the TV's settings, a small slider appears at the bottom, letting you see the picture being adjusted. Toshiba's ColorMaster controls also allow for full adjustment of Hue Saturation & Brightness for all Primary and Secondary colors. You can REALLY dial this television in for perfect color. We also like the  Smart Sensor which can automatically adjust the backlight amount for day and nighttime viewing.
The WX800 has 240Hz video processing which makes television and Blu-ray content look incredibly sharp and almost hyper-real. It's also is what allows 3D processing to take place at full resolution. It's a head turner whenever we show it off to people who happen to be visiting. The WX800 supports all of the current 3D formats, so compatibility won't be an issue. To activate 3D you simply hit the 3D button on the remote. Of course, the first time you do, you'll be greeted with a warning message including such gems as "Avoid use of the 3D function if you are under the influence of alcohol." No we're not kidding.
As a 3D television, the Toshiba works just fine. There is a very limited supply of 3D Blu-ray titles on the market. After the new year that number will go up but the pickins are extremely slim for a format that's supposedly going to take over the world. (lean-in whispering) "It's not." Toshiba's active 3D shutter glasses will run you around $150 a pair but they integrate directly with the TV, so no external transmitter is necessary. They use a non-rechargeable battery that will need to be replaced, via screwdriver, every 75 hours or so of use. At that price we recommend going aftermarket.
Toshiba's WX800 Cinema Series 3D LED TVs are available in 55-inch and 46-inch screen sizes. While the 46-inch model has a list price of $2700, we've seen it for under $1700 online (the Audioholics E-store is currently running a limited time special promo for $1299)- making this an incredible value in our opinion.

Unless otherwise indicated, this is a preview article for the featured product. A formal review may or may not follow in the future.
Audioholics posts on March 17, 2011 14:04
It's very strange that Blockbuster Streaming service is getting free "advertising" with their logo but the service still doesn't work on this TV. Just updated the firmware today and no change… Not that I'd use it… but still.
Post Reply
Confused about what AV Gear to buy or how to set it up? Join our Exclusive Audioholics E-Book Membership Program!