Sony BDP-S790 Blu-ray Player Review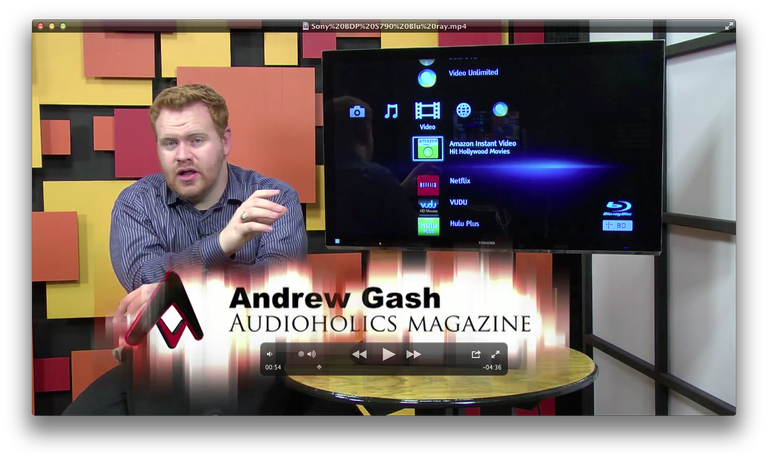 Sony BDP-S790 Blu-ray Player Video
Summary
Video
DVD
DVD 24p output : Yes
TV Type Default Setting : 16:9
BD
HD (24Hz) (24p True Cinema) : Yes
HD (50Hz) : No
HD (60Hz) : 480i 480p 720p 1080i 1080p
HD 24Hz to 60Hz conversion : Yes
Audio Features
Coaxial
DTS Neo 6 : Yes
DTS bit-stream out : Yes
Dolby Digital bit-stream out : Yes
LPCM 2ch (~48kHz/~24bit) out : Yes
Decodability
AV Sync : Yes
Dolby® : Dolby True HD decoding (5.1Ch)
dts : dts-HD Master Audio decoding (MA)
HDMI Audio Out
DSD output : Yes
DSD to LPCM conversion out : Yes
DTS HD Master Audio bit-stream out : Yes
Dolby TrueHD bit-stream out : Yes
LPCM 2ch out : Yes
LPCM 6ch out : Yes
LPCM 8ch out : Yes
Disc Playback Features
Repeat
All : Yes
Chapter : Yes
Title : Yes
Track : Yes
Playback Control
Instant Replay : Yes
PREV/NEXT : Yes
Play/Stop/Pause : Yes
REV/FWD : Yes
STEP Playback (FWD/REV) : Yes
Slow Playback (FWD/REV) : Yes
Convenience Features
2nd Display (Media Remote)
Media Remote 1.1 : Yes
Media Remote : Version 2.0 and greater
Video Features
Noise Reduction
BNR : Yes
FNR : Yes
MNR : Yes
Picture Parameter Adjustment(s)
Brightness : Yes
Color : Yes
Contrast : Yes
HUE : Yes
Audio Features
DTS : BD/DVD/CD/USB/DLNA (non secured)
LPCM : BD/DVD/CD/USB/DLNA (non secured)
MP3 Playback : BD/DVD/CD/USB/DLNA (non secured)
SA-CD : Yes
General Features
Disc Drive : Yes
Region Code (BD) : A
Region Code (DVD) : 1
Video
Deep Color : Yes
Precision Cinema HD Upscale : Yes
3D
Photo : Yes
Streaming : Yes
Video (from camcorder) : Yes
Convenience Features
USB Keyboard : Yes (standard 101 Key)
BRAVIA® Sync™ : Yes
Bit Rate Indicator (Video) : Yes
Bit Rate Indicator Streaming : Yes
Child Lock : Yes
Easy Setup : Yes
File System : FAT32/NTSF USB and HDD (Read Only)
Inputs and Outputs
HDMI Output(s) : 2 (Rear) Dual output for multiple output or AV seperation mode
Composite Video Output(s) : 1 (Rear)
Digital Audio Output(s) : 1 Optical (Rear); 1 Coxial (Rear)
Analog Audio 2ch Output(s) : 1 (Rear)
Ethernet Connection(s) : 1 (Rear)
USB Input(s) : 2 (1 Rear/ 1 Front)
Video Features
24p True Cinema™ Technology : Yes
3D Playback : Yes
BD-R/RE Read Compatibility : Yes (BD-R / BD-RE )
BD-ROM : Bonus View(Profile1.1); BD-Live(Profile2.0); BD-ROM (SL/DL)
DVD Camcorder 8cm DVD : Yes RW/-R (+VR)
DVD Playback : Yes
DVD+R Read Compatibility : Yes (+VR)
DVD+RW Read Compatibility : Yes (+VR)
DVD-R Read Compatibility : Yes
DVD-RW Read Compatibility : Yes (+VR)
JPEG Playback : BD/DVD/CD/USB/DLNA
Noise Reduction : Yes (BNR on DVDs Only)
PhotoTV HD : Yes
Picture Parameter Adjustments : Yes (Brightness/Contrast/Hue/Color)
x.v.Color™ Technology : Yes
Audio
Analog-to-Digital Converter : 192kHz, 24bit
Function
PREV/NEXT : Yes
Parental Control : Yes
Play / Stop / Pause : Yes
REV/ FWD : Yes
Repeat (All/ 1title) : Yes
Screen Saver : Yes
Power
Power Requirements (frequency) : 60Hz
Power Requirements (voltage) : 120V
Power Consumption (in Operation) : 22W
Weights and Measurements
Dimensions (Approx.) : 17" x 1.8" x 7.8" (430 x 46 x 199mm)
Supported Media
CD
CD (CD-DA) : Yes
CD-R/-RW : Yes
SA-CD (SA-CD/CD) : Yes
BD-ROM
BD-Live (Profile2.0) : Yes
BD-ROM (SL/DL) : Yes
Bonus View (Profile1.1) : Yes
Video
AVCHD Disc Format Folder : BD/DVD/CD/USB/DLNA
MPEG-1 Video/PS (.mpg .mpeg, .m2ts, .mts) : BD/DVD/CD/USB/DLNA
MPEG-2 Video/PS, TS ( .mpg.mpeg, .m2ts, .mts) : BD/DVD/CD/USB/DLNA
MPEG-4 AVC (.mkv, .mp4, .m4v, .m2ts, .mts) : BD/DVD/CD/USB/DLNA
Hybrid Disc
BD/CD : Yes (select in set-up menu)
BD/DVD : Yes (select in set-up menu)
HDDVD/DVD : Yes(DVD)
Music
AAC (.m4a) : BD/DVD/CD/USB/DLNA
LPCM (.wav) : BD/DVD/CD/USB/DLNA
MP3 (.mp3) : BD/DVD/CD/USB/DLNA
WMA9 Standard (.wma) : BD/DVD/CD/USB/DLNA
BDMV
BD-R : Yes (ver.3.0, SL/DL)
BD-RE : Yes (ver.2.0, SL/DL)
Photo
GIF (.gif) : Yes (BD, DVD, CD, USB, DLNA)
JPEG (.jpg, .jpeg) : Yes (BD, DVD, CD, USB, DLNA)
PNG (.png) : Yes (BD, DVD, CD, USB, DLNA)
Photo
Slide Show with Music
CD : Yes
HDD : Yes
USB : Yes
Network Features/SEN
Skype
Audio Chat : Yes
Help Browser : Yes
TV dongle Camera, Normal Camera : TV Dongle Camera
Video Chat : Yes
Home Network
DLNA(DMR) : Yes (Video, Audio, Photo)
DLNA(DMP) : Yes (Video, Audio, Photo)
BIVL
Live Streaming : Yes
Recommendation : Yes
Subtitle : Yes
Entertainment DB Browser (Gracenote etc.)
Cover Art : Yes
History Browse : Yes
Information Browse (with Web Browser) : Yes
Information Browse (within Gracenote) : Yes
Information Display : Yes
Qriocity Recommendation : Yes
Related Information : Yes (BD, DVD, CD, Network)
Search Contents : Yes
Wi-fi
Wi-Fi Built in : Built-in
In the Box
Warranty Card AV Cable Batteries 2 AA Remote Control (RMT-B122A) Owners Manual
Executive Overview
Blu-ray player reviews are a strange thing. It used to be that we tested all manner of video and audio quality characteristics using test discs and calibration gear. Well, some of us still do... When it's appropriate. Most of our readers already know who the big dogs are in that high-end market and if they want to pay $400 or more for a player, they're free to do so. But what about the rest of you - the rest of US? Well, the video quality is pretty much a done deal with HDMI. It's generally very good. That pretty much leaves features and aesthetics. Now, despite what I just said, I really do care about quality. But once we determine that the video and audio quality are excellent, as they are with this Sony BDP-S790, well, then I want to see what I get for my $230*.
And what do I get? 4K up conversion of video content... Yes, you've heard about it. 4K. The resolution that best approximates film grain and thus the "more or less" true digital equivalent of actual film. Why do I think that even just saying that is going to get me hate mail... In any case, this Sony is ready to upconvert your movies to 4K so you can play them on that 4K TV or projector you don't have and probably never will... It's a feature, much like 3D, that is currently highly touted, but not of much real use to the average consumer.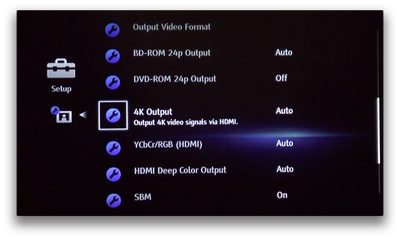 But the Sony does have a lot of really great features. With dual HDMI outs, you can send one output to your 3D TV and another to your legacy A/V receiver. Why is this important? Well, for one, if your AV receiver isn't current enough to pass 3D, the signal will never get to your television. With dual HDMI outs, Sony gives its legacy users a way to split the signal and send audio one way, and video another. You get the best possible performance regardless of your setup.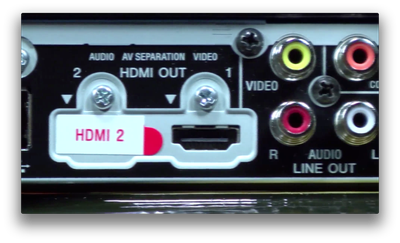 Network streaming content is also huge on this player. Video Unlimited, VUDU, Netflix, Hulu Plus, Pandora, Amazon Instant Video, Slacker and The Wiggles are available. Yes, the Wiggles - moving on... And if you can't go two hours without your social networking fix, Sony's BDP-S790 even has Facebook and Twitter integration.
The menu interface is the same one you'll find on the PS3, so it will be familiar to many. It gives you access to the above streaming content providers and also Sony's Entertainment Network, which has its own access to online content, apps, and video on demand. There's even a web browser for those masochistic users who love to torture themselves.
The system is actually pretty quick. And it should be, Sony added a dual core processor to this player. Menu navigation and even network browsing seemed snappy and responsive - everything we've come to NOT expect from a Blu-ray player. It was refreshing to say the least. We also LOVED how the player went to the main menu when you hit stop on the remote. I can't tell you how disappointing it is that every player doesn't work this way.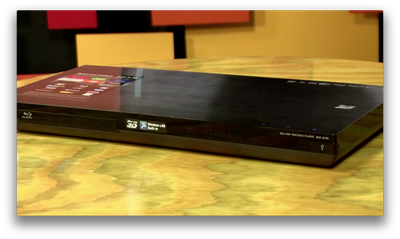 We were able to link up to our DLNA-compatible music sources and stream songs from our server, complete with meta data. In that way, the Sony really can serve as a sort of entertainment hub for your home.
That's not to say that Sony's flagship player isn't without its quirks. When it detected I hadn't yet configured my network, in typical Sony fashion, it didn't bother taking me to my network settings to remedy it. When we updated the player's firmware it just shut off when it was done and didn't reboot automatically and every time we stopped the player to go into the menu, it needed to download something from Gracenote (OK, not every time).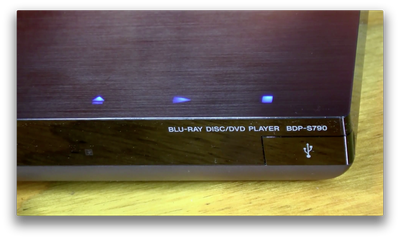 So what it all boils down to is this: the BDP-S790 is an excellent player. We understand why Sony dubs this product a "flagship" even though the seasoned Audioholic might disagree. It has nicely backlit capacitance touch controls on top that glow when you use them. It's fast, produces an excellent quality picture, is ready for the 4K format of the future, and will stream all of the current leading sources for media. For $230*, that's not a bad package. What you have to ask yourself is whether or not you need it. If you've already got a Sony TV with streaming media services, the answer is likely 'no'. You'd be over-buying. If, however, you've got legacy audio gear and want a player to serve as your entire entertainment hub, then this might indeed be just what you need.
Going back to a statement we made earlier in the review, our question this week is: Would you use Facebook while watching TV? Yes or No? Leave us a comment on our YouTube video and let us know. And subscribe to our channel so we can continue to bring you more reviews. For up to the minute updates, Follow Us on Twitter @AudioholicsLive and Like us on Facebook at Facebook.com/audioholics.
*Sony dropped the price by $20 since we shot this video.

Confused about what AV Gear to buy or how to set it up? Join our Exclusive Audioholics E-Book Membership Program!
Recent Forum Posts:
canelli posts on April 29, 2013 14:34
Are you sure that your files with an .mp4 suffix actually are mp4 files?
All the files except for one were downloads from youtube. The one odd ball was a straight rip of Wall-E. If you know of a utility to identify the media type, I would be happy to check the files and post the results.
Adam posts on April 29, 2013 08:02
That might be your NAS. I just confirmed that my 3100 plays mp4 files off of the USB drive as MPEG4 files. One of them it plays as an AVC file - but I can't say for sure that it wasn't improperly named (I downloaded that one, but I created the other one yesterday as an mp4 file, so I know). Are you sure that your files with an .mp4 suffix actually are mp4 files?
canelli posts on April 29, 2013 05:35
Either the NAS I use for streaming decided to start reporting mp4 videos as M2TS or Sony did a firmware upgrade and I didn't notice. After days of flawless playback, the Sony started seeing mp4 files as M2TS. The Sony then got confused trying to play the mp4 as a M2TS and started reporting every mp4 file as a corrupted M2TS. This happened right after my wife tripped the power switch on the battery backup causing the NAS to crash. After about an hour of total frustration, I renamed all the mp4 files to avi and everything is back working.

I did recently upgraded the OS and some of the installed software to my NAS. I am guessing that after the reboot, the updates finished and created the fairly short lived problem.

Either way, thought I would pass along the problem and solution.
canelli posts on April 26, 2013 18:56
I calibrated my tv a while back, and the Sony looks really good. I will go back and try calibrating with the Sony and see if there is a difference.
afterlife2 posts on April 26, 2013 15:19
AcuDefTechGuy, post: 965770
Hmm, I didn't set the black level at all. PQ looked great already so I didn't even mess with it.
My BX59 too. No setting anything. Worked nicely with blacks.
Post Reply