DVD-S97 Overview & Build Quality
DVD-S97 Overview & Build Quality
Panasonic has always made highly regarded DVD-Video players, and the DVD-RP82 was widely regarded by many as one of the best DVD players ever made (so much so that when it was discontinued, these players were selling on E-Bay for higher than the original Manufacturer's Suggested Retail Price!) However, it seems that after the DVD-RP82, Panasonic went down-market and released a set of lackluster models.
Well, this is no longer the case, as the DVD-S97 is a worthy successor to the DVD-RP82. Like the DVD-RP82, it is a progressive scan DVD-Audio/Video player with Faroudja DCDi deinterlacing. However, it improves upon the DVD-RP82 through the addition of quite a few significant features:
Digital video and high-resolution multi-channel audio output over HDMI 1.1
Video resolution up-conversion to 720p and 1080i over HDMI
Improved audio upsampling features
Support for additional audio and video formats such as JPEG, MPEG4, WMA (on all models - the RP82 only supported WMA on US/Canadian models) in addition to MP3 on multiple media types (DVD-R/RW, DVD-RAM, CD-R/RW plus HighMat discs)
Support for both PAL and NTSC (the RP82 only supported PAL on non US/Canadian models)
Support for PAL progressive scan (the RP82 only supported NTSC progressive scan)
Limited support for HDCD (it will recognize and play HDCD encoded discs, but does not implement Peak Extend which increases dynamic range by an extra 1 bit or 6dB)
On-board Dolby Digital Pro Logic II decoder (in addition to Dolby Digital, DTS and MPEG Multi-channel)
That is a very impressive list of features (in particular, the DVD-S97 has support for Dolby Pro Logic II, which I have not seen in any other player to date). The only optical disc format that this player will not play is Super Audio CD (which is to be expected since Panasonic is a major supporter of the competing DVD-Audio format).
Unpacking & Build Quality


The DVD-S97 was shipped to me directly from Panasonic Australia, even though I purchased it from a dealer. Inside the box were the player, a figure 8 Australian 2 prong power cord, remote control and batteries, HDMI cable, and a three core A/V cable (composite video plus analogue 2-ch audio).
The front panel of the unit is much nicer looking than the DVD-RP82, although probably still a bit too cheesy and cheap for my liking. The disc transport is located in the middle on top the front panel display, with transport control (Open/Close, AV Enhancer, Stop, Pause, Play, plus Skip buttons) on the right.
To the left of the transport is the Power/Standby button, the IR sensor and no less than 4 indicator lights (one for standby, and three indicating HDMI status: Video, Audio/Multi-Ch, and 720p/1080i).
The rear of the player features standard connections, including both optical and co-axial digital outs (no Firewire), analogue 2-ch and 5.1-ch outputs, plus composite, S-video, component video, and finally an HDMI connector for digital video and audio (copy protected using HDCP).
I ran a 'standby mode' test whereby I shut down the unit with the disc tray open, and the player was clever enough to retract the tray prior to turning 'off.' In addition, pressing 'Play' or the 'Open/Close' buttons will wake up the unit from standby mode (in addition to the power button). As we frequently mention, this is key for programming discrete on/off macros and ensuring you can determine the state of the unit.
Internal Components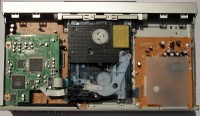 Given the price point of the player, Panasonic has done a good job with the component quality/build and layout. The transport drive is located in the middle, with the power supply circuit board on the right (when the player is viewed with the back facing you). The analogue audio/video output circuit board is on the left, with digital processing circuit board stacked on top.
I was surprised by the high quality components used in the player given the price - Panasonic's positioning in the high volume, low margin end of the consumer electronics market must give them good purchasing power. Their philosophy seems to be to select components that are just one step below flagship, allowing superior (but not 'state of the art') performance for a much lower cost.
Let's start with the power board. Given the cost of the player, I'm surprised that Panasonic has not only opted for a dedicated power board, but has devoted substantial chassis real estate to it. Although not actively promoted as such, it seems that Panasonic has adopted the "virtual battery" design for the power supply regulation used on previous flagship players. The transformer core is not very large, but it appears Panasonic has selected some very frugal components in terms of power requirements so hopefully there should be just enough power to share around.
The transport is a pretty standard Panasonic affair, but with the added 'attraction' of a transparent tray. Through clever lighting, the tray actually glows blue when it is opened. Very pretty.
The top side of the digital processing board contains a very large custom IC responsible for the bulk of the player's operation and processing: a Panasonic MN2DS0004AP processor that does MPEG audio and video decoding, plus Dolby Digital, Dolby Pro Logic II, DTS, and MLP audio decoding. No doubt it is also responsible for controlling the user interface and on screen display, plus additional processing functions such as time alignment and bass management.
There is also a Genesis FLI-2310 video processor for deinterlacing and HDMI scaling, plus a BA6679FM transport controller, 4MB flash memory, a Silicon Image SiI 9030CTU PanelLink HDMI transmitter, and finally an Analog Devices ADV7320 216MHz/12-bit 6-channel Video DAC with noise-shaped video. The six channels on the Video DACs allow all analogue video outputs (composite, S-Video and component) to be active simultaneously. The ADV7320 is just one step below the flagship 14-bit ADV7314 but it represents a newer generation with support for CGMS-A copy protection.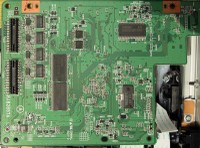 On the underside of the board are four sets of Burr Brown PCM1791 DACs (each handling two channels) plus JRC 4580 dual-channel op amps. The PCM1791 is an 'advanced segment' DAC (hybrid ladder/delta sigma) delivering 113dB S/N and 0.001% THD+N. It is capable of generating full scale analogue output voltage, so the JRC 4580 op amps are presumably used as low pass filters for analogue reconstruction. Altogether, the four sets of DACs and op amps provide eight channels out audio, allowing (possibly downmixed) 2-ch and 5.1-ch analogue outputs to be active simultaneously. In terms of quality, the PCM1791 and JRC 4580 combo is not bad, and obviously chosen for cost considerations. The flagship PCM1792 plus NJM5534 combo would have been better, but would have been much more expensive and required more power. In addition there is a BA5838FM DVD/CD controller, and SDR RAM (about 24MB in total across three chips).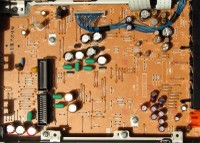 Finally, the analogue circuit board underneath the DSP board is fairly large, and contains mainly discrete components. Although both analogue audio and video signals are routed through this board, the spacing between components will help reduce interference and noise. All in all, I would say the player is very well designed, with an obvious focus on cost but also some thought towards quality where possible. This is a design that leverages the economies of scale and the custom IC design capabilities based on Panasonic's status as a high volume major electronics manufacturer, and the player would have been a lot more expensive if it was designed and manufactured by a second tier or boutique vendor, so we are getting great value for money here.
Confused about what AV Gear to buy or how to set it up? Join our Exclusive Audioholics E-Book Membership Program!