Panasonic 32bit 3D Blu-ray Players - When 24bit Just Isn't Enough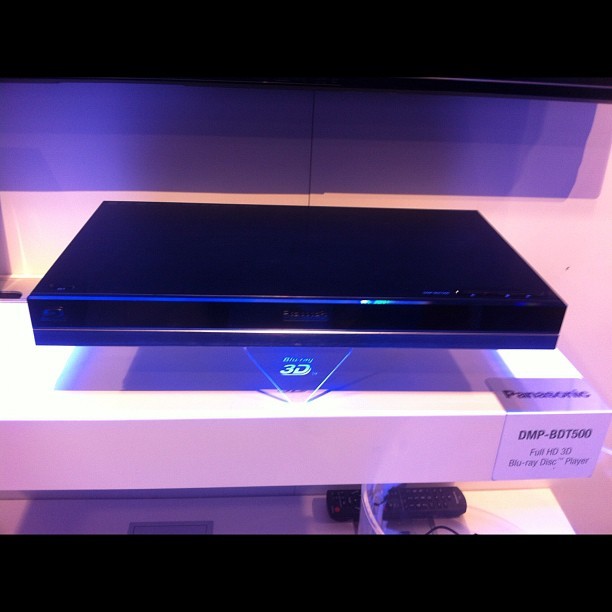 Panasonic 32bit 3D Blu-ray Players
Summary
Product Name:

32bit 3D Blu-ray Players

Manufacturer:

Panasonic

Review Date:

January 11, 2012 16:24

MSRP: $ varied
First Impression:

Pretty Cool
Executive Overview
Panasonic put out six (6) new Blu-ray players at this year's CES 2012. They include four 3D models (DMP-BBT01, DMP-BDT500, DMP-BDT320, DMP-BDT220) and and two networking 2D models (the DMP-BD87 and the DMP-BD77). All four of the 3D models include Panasonic's proprietary IPTV platform, VIERA Connect, while the 2D models feature IP VOD, a service that is different, but still offers a limited, though targeted, selection of such sites as Netflix, Vudu, CinemaNow and YouTube. What got us, though was the fact that three of these players feature 192kHz/32bit Audio DACs (not available on the DMP-BBT01). On top of that, the BDT500 includes high grade audio parts – gold plated terminals, high grade electric capacitor, better insulators... All of the 3D Blu-ray models are high-quality players that feature an improved UniPhier chip processor, 24p output for VOD, an expanded VIERA Connect functionality, and FLAC (Free Lossless Audio Codec).
But 32-bit processing - that's just crazy... but, hey, why not.
The 3D models also come with smartphone remote control capability and a new touchpad remote control (except for the DMP-BDT220). The players also have that dreaded 2D-to-3D up-conversion, which no one will use on a regular basis - at least not if they don't like self-inflicted headaches. The feature can convert 2D images from streaming sources, DVDs and Blu-ray discs into 3D. The players sport a new slim design and two models (the DMP-BBT01 and the DMP-BDT320) feature a slot-load drive that will create new heights of frustration for users who, as we all have, get a disc stuck in the machine.

One other feature really stood out as being INCREDIBLY practical, however. The DMP-BBT01 comes with a stand and can be operated either vertically, or horizontally. That makes it really cool for a potential product to hide behind a flat panel TV, never-mind the obvious interior decorating attraction.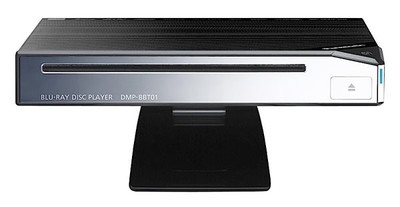 The 2012 players have a number of improvements over last year's models. First off, the UniPhier single chip signal processing LSI employs a simplified circuit architecture that reduces some wiring. The hope and goal is that there will be reduced noise on the picture and sound signal. The UniPhier chip is not only designed to produce high quality audio - it also turns off the analog video circuit when not in use. The new Panasonics use something called Adaptive Chroma Processing to precisely process the video signal of each pixel in vertical and horizontal directions, resulting in a 50% increase in vertical color data processing as compared to 2010.  redesigned DVD Super Resolution Processor also helps produce natural pictures with no false contours, higher resolution for details and a reduction in noise, all resulting in richer gradation.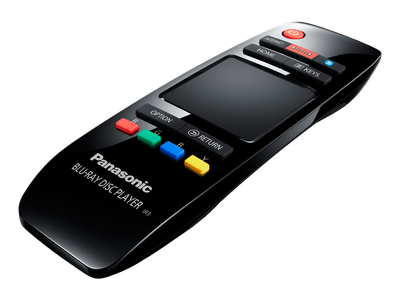 Check out this remote!!!

If audio is your bag, the BDT500 is your baby. In addition to the gold-plated connectors and increased audio quality parts, it also provides for 7.1 channel output and includes dual HDMI outputs, allowing one to be dedicated for audio output. Kinda reminds us of another high-end Blu-ray player, in fact. Not only does this result in less interference of the video signal but the additional HDMI makes the BDT500 compatible with legacy amplifiers. Audio is further improved via Panasonic's unique clock control technology that drastically reduces jitter during HDMI transmission, thereby lessening noise. And as we listed above, the 2012 players are compatible with a variety of formats such as the lossless audio codec FLAC.
Panasonic's IPTV platform VIERA Connect, now under the Smart VIERA umbrella, has been expanded and now utilizes cloud technology to present an unlimited number of entertainment, social networking, gaming, health & fitness, sports and news sites. The 3D Blu-ray Disc players provide the user with a limitless array of sites. And we mean limitless - check out this list:
Skype
Netflix
Amazon VOD
You Tube
huluplus
CinemaNow
Vudu
Pandora
Facebook
twitter
Accuweather
AP
Wall Street Journal
MLB
NBA
NHL and MLS
My Space
Disney Publishing
Flixster
...and a number of gaming sites
The two 2D players, the DMP-BD87 and DMP-BD77, offer access to Netflix, CinemaNow, Vudu and YouTube.
Connectivity and ease of use continue to be of prime importance to Panasonic. The entire 2012 line features DLNA for easy connection to other DLNA equipped products, VIERA Link – provides connectivity to other VIERA Link compatible products and NAS compatibility. This year's players are also compatible with the NTFS format HDD. Five of the six Blu-ray Disc players provide built-in WiFi, while the DMP-BD77 is wireless ready. To personalize the experience, the new multi-user mode allows one to register four users and each can record individual, favorite settings. They can also select a personal icon from 16 pre-installed images, or photos from an external source. To further personalize the player, there is the option to customize the home screen with any image the consumer chooses. Also new this year is the ability to use any Smartphone as the remote control. There is also a new touch pad remote control that offers simple, intuitive operation.
Tipping the "green" hat, the 2012 models are also Energy Star Qualified. In fact, the DMP-BDT320 features the Smart Eco Sensor, which detects the user's movement and switches to the quick start mode (boot time approximately 0.5 seconds) automatically. When one is within16 feet of the player it is in ECO mode, using approximately 0.1 watts. When motion is detected within 16 feet the player turns on the quick start mode (approximately 3.2 watts). The new slim design cuts down on packaging, thereby saving on paper and allowing more players to be placed on a pallet, resulting in less trucks and fuel being used.
Unless otherwise indicated, this is a preview article for the featured product. A formal review may or may not follow in the future.
Confused about what AV Gear to buy or how to set it up? Join our Exclusive Audioholics E-Book Membership Program!