Marantz DV6500 JLTi Mod - Universal DVD Player Review
Marantz DV6500 JLTi Mod - Universal DVD Player Review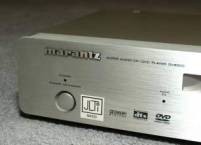 Product Name: DV6500 w/JLTi Mod
Manufacturer: Marantz
Performance Rating:
Value Rating:
Review Date: December 12, 2005 18:00
MSRP: $ 1900
Hardware:
System Motor Driver: Rohm BA5888FP
MPEG/MLP/DD/DTS Decoder: Panasonic MN2DS0004AB
DSD Decoder: Sony CXD2753R
Memory (Flash): L324 45K
Memory (DRAM/SDRAM/SRAM): 16Mbit (512Kx16x2) Samsung K4S161622H-UC60, (1Mx32x4) 48LC4M3282
D/A Converter for Video: MN35202 54MHz/10bit
D/A Converter for Audio: TI/BB DSD1608 192KHz/24bit
2 channel audio op amp: KIA4558F
5.1 channel audio op amps: 3xJRC4580
Clock generator with dual PLLs: 8707FV
JLTI modifications: Level 2 Reference clock 27MHz, improved analogue 2-channel audio, and SuperReg power regulation
Software:
Power Supply:
Input Voltage/Frequency: 230V 50Hz
Power Consumption: 13 Watt
Video Characteristic:
Video Amplitude VP-P (V): 1.0 (75 ohm)
S-Video Amplitude VP-P (V): Y:1.0VP-P/75 ohm, C 0.3VP-P/75 ohm
YCbCr: Y:1.0VP-P/75 ohm, Cb/Cr 0.7VP-P/75 ohm
SCART: CVBS/RGB/Audio
Resolution: 720X480X30/NTSC or 720X576X25/PAL (progressive and interlaced)
Audio Characteristic:
Frequency: 4Hz~44KHz (DVD @ 96kHz), 4Hz~100KHz (SA-CD), 4Hz~88KHz (DVD-A)
Output level: 2V RMS
Signal-to-Noise Ratio: 115dB
Dynamic Range: 98dB (CD), 100dB (DVD)
Total Harmonic Distortion: 0.003% (0.0045% CD)
Unit dimension:
17-5/16" x 2-61/64" x 8-5/16" (440mm X 211mm X 75mm)
Net Weight: 2.2kg (4.9lbs)
Pros
Good 2-channel audio for the discerning listener
Universal player
Navigation buttons on front panel
Small form factor
Cons
Poor progressive scan implementation (not motion adaptive, no film mode detection, chroma upsampling error, and overly soft image quality)
Poor measured audio results (low and high frequency attenuation, reduced output level, high intermodulation distortion above 1kHz, and clipping on 0dBFS+ levels)
High quality output on 2-channel only
Remote control has no back-lighting
Introduction
Ever wished you could own a truly high end esoteric digital player but your budget is limited to mass market players? Joe Rasmussen from Custom Analogue Audio reckons he has the answer. Using a cheap mass market universal player (the Marantz DV6500, normally retails for A$799 – US$649), Joe has upgraded it with technology from Vacuum State Electronics (Joe is the Australian agent) to create a "state of the art" two-channel universal player called the "JLTi SACD Player" that is being sold by Pymble Hi-Fi in Sydney, Australia, for $2,500 (~US$1,900).
Confused about what AV Gear to buy or how to set it up? Join our Exclusive Audioholics E-Book Membership Program!