Yamaha RX-Z1 First Impressions and Setup
Yamaha RX-Z1 First Impressions and Setup
Yamaha seemed to continue the tradition of excellence with the RX-Z1, much like the legendary DSP A1 Integrated Home Theater Amp and Flagship RX-V1 Receiver in that they produced a product with excellent build quality, operational flexibility, and high performance / dollar ratio. I was always a fan of Yamaha's flagship home theater products, coming from the days when the DSP A1 was king and DTS was just a newbie and commodity to the home theater world, and investing in .com stocks was actually a good idea.
What I liked about the DSP A1 was the ability to tweak just about every conceivable parameter to enhance soundfields or expand the musical realm of old two channel recordings. I felt that the DSP A1 really stood out at the time with its front effect channels because it allowed the user to apply DSP processing for music sources to a dedicated pair of front effect speakers and thus preserved the imaging of the main front speakers by un-altering the stereo signal feed to them. This greatly enhanced my enjoyment particularly when listening to two-channel CD's or old concert videos.
First Impressions
I am sure you are all familiar with the sayings about first impressions. All I can say is that the Yamaha RX-Z1 left me with an everlasting impression that this was a handsomely crafted quality product, with an imposing stature. I couldn't help to feel a rush of excitement and impatience to hoist this unit on my rack and get it all connected to my reference system. Luckily my bodybuilding hobby affords me such luxury without causing bodily harm. For those of you not accustomed to lifting heavy objects, I suggest getting assistance because the RX-Z1 is literally a heavy contender.
The Set-Up
Making all of the connections was quite simple with the RX-V1. The backpanel was well laid out and the connectors had adequate spacing between them to accommodate all of my "exotic" (gasp) interconnects and speaker cables with ease.
Notice how the Speaker Level and Power Level connections are totally isolated from Audio and Video Level connections.
The layout is clean, concise and logical which is typical of a Yamaha Receiver.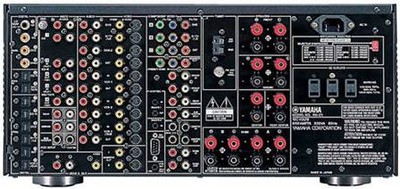 Backpanel of the Yamaha RX-Z1 Flagship Home Theater Receiver
I did however have a problem using the external trigger of the RX-Z1 to power my Aragon RPC-120 and Monster HTS-3500 Power Center. While I measured the open circuit voltage of the RX-Z1 trigger to be about +12V, I could not get it to drive either of my power centers. Thus I wound up connecting my Monster HTS-3500 at the outlet level using one of the switched outlets of the RX-Z1 as the trigger. I suspect the RX-Z1 12V trigger output did not have ample current drive for either of these devices.
Initially I decided to test the RX-Z1 as a Processor/Preamp only, by bypassing all of its internal amps in favor of my reference amplifers, and rerouted the internal Yamaha front channel amps to the Front Effects Channels. This provided a whopping 130 wpc to the front effects channels which my wife referred to as overkill, but I said "Honey when have you've ever known me to overdo things when it comes to audio ;)".
Scrolling through the On Screen Display (OSD) was a breeze given my familiarity with the DSP-A1 and the intuitive and logical layout of the RX-Z1 menus. I configured the bass management as follows given my speaker configuration and capabilities:
Main : Large
Center: Small
Rears: Small
Rear CT : None
Bass: Both
The wonderful thing about setting Bass to "Both" is that it allows subwoofer output in two channel mode even if the Main speakers are set to "Large", while still preserving the analog bypass for all analog inputs for the best audio resolution. For those who are skeptical about the RX-Z1 having a true analog bypass mode, rest assured that I checked it via their system block diagrams and schematics. Even the Volume Control, although digitally regulated, keeps the analog audio in the analog domain with 0.5dB precision. Thus no processing whatsoever takes place to the main channels when the RX-Z1 is in two-channel mode and a signal is feed through any of the analog inputs.
Now the downside to the Bass: "Both" setting is that when the RX-Z1 is engaged in a multi channel mode, the bass from the main channels is combined into the subwoofer channel, even if the mains are set to "Large" yielding a net increase of subwoofer output of up to 6dB. Ordinarily this wouldn't be a problem if the RX-Z1 allowed for independent channel level settings for each mode. But, since it doesn't, you may find the subwoofer output a bit too high when watching movies or listening to the RX-Z1 in a multi-channel music modes and thus may need to readjust accordingly. There are two ways Yamaha could have resolved this:
Offer independent channel level settings for each mode.
Allow different bass management settings for each mode.
Why Yamaha didn't offer either of these options in their flagship model is beyond me. Perhaps they will do this in the next one. Hint hint. While Yamaha Engineers are busy at work, may I also suggest the following features to be added?
Variable Crossover settings for each mode of operation.
On the fly channel level adjustments that are not retained when powered down.
Having the ability to choose the crossover setting will serve a wider variety of user speaker configurations. In addition, it would be very useful to have different crossover settings for each mode. I personally prefer setting the crossover of my subwoofer at around 40Hz for two channel music and around 70Hz for home theater. These settings work best for my speaker configurations, capabilities and personal listening tastes.
Confused about what AV Gear to buy or how to set it up? Join our Exclusive Audioholics E-Book Membership Program!