Yamaha RX-Z1 Receiver Review
Yamaha RX-Z1 Receiver Review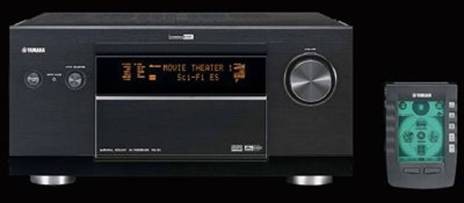 Product Name: RX-Z1
Manufacturer: Yamaha
Performance Rating:
Value Rating:
Review Date: March 14, 2003 18:00
MSRP: $ 2800
● 8-Channel Amplification
● 130 Watts x 6 at 8 Ohms, 20 Hz to 20 kHz; 45 Watts x 2 at 8 Ohms, 1 kHz
● Dolby Digital EX, DTS Digital Surround, DTS; 96/24, DTS-ES Discrete 6.1, DTS-ES Matrix, 6.1, Neo: 6 and Dolby Pro Logic II Decoding
● 41 Surround Programs (61 Variations)
● 32-Bit decoder YSS-938
● Quad-Field Cinema DSP
● Silent Cinema
● Virtual Cinema DSP
● Size: 8 1/4" H x 17 1/8" W x 18 5/8" D
● Weight: 62 Pounds
Pros
Fantastic sounding in all modes of operation.
Excellent UI and Set-Up Features.
Five Year Extended Warranty.
Cons
Fixed global 90Hz crossover settings.
No bass management on 6 channel inputs.
Yamaha RX-Z1 Introduction
Some day Yamaha is going to build a bigger, badder, and more feature packed Receiver, but for now we will have to settle with the RX-Z1. I say this in a humorous tone considering the recent trend for Receiver Manufacturers to continually push the envelope of ludicrousness with each generation of their product offerings by packing the new units with more power, more features, more surround modes, etc. Just a decade ago, a $4000 Home Theater Receiver was not only unheard of, but probably inconceivable. Today it is common practice amongst some of the top Receiver Manufacturers such as B & K, Denon, Marantz, and Pioneer Elite. It's not my point to criticize or devalue these products based on their asking price, but to point out a trend in High End Receivers of our current day. With that in mind, I must commend Yamaha for not giving into that trend, by retaining relatively the same pricing structure on their higher end models from their predecessors while still consistently offering more bang for the buck.
Confused about what AV Gear to buy or how to set it up? Join our Exclusive Audioholics E-Book Membership Program!