Yamaha RX-S600 Slimline AV Receiver Preview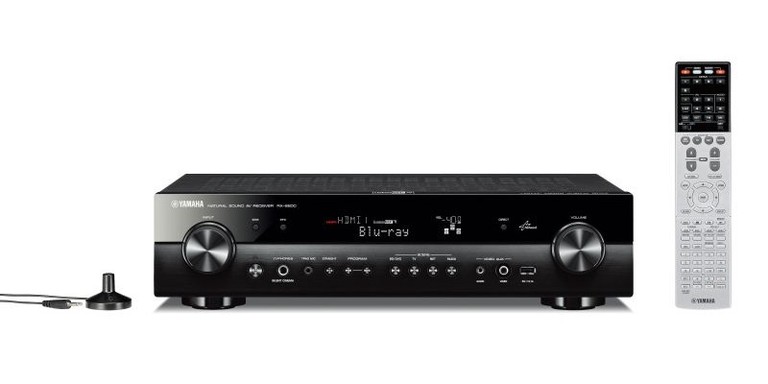 Meet Yamaha's new slimline receiver, the RX-S600.
Summary
Amplifier Section
Channels: 5.1
Rated Output Power (1kHz, 1ch driven): 95 W (6 ohms, 0.9% THD)
Rated Output Power (20Hz-20kHz, 2ch driven): 60 W (6 ohms, 0.09% THD)
Dynamic Power per Channel (8/6/4/2 ohms): 90 / 110 / 140 / 160 W

Connections
HDMI Input/Output: 5 / 1
HDMI CEC: Yes (SCENE, Device Control)
USB Input: iPod® / iPhone® / iPad®, USB Memory, Portable Audio Player
Front AV Input: USB / Mini-jack / Composite
Network Port: Yes
Digital Audio Input/Output: Optical: 2 / 0
Digital Audio Input/Output: Coaxial: 2 / 0
Analog Audio Input/Output: 4 (1 front) / 1
Component Video Input/Output: 2 / 1
Composite Video Input/Output: 4 (1 front) / 1
Preouts: Subwoofer
Headphone Output: 1

General
Standby Power Consumption (IR only): ≤0.1 W
Auto Power Standby: Yes
ECO mode: Yes
Dimensions (W x H x D): 17-1/8" x 4-3/8" x 12-5/8"
Weight: 17.2 lbs.
Executive Overview
Sometimes it feels like there is a big disconnect between electronics manufacturers and furniture makers. Frankly, quite a few so-called A/V cabinets do a horrific job of actually accommodating equipment like A/V receivers, both in terms of providing a bit of extra breathing room as well as sufficient depth to comfortably run cabling. If that story sounds all too familiar, Yamaha's new RX-S600 slim-line receiver may offer you a bit of relief. Priced at $650 and measuring 17-1/8"W x 4-3/8"H x 12-5/8"D, the RX-S600 is a full-fledged 5.1 receiver that can go places where a full sized model would simply suffocate. Keep on reading to see how this small fry holds up to an at a glance look by the Audioholics.


Features, And Look, More Features
While the RX-S600 is of fairly compact dimensions, it would appear Yamaha has ensured that there is little lacking in its feature set. Connectivity is respectable, with a total 5 of HDMI inputs, four digital inputs (2 coaxial, 2 optical), a front panel USB port which can handle both portable audio players & memory sticks, a network port, and multiple legacy A/V inputs (2 component video, 4 composite video, 4 stereo analog audio). As you'd expect from Yamaha's latest, the RX-S600 supports Ultra-HD video pass-through, 3D video, and ARC; in addition, one of the HDMI ports is MHL compatible, meaning you can watch high definition video from a mobile device. And of course since this is a networking receiver, Yamaha has included niceties like Airplay and internet radio/streaming from Pandora and vTuner.

Aside from the latest features, the RX-S600 does include a few welcome practical touches. One thing that occasionally gets overlooked when attempting to cram as much on to a back panel as possible are the speaker connectors. In this case, Yamaha has delivered binding posts on all channels, and more importantly, they appear sufficiently well spaced to help avoid accidental short circuits. The RX-S600 also expectedly includes Yamaha's proprietary YPAO auto-setup & calibration routine, which is a useful convenience. Also in a nod to convenience, the Yamaha comes with a control application compatible with iOS, Android, and Kindle Fire devices. Last but not least in Yamaha's bag of tricks, the RX-S600 sports an ECO mode which is claimed to reduce power consumption by roughly 20%. 

Rear panel of the Yamaha RX-S600.

Specified Performance
As this is a first look, we haven't yet run the RX-S600 through its paces. Fortunately, a glance at the Yamaha's spec sheet does reveal some useful pieces of information. In accordance with its diminutive proportions, the RX-S600 is rated to deliver 55W into an 8 ohm load (0.09% THD, 2 ch driven) and 60W into a 6 ohm load (0.09% THD, 2 ch driven). While not the magic 100W everyone knows and loves, it is worth recalling that a drop from 100W to 50W amounts to 3dB worth of output, meaning the Yamaha can still deliver considerable output to fill a small to medium sized space assuming your speakers are of at least average sensitivity. It's also worth noting that the power ratings do suggest the RX-S600 is ill suited to handle low impedance loads (i.e. 4 ohms) given the voltage drop between the 8 ohm rating and 6 ohm rating (~21V to ~19V). Beyond sheer power, the RX-S600's other specs suggest fair to good performance. Signal to noise ratio is rated at a respectable >108dB (A weighted), while frequency response is adequate at 10Hz-100kHz +0/-3dB. Crosstalk is rated to be 60dB at 1kHz, and 45dB at 10kHz, which is acceptable, but not outstanding.


Summary
If you've got high hopes for a surround system, but are short on space for electronics, Yamaha understands your plight. Their new RX-S600 is a pint-sized, feature packed receiver well suited to be the hub of a modern A/V system. Naturally its small stature means power isn't unlimited. Further, we wouldn't recommend utilizing the Yamaha with 4 ohm speakers. However, in a smaller space with reasonably sensitive 8 ohm speakers, we'd expect that the RX-S600 would get the job quite done nicely.



Confused about what AV Gear to buy or how to set it up? Join our Exclusive Audioholics E-Book Membership Program!
Recent Forum Posts: