Features Cont. & Build Quality
Features Cont. & Build Quality
Control4 Automation Overview
I spoke with Sony's Product Marketing Manager, Aaron Levine, in order to get an idea of what Sony's goal was with this receiver. He talked about how the home automation market is growing and consumers and custom installers are looking for ways to get automation into homes. Consumers benefit from the built-in Control4 features because it gives them the ability to get a taste of what automation is like. Most people have never had a piece of equipment that has the ability to intelligently control everything in their system, including lighting. Now consumers can step into basic automation without the added expense of extra equipment or the labor costs of custom integrators. At this point some installers may be thinking this receiver is going to hurt their business, but Sony says the opposite is true. Because of the complexity of automation, the receiver comes with limited Control4 functionality (we will cover this in more detail later). The client can get a taste of automation and then enlist the help of a Control4 technician to expand and customize the system if needed. The receiver can also be integrated into an existing Control4 system because it is SDDP certified. Remember that although Sony's partnership with Control4 is a big part of this receiver, it does feature Crestron Connected and AMX Beacon technologies.
What can a consumer do and when do you need an installer?
While Sony packed quite a bit of automation functionality into the STR-DA2800ES, without paying an extra $300 registration fee and enlisting the help of a Control4 certified technician, many of the advances features are locked. This makes sense because if the receiver had full Control4 functionality right out of the box then you would have to hire an installer to setup your receiver. That being said, as an end-user you can still do quite a bit with the STR-DA2800ES.
The receiver comes with the UWA-C4Z wireless adapter, which allows the unit to interface with Control4's wireless lighting controllers. Unfortunately, without professional installation it can only interface with Control4's wireless outlet switch or dimmer, not their in-wall dimmers/switches. On the back of the receiver are 4 IR outputs for use with the 4 pre-packaged IR blasters. Because they are blasters (sit in front of equipment) and not eyes (stick on equipment), each blaster can be used to control multiple devices.
During the initial setup you tell the receiver what equipment is hooked up and what inputs everything is connected to. The receiver then dips into Control4's database and automatically programs a basic macro for each input. For example, when you switch the receiver to the "Blu-ray" input it will send a macro like this: TV power on – Blu-ray power on – TV input. Without professional installation there is no way to adjust power on/off or input delays, so you have to hope that Control4's database is correct, and luckily it is continually updated. The only other automation options available are 4 Easy Automation modes: Movie, Music, Party, and Night. Each of these modes can be customized to not only send out a basic power/input macro but also set the lights, second zone, and sound modes automatically.
If you want any automation functionality beyond what I just described, then you will need to look into professional installation. When Control4 is activated the entire menu system on the receiver changes to Control4's typical menu scheme and Sony's mobile app is reduced to a basic directional pad. At that point you can control the system with the included remote control, Control4 remote, or Control4 mobile app.
Build Quality
With all of the automation and network features built into this receiver we wondered if Sony was going to skimp on build quality. Overall, the build quality of the STR-DA2800 is about average to slightly under average for a receiver in this class. The receiver is rated at 100 watts x 7 @ 8 ohms, 20-20kHz, 0.09% THD. The actual testing is only done with two channels fully driven, but such a rating method is standard for AV receivers. In order to hit 100 watts with adequate margin in the parts, you need at least 50V rated caps. The Sony has 2 x 71V 10,000uF caps on the power supply, which is actually the same as the $500 STR-DN1030 we reviewed. This is generally adequate but slightly less than some competition. For example, the Yamaha RX-A1010 we reviewed retails for about the same price and has 71v 12,000uf caps (but not nearly the suite of automation or network features).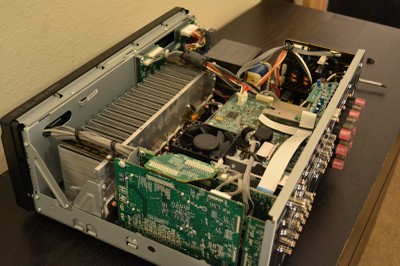 Sony STR-DA2800ES side shot with top panel removed
Confused about what AV Gear to buy or how to set it up? Join our Exclusive Audioholics E-Book Membership Program!
Recent Forum Posts:
j_garcia posts on January 07, 2013 13:23
$1K and no preamp outs? Yes, I get that they were going for a new feature set, but still.
Post Reply