Samsung HW-C700 Features and Build Quality
Samsung HW-C700 Features and Build Quality
The HW-C700 Surround receiver is the answer to the middle class' search for a device to bring all of those AV/gaming sources together into one good looking unit. For example, the system will handle four HDMI devices - that's enough for your DISH or cableTV box, a couple gaming devices and a Blu-ray player. In addition it has three composite and three component video inputs, but it won't up-converts those signals to its single HDMI output. This means that users with legacy equipment, such as older DVD players and set top boxes, will need to connect these up to the HW-C700 and still get that output to their televisions with an additional cable. We call this 'garbage in, garbage out.' For those looking to wall mount a new flat panel display, or with remotely-located equipment, you'll need to keep this in mind. For those who have fully taken the HDMI plunge, you won't have to switch inputs on your television when going from source to source. These days, convenience gets a lot of weight in home theater product decisions, so be aware that spending a little extra may go a long way if you require upconversion. while the HW-C700 switches incoming HDMI sources, it doesn't scale the output. That means that if you send a 720p signal in via HDMI, it will go out the HDMI output at 720p. This is actually a good thing, since we've seen lots of AV receivers do worse jobs at processing video than displays. If you have a great TV, let's let it do something!
In terms of audio the HW-C700 has 7 pairs of five-way binding posts for all channels except the parallel analog line level outputs for the subwoofer. There are two component inputs, a sufficient number given that there are four HDMI inputs which also support multi-channel audio (including the uncompressed Dolby TrueHD and dts-HD formats). There are also four digital audio inputs (3 optical TOSLink and one coax). For stereo analogue sources there is an Aux stereo input in the front of the receiver and 5 rear connection pairs as well. It also has a multi-channel (7.1) input for a legacy DVD player with multi-channel outputs. The way Samsung handles its sources is that the digital inputs are assignable but you cannot rename inputs or move the actual analogue audio or video sources around.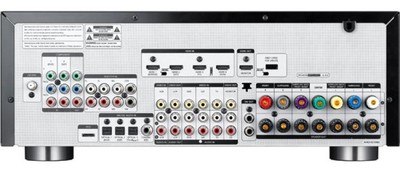 Once again, S-video is, thankfully, nowhere to be seen

Build Quality
The receiver has a sleek, minimalistic and modern front with a subtle, white, digital display against a dark gray background. It has a decent size to it and looks heavier than it actually is (13.7lbs). It presents a smooth charcoal grey front with only a large volume knob in the front to break up the solid wall of understated cool. That is until you pull down the front panel which reveals numerous knobs, buttons, controls and analogue RCA inputs. If you lose the remote, you can still manipulate all controls with this front pull down panel. The power button, in typical Samsung style, functions off of a capacitance style sensor rather than pushing on it like a button. It's really cool to swipe your finger and have it power down, but the downside is that it can be a little tricky at times and you find that you didn't cover the area or swipe it to the sensor's satisfaction. Still, it's an innovative feature and feels like it belongs on a really high end system.
Confused about what AV Gear to buy or how to set it up? Join our Exclusive Audioholics E-Book Membership Program!
Recent Forum Posts:
brawsky posts on November 30, 2010 06:49
Thanks for the info
Seth=L posts on November 25, 2010 15:54
Bismarck, post: 768834
Since the receiver is so lightweight I wonder if it is using a class A/B amp or a switching amp? Either way, power hasn't been a big issue for me.


I'm sure the Samsung uses a switching power supply feeding some derivitive of Class D amplification.
Bismarck posts on November 25, 2010 13:06
I have actually setup a number of these receivers and wouldn't give them too glowing of a review. They sound fine for the price, and match other Samsung components well. The lack of transcoding to HDMI is a real concern for me. Also, the lack of an audio return channel (ARC) is annoying for people using an OTA antenna hooked right to their TV.

I have had a number of problems with the receiver dropping audio. For a few clients, I have had to set their blu-ray Players to re-encode the new HD sound formats for the receiver to work properly.

Since the receiver is so lightweight I wonder if it is using a class A/B amp or a switching amp? Either way, power hasn't been a big issue for me.

Still, there is nothing that makes this receiver stand out over the other competition, other than the included iPod dock. The Denon AVR-591, for less money, has ARC, transcoding to HDMI, and a lot more setup features. The crossover on the Denon isn't global, you can set an volume limit so our kids don't crank it up too loud, and you can set a power on volume level. I am not a Denon fanboy, but their receiver at this price point is much better in my opinion.
3db posts on November 25, 2010 12:09
M Code, post: 768810
Nope..
Reason is lack of interoperability with other HDMI components..

Just my $0.02…
What? With all them standards kicking around and you still have interoperability issues? Who'd a thunk it?
M Code posts on November 25, 2010 11:08
Seth=L, post: 768796
Failure probably occurs whenever a 4 ohm load is encountered.
Nope..
Reason is lack of interoperability with other HDMI components..
Just my $0.02…
Post Reply