Marantz SR7002 Basic Setup and Multi-Room Use
Marantz SR7002 Basic Setup and Multi-Room Use
Setting up the SR7002 is not exactly brain surgery, but let's go through some of the steps to make sure the process is covered in its entirety. If you're new to modern receivers or having an on-screen display, the key is simply making your way through the system in order and knowing what's important and what should be left alone. In the case of the SR7002, Marantz has made their OSD simple and as intuitive as can be expected. Those who are used to some more complex systems will call it very simplified. Some manufacturers are moving to a GUI interface, which is nice except when it interferes with the usability of the system (common). Marantz has employed the KISS method where simplicity and straightforwardness rules the day.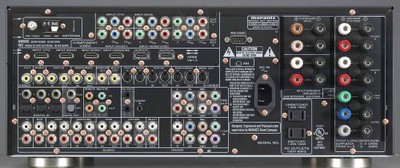 Back Panel of the Marantz SR7002 7.1 Home Theater Receiver
Physically, you'll want to start by connecting your inputs and outputs. Yes, that sounds obvious, but this is how you can keep from getting overwhelmed when hooking up such an advanced AV product. Taking a look at the rear of the SR7002, note that the connections do indeed have default designations for TV, DVD, VCR, etc. I'd recommend attempting to connect your products to the corresponding inputs whenever possible. Apparently, Marantz believes that no one uses CableTV, so use either TV, DSS or VCR1 for any set-top cable boxes you may be connecting. The rear panel in general is organized by connector type, rather than numbered or labeled input - making it a tad difficult if you're used to other receiver manufacturers like Yamaha or Denon.
You'll have no choice but to note the colorful speaker binding posts on the rear of the unit. Marantz is utilizing the new CEA-863-A connector color standards for surround sound. Some will find this helpful, some confusing, and others will simply feel like it makes the rear of the receiver look like an advertisement for a new round of colored M&Ms. Hook up your speaker cables by connecting them to the rear 5-way binding posts as indicated. If you have a 5.1 room, you won't be utilizing the brown and beige Surround Back connections. If you have a second Zone, you'll want to connect those speakers to the Red and White Multi Speaker binding posts (we'll cover more on this later).
Audio connectivity is also flexible and straightforward. If you have a Blu-ray or HD DVD high definition disc player, you can send high resolution audio via either HDMI or 7.1 analogue inputs. These inputs could alternatively be used for legacy DVD-Audio or SACD players that don't support HDMI output. The SR7002 also has 7.1 analogue preamp outputs for use with an external 7-channel amplifier. This means that you can upgrade this receiver down the road to add more power and still enjoy all 8 channels of the new HD audio formats.
Setting Up the Receiver – Multi-Room Use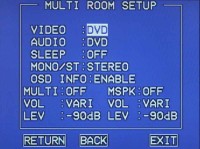 One major feature that will be (hopefully) utilized by owners of the SR7002 is its Multi Room feature. The way the Marantz SR7002 works, you can have both Surround Back speakers and a separate Multi Zone configured. Using the OSD you can switch between using the Surround Back or the Second Zone. What this means is that you never have to switch the cabling behind the AV receiver and can hard-wire your second zone permanently. The thing to understand about these connections is that they can be used in two different ways:
Speaker C (Bi-amp Mode)
With the rear switch sent to 'On' the Brown and Beige speaker connector pairs can be used to bi-amp your front speakers, sending the additional amps (typically used for the Surround Back speakers) to deliver power to the high and low inputs of your speakers separately. Make sure that in the Multi Room setup menu of the OSD you have MSPK (Multi Speaker) set to OFF. The correct level for bi-amp mode is set automatically by the receiver.

Multi Speaker (Zone 2 Mode)
With the rear switch sent to 'Off' the Brown and Beige speaker connector pairs can be used to send a discrete audio (and corresponding video) source to a second zone in another room. To enable this you'll need to go into the OSD's Multi Room Setup and set MSPK (Multi Speaker) to ON. Controlling the volume for this second Zone can be done via the main remote (for the Multi Speaker outputs) and the Zone 2 remote (for the Multi preamp outputs)
The other thing that may come in handy when setting up a Second Zone is that the SR7002 can send out the signal as a mono source. This means you can look at the Multi Speaker outputs as two mono 110W amplifiers which can be routed to several areas of the home. My second zone goes to my back yard and supplies audio for parties and get-togethers which we throw from time to time. No matter how you use it, the SR7002 seems ready to put your music where, and how, you want it.
Confused about what AV Gear to buy or how to set it up? Join our Exclusive Audioholics E-Book Membership Program!
Recent Forum Posts:
mouettus posts on May 02, 2008 16:17
mpedris, post: 408262
How might the SR-7002 drive a 4 ohm or 6 ohm load continuously?

A friend is considering buying this receiver to drive the Mirage OMD-5 (rated at 6 ohms) or Sonus Faber Concertino (rated at 4 ohms).

Might a Denon AVR-3808 do a better job at driving the said speakers?

Thanks in advance for any help.
IMO, I wouldn't even consider driving 4ohm speakers continuously on a receiver point.
6ohm might be ok… check the manual/call for tech support.
mpedris posts on May 02, 2008 10:59
How might the SR-7002 drive a 4 ohm or 6 ohm load continuously?

A friend is considering buying this receiver to drive the Mirage OMD-5 (rated at 6 ohms) or Sonus Faber Concertino (rated at 4 ohms).

Might a Denon AVR-3808 do a better job at driving the said speakers?

Thanks in advance for any help.
Gary Pavlovich posts on April 28, 2008 20:14
What are your thoughts on the Harman Kardon AVR247?

To "intheindustry,"

What is your experience with the latest Harman Kardon AVR 247 product?

I am putting together my HT setup and purchased this unit, still new in the box, and haven't installed it yet but reading all the current "problems" should I switch to the Onkyo 605 or 606 for better quality and sound?

Being new to HT, is there an appreciable sound/video quality difference with 1.3 vs. my Harman AVR 247's 1.1 (1.2?) setup?

I would like the best sound and picture in this price range.

Thank you for any help!

Gary
geraldan posts on April 28, 2008 04:50
Marantz SR7002

Setting up HT system, considering this AV receiver. A couple of questions: My centre channel is 4 ohm, 88 db, max power 100w, fronts will be 8 ohm 87db max power 80w, rears 8 ohm 85 db max power 100w - will this receiver do the job?
Regarding its video capabilities, if I get a Blu Ray player such as the Panasonic BDP HDK 50 (or 30) and play a regular DVD (not Blu Ray), will the Blu Ray player upscale to 1080p, and so are the "limitations" of the Marantz video upscaling irrelevant (it only upconverts 480i/p via HDMI)?
Thanks, geraldan (a newbie to all of this technical stuff!)
Seth=L posts on April 12, 2008 11:45
Lower impedance speakers are harder to drive because they require more power. Most receivers run out of gas so to speak when trying to drive a constant 4 ohm load at reference levels. Speakers don't ask for power, they take it, and sometimes they try to take more than the power source can handle dishing out, but the power source tries to give the speakers all the power they want even if it's not meant to do so. One of two things will occur if the speakers are taking too much power, it will shut down (protection mode) or it will eventually break down the power source from massive heat build up.
Post Reply