Marantz SR7002 Features and Build Quality
Marantz SR7002 Features and Build Quality
A New Breed of Marantz Receiver?
There are so many features being added to AV receivers these days, it's hard to keep up - but that's what I like to call a quality problem. The real problem is discerning which of the features really matter. For those of you familiar with past Marantz products, you may be surprised to note that the company is alive and well and competing head-on with other manufacturers in the home theater market. In fact, I was as stunned as anyone when I realized the incredible potential of the x002 series. A quick market comparison yields the following models for analysis. We realize not every manufacturer is listed here, but you'll get at least a good partial view of the marketplace:
| Manufacturer | Marantz | Denon | Yamaha | Onkyo | HK | Pioneer |
| --- | --- | --- | --- | --- | --- | --- |
| Model | SR7002 | AVR-3808CI | RX-V1800 | TX-SR805 | AVR347 | VSX-92TXH |
| MSRP | $1399 | $1599 | $1299 | $1099 | $899 | $1300 |
| HDMI In/Out | 4/1/1* | 4/1 | 4/1 | 3/1 | 2/1 | 3/1 |
| HDMI version | 1.3a | 1.3a | 1.3a | 1.3a | 1.1 | 1.3a |
| Deep Color | Yes | Yes | Yes | Yes | No | Yes |
| xvYCC | Yes | Yes | Yes | Yes | No | Yes |
| HDMI Upconversion | 480p | 1080p | 1080p | 1080p | 720p | 1080p |
| THX Certification | Select2 | No | No | Ultra2 | No | Select2 |
*The Marantz is spec'd as having 4 HDMI inputs and 2 outputs, however it can only utilize 1 HDMI output at a time. In our opinion, this deserves a designation of 4/1/1 rather than 4/2.
Compared to the competition, the Marantz has a lot going for it. That's not to say it's the clear leader in every way, but there are several features that may be very tempting to those shopping for a future-ready product:
THX Select2 Certified
Support for Dolby TrueHD, Dolby Digital Plus, dts-HD Master Audio
Deep Color, xvYCC and SACD Support by HDMI
Up-Conversion (w/TBC) to HDMI with 480i/480p Converter
Dual Component Outputs
XM HD Surround by Neural THX Technologies
M-DAX (Marantz Dynamic Audio eXxpander) for Compressed Audio
Audyssey MultEQ
RS-232C control, IR Flasher Input and two 12VDC triggers
2nd Zone Audio/Video Output
RC8001SR Main-Room & RC101M Multi-Room Remotes Included
First Impressions & Build Quality
I hadn't played with a Marantz receiver in many years - certainly not since they brought their products into the realm of modern-day receivers with all the technologies consumers expect. The difference is, Marantz did it at a surprising value and seems to be one of the manufacturers currently dominating the sub-flagship market. I say this because of the THX certification, dual HDMI and component video outputs, and their integration of such technologies as XM, Audyssey MultEQ and powered Zone 2 with video. Upon unpacking the receiver I first recognized that it was a serious piece of equipment, weighing in at just over 33 lbs and standing 7-1/4 inches tall. I lugged it into Reference System 2's equipment rack and configured it for use with my RBH Sound CinemaSITE 5.2 system. The Marantz is a pretty receiver, with an oil-damped mechanism hiding the majority of front controls. This leaves the Aux inputs, Volume and Source selection knobs plus a headphone output in plain view along with the detail-rich fluorescent (FL) display. Speaking of front controls, there are enough to just about run the entire AV receiver should you ever lose the all-important remote control.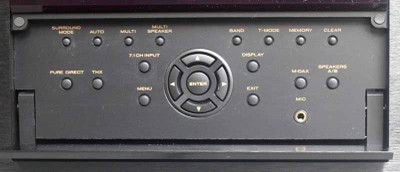 The front panel allows you to access Surround modes, Multi-room and Multi-speaker settings, radio functions and other features. Note that the Mic input is here for running the on-board Audyssey MultEQ system and you have direct access over the Setup menu and enabling A-B speakers. Marantz' M-DAX (Marantz Dynamic Audio eXpander) can also be turned on here, allowing you to expand MP3 and AAC-encoded files for a fuller sound and a recapturing of higher-frequency content.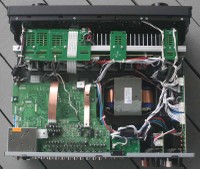 Inside (I couldn't help but crack open the unit to see what made up the internals) the Marantz SR7002 is packed solid. I mention this because I have opened up products in the past only to find a "box of air" with a scant few circuit boards littered around a small power supply. Mind you, this hasn't been the case with many receivers, but so-called "high-end" processors are notorious for their simplification. The SR7002 is so packed with boards, capacitors, and other components that I could hardly believe enough air circulated to keep the unit from overheating. Peer straight down into the box and you'll note the giant EI transformer positioned near the middle of the chassis (incidentally, the more expensive flagship SR8002 model utilizes a toroidal transformer). Surrounding it are a myriad of power supply components which presented enough specs to reassure me it would get the job done. The transformer and power supply seemed sufficiently isolated from the audio components which led me to believe Marantz paid attention to the needs of its audiophile base. In addition, the receiver features independent power supply components for the FL display, so you won't get any of the telltale RF interference which can transfer if it isn't sufficiently isolated.
Confused about what AV Gear to buy or how to set it up? Join our Exclusive Audioholics E-Book Membership Program!
Recent Forum Posts:
mouettus posts on May 02, 2008 16:17
mpedris, post: 408262
How might the SR-7002 drive a 4 ohm or 6 ohm load continuously?

A friend is considering buying this receiver to drive the Mirage OMD-5 (rated at 6 ohms) or Sonus Faber Concertino (rated at 4 ohms).

Might a Denon AVR-3808 do a better job at driving the said speakers?

Thanks in advance for any help.
IMO, I wouldn't even consider driving 4ohm speakers continuously on a receiver point.
6ohm might be ok… check the manual/call for tech support.
mpedris posts on May 02, 2008 10:59
How might the SR-7002 drive a 4 ohm or 6 ohm load continuously?

A friend is considering buying this receiver to drive the Mirage OMD-5 (rated at 6 ohms) or Sonus Faber Concertino (rated at 4 ohms).

Might a Denon AVR-3808 do a better job at driving the said speakers?

Thanks in advance for any help.
Gary Pavlovich posts on April 28, 2008 20:14
What are your thoughts on the Harman Kardon AVR247?

To "intheindustry,"

What is your experience with the latest Harman Kardon AVR 247 product?

I am putting together my HT setup and purchased this unit, still new in the box, and haven't installed it yet but reading all the current "problems" should I switch to the Onkyo 605 or 606 for better quality and sound?

Being new to HT, is there an appreciable sound/video quality difference with 1.3 vs. my Harman AVR 247's 1.1 (1.2?) setup?

I would like the best sound and picture in this price range.

Thank you for any help!

Gary
geraldan posts on April 28, 2008 04:50
Marantz SR7002

Setting up HT system, considering this AV receiver. A couple of questions: My centre channel is 4 ohm, 88 db, max power 100w, fronts will be 8 ohm 87db max power 80w, rears 8 ohm 85 db max power 100w - will this receiver do the job?
Regarding its video capabilities, if I get a Blu Ray player such as the Panasonic BDP HDK 50 (or 30) and play a regular DVD (not Blu Ray), will the Blu Ray player upscale to 1080p, and so are the "limitations" of the Marantz video upscaling irrelevant (it only upconverts 480i/p via HDMI)?
Thanks, geraldan (a newbie to all of this technical stuff!)
Seth=L posts on April 12, 2008 11:45
Lower impedance speakers are harder to drive because they require more power. Most receivers run out of gas so to speak when trying to drive a constant 4 ohm load at reference levels. Speakers don't ask for power, they take it, and sometimes they try to take more than the power source can handle dishing out, but the power source tries to give the speakers all the power they want even if it's not meant to do so. One of two things will occur if the speakers are taking too much power, it will shut down (protection mode) or it will eventually break down the power source from massive heat build up.
Post Reply