Marantz SR-18 Receiver Preview
Marantz SR-18 Receiver Preview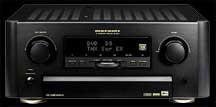 Marantz SR-18
This system set-up was furnished by Miani Audio located in Clearwater, Florida. Joe Miani, one of the store owners of Miani Audio, was nice enough to allow us the privilege to sit in one of their excellent show rooms for a few hours to demo the above mentioned A/V system.
The Marantz SR-18 is one AV  receiver with need for little introduction. It is basically a state of the art piece of hardware and one of the best all in one box home theater solutions on the market. Marantz has recently come a long way with their A/V receivers, as this powerhouse flagship best illustrates here.
Build quality of the SR-18 is second to none within its respected class. The SR-18 is endowed with a high-current toroidal transformer power supply, premium high storage, low ESR power supply capacitors, fully discrete preamp and power amp output stages, and premium 96KHz / 24 bit DAC's.
Listening Tests
Our listening tests proved the Marantz SR-18 to be a very musical, powerful and dynamic receiver. Two-channel audio sounded very composed and full, even at high volume levels. The amp never sounded strained during bass heavy transitions. Instead, it just pumped out the low frequencies with authority and clarity, yielding a very natural sounding midrange and airy, detailed, but not too bright treble. One particular characteristic of the SR-18 we have come to appreciate was the extremely low noise floor, which until this moment, we haven't found an all in one box unit which exhibited this characteristic so well since the legendary Yamaha DSP A1. We spent considerable time listening and evaluating DTS CD's on the Energy speaker system with much enjoyment and enthusiasm. The SR-18 decoded DTS CD's flawlessly and handled DPL and DD with equal prowess. In addition, bass management was done correctly for the first time in a Marantz Receiver.
User Interface
We found the user interface of the SR-18 to be the weak point of this unit. The On Screen Menus (OSM) were not intuitive at all. It took some doing just to get a darn test tone to initiate. The remote was quite impressive looking, but also not intuitive to the neophyte or experienced audio buff who desires to operate the SR-18 on the fly and is too lazy to refer to a user manual. With time and patience, the user can master this powerful remote which could potentially serve as the main user interface to the entire A/V system. This remote is light years ahead of the remote for the Denon 5700 or Yamaha DSP A1 in this regard.
Perhaps one of the biggest gripes we had about the SR-18 with respect to user friendliness, was its very lacking user manual. It was very vague in explaining system set up and operation. It furnished very little electrical specifications on the unit and what it did provide was ambiguous and incomplete. The user manual on the Yamaha DSP A1 and also the Denon 5700 are far superior in this regard.
Discrepancies on Specifications and Capabilities of the SR-18
There are a few misleading specifications regarding this receiver. The first and most important misleading specification is claimed output power ratings. The Brochure on the SR-18 claims the amps to be 140 watts RMS at full bandwidth, while the actual user manual states 140 watts RMS at 1KHz. The Denon 5700 is also marketed like this. Marantz / Denon probably rely on the fact that most consumers will not be able to assertion or at least notice these misleading power figures and hope they buy based on inflated numbers. While in actuality 140 watts RMS at 1KHz translates to about 105 - 110 watts RMS at full bandwidth. This is one fine example of how manufactures like to play games with their claimed power ratings.
While the SR-18 has these higher fidelity DAC's, they cannot be utilized with multi channel surround signals (IE. DD, DTS, etc). The user manual for the SR-18 explicitly states the following on page 31: " PCM-audio signals can be subjected to Pro Logic Processing when Fs = 32 KHz, 44.1 KHz , or 48 KHz.. However, output will be muted when 96 KHz PCM signal or DTS signal are input." What this is basically saying is anytime a 96KHz signal is subjected to multi channel processing, it will be muted. Be that as it may, ask yourself what's the significance of having 96KHz / 24 bit DAC's if they cannot be utilized for all applications which employ 96KHz audio. Marantz in not the only vendor doing this. All receivers boasting 96KHz DAC's also follow this principal as it is a limitation to the current digital interface. Logical would lead one to conclude that all current 96KHz / 24 bit Processors are marketing gimmicks at best. DVD audio, will be 192 KHz / 24 bit, is backed by a new Audio Standard, unlike 96KHz audio. DVD audio hardware and software will envelope the consumer market and lay to rest the notion of 96KHz DAC's currently supported by some manufacturers who were too impatient to wait for the new Audio Standard to be completed and finalized.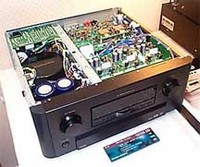 Another discrepancy found on the SR-18 was on its weight. As insignificant as this may sound to the average shopper, the more sophisticated shopper would consider weight of a product as a good way to judge the amount of guts in the unit (IE. Size of Power Supply, Heat Sinks, etc). The brochure on the SR-18 claims it to weigh 56.1 lbs while the user manual states it weighs 49.7 lbs (same weight as the Denon 5700). The 6.4 lbs discrepancy makes one wonder if the power supply may be smaller than one was originally lead to believe. Keep in mind that the amps in this receiver, as well as most receivers, are Class AB and utilize linear power supplies. Linear power supplies are large and bulky. A big transformer weighs a good deal, which adds considerable weight to the box. The B&K AVR 202 and Yamaha DSP A1 are the heaviest all in one box solutions on the market (55 lbs and 52 lbs respectively). Please note, we are not trying to suggest that the DSP A1 or AVR 202 are better because of this, but this fact does provide insight, in some cases, to build quality and emphasis placed on quality of parts utilized in the particular product.
Conclusion
In spite of the Marantz SR-18's shortcomings mentioned above, we feel it to be an excellent overall product for home theater applications. It ranks right up there with the B&K AVR 202, Yamaha DSP A1 and Denon 5700. Each of these fine machines have their own associated strengths and weaknesses.
Choosing which one to purchase is a function of the individuals:
Applications
Performance expectations
Budget
Preference
We felt the strong points of the SR-18 to be:
Musical amp section
Powerful and dynamic amp sections
Excellent DPL / DD & DTS decoding
Excellent, but complicated remote
Digital output (1 coaxial, 1 optical)
While we felt the weak points of the SR-18 to be:
Useless DSP modes
User Interface
User Manual
Limited amount of Digital inputs (2 optical, 2 coaxial)
No Phone input or preamp

Sub-out inactive in 2 channel mode when main speakers are set to large.
- Reviewed by Gene, JHT, and RYT
Confused about what AV Gear to buy or how to set it up? Join our Exclusive Audioholics E-Book Membership Program!