2013 Pioneer VSX-xx23 Series A/V Receivers Preview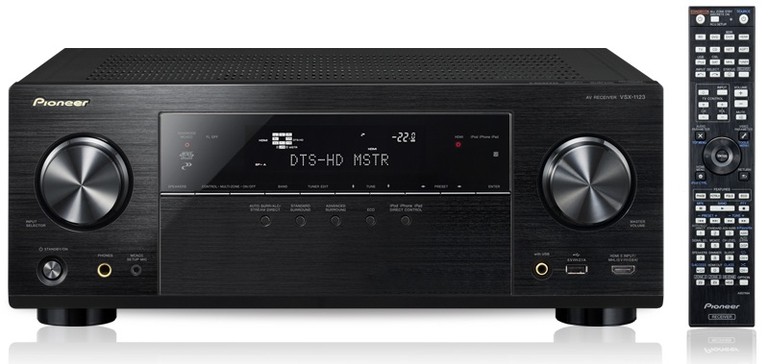 The Pioneer VSX-1123-K 7.2 Channel Receiver
Summary
VSX-523-K
Channels: 5.1
HDMI: 4 in, 1 out

Power Output Per Channel(20Hz-20kHz,.08%THD@8ohm): 80 Watts

Amplifier Design: Discrete Direct Energy

Digital Core DSP Engine: Texas Instruments Aureus
Formats: Dolby True HD, Dolby Digital Plus, Dolby Pro-Logic IIz, DTS-HD Master Audio
MCACC Auto-Calibration System; 5-Band EQ
Dimensions: 17 1/8" W, 6 5/8" H, 13 1/16" D; 18.4 pounds
VSX-823-K
Channels: 5.1
HDMI: 6 in, 1 out

Power Output Per Channel(20Hz-20kHz,.08%THD@8ohm): 80 Watts

Amplifier Design: Discrete Direct Energy

Digital Core DSP Engine: Texas Instruments Aureus
Formats: Dolby True HD, Dolby Digital Plus, Dolby Pro-Logic IIz, DTS-HD Master Audio
MCACC Auto-Calibration System; 5-Band EQ
Dimensions: 17 1/8" W, 6 5/8" H, 13 1/16" D; 18.11 pounds
VSX-1023-K
Power Output Per Channel(20Hz-20kHz,.08%THD@8ohm): 80 Watts

Amplifier Design: Discrete Direct Energy

Digital Core DSP Engine: Texas Instruments Aureus
Formats: Dolby True HD, Dolby Digital Plus, Dolby Pro-Logic IIz, DTS-HD Master Audio
MCACC Auto-Calibration System; 5-Band EQ
Dimensions: 17 1/8" W, 6 5/8" H, 13 1/2" D; 20.4 pounds
VSX-1123-K
Power Output Per Channel(20Hz-20kHz,.08%THD@8ohm): 90 Watts

Amplifier Design: Discrete Direct Energy

Digital Core DSP Engine: Texas Instruments Aureus
Formats: Dolby True HD, Dolby Digital Plus, Dolby Pro-Logic IIz, DTS-HD Master Audio
Advanced MCACC Auto-Calibration System; 9-Band EQ
Dimensions: 17 1/8" W, 6 5/8" H, 14 1/4" D; 21.9 pounds
It may not be Christmas, but in the world of A/V receiver manufacturers it's the most wonderful time of the year. All of the new models are on their way to store shelves. Yamaha recently announced their 2013 lineup, and Pioneer, not a company to be outdone, is following suit with their VSX-xx23 line of A/V receivers. Pioneer's 2013 lineup consists of the VSX-523 ($279.99) and VSX-823 ($429.99) 5.1 channel receivers, the VSX-1023 ($529.99) 7.1 channel receiver, and the VSX-1123 ($629.99) 7.2 channel receiver. The name of the game for this release is integration, namely with smartphones—both Apple/iOS and Android. A few other nice-to-have features include 4K Ultra-HD support, an ECO Mode to reduce power consumption, and (on the top dog VSX-1123) a Zone 2 HDMI output. It sounds like Pioneer has been busy.
VSX-523 - $279

Filling the entry level slot at $279.99 is the VSX-523, a 5.1 channel receiver boasting 80 watts per channel into 8 ohms (though it is not specified how many channels are driven). Featuring four HDMI inputs and a single HDMI output, the VSX-523 also has a single digital coaxial input and a single optical input as well as three sets of stereo analog inputs (and a pair of composite video inputs and one output). Speaker outputs take the form of 5-way binding posts for the front left and right channels, and spring type connectors for the remainder of the powered channels. Naturally, to fill in the .1 channel, the VSX-523 sports a single subwoofer pre-out as well.
At this point you might be thinking that none of the above is particularly extraordinary, and you would be right. But, Pioneer has included a few additional niceties to help set the VSX-523 apart from the entry-level pack. For starters, the VSX-523 features Pioneer's proprietary auto-calibration routine, MCACC, which is nice to see trickling down to this price point. Additionally, Pioneer's ECO Mode promises a fine audio/visual experience without consuming undue amounts of power. Unlike most claims of being green which only apply to standby modes, Pioneer is attempting to tackle power consumption while the device is active. The VSX-523, like it's brethren, also features 4K Ultra-HD pass through for compatibility with future sources. And last but not least, it sports a USB input compatible with the latest iDevices which allows not only playback of files, but allows users to view album art and metadata when the receiver is connected to a screen.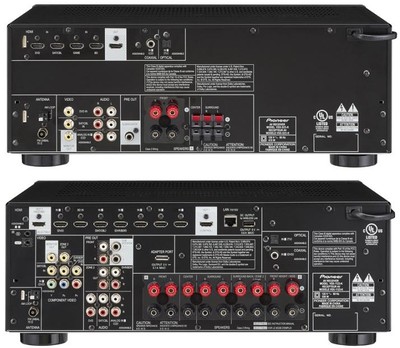 Rear view of the VSX-523 and VSX-1123 for comparison.

VSX-823 - $429

The VSX-823 is where the Pioneer lineup starts to get really interesting. All the speaker outputs are 5-way binding posts and it sports an additional pair of HDMI inputs over the VSX-523, including one on the front panel.  In addition to the iDevice input from the 523 (which the 823 and above improve upon by allowing the receiver to charge the iDevice), you get Pioneer's Mobile High Definition Link 2.0 input which allows an Android device to act as a high definition audio/video source, again while charging the device. But it's the network input that really sets it apart from the VXS-523.
The VSX-823 offers a host of networking features including Apple Airplay, DLNA 1.5, Pandora, vTuner Internet Radio, and HTC Connect, which allows you to seamlessly stream music from your HTC smartphone. Furthermore, Pioneer has widely expanded the number of compatible file formats you can natively play (either wirelessly or through the USB inputs) to include AIFF, WAV, Apple Lossless, FLAC, MP3, AAC, and WMA. It's also worth noting that Pioneer offers the "ControlApp," which can be downloaded from Apple's AppStore or Google Play. All in all, this is a considerable leap in functionality for the additional outlay of $150 over the VSX-523.
VSX-1023 - $529

Not quite as exciting a step up as the VSX-523 to the VSX-823, the VSX-1023 still has a couple of niceties to talk about versus its less costly siblings. As previously mentioned, the VSX-1023 is a 7.1 model versus the 5.1 channels offered by the VSX-823 and VSX-523. You can utilize surround back speakers, or reassign them as Zone 2; in addition, it offers support for front height channels as well (although through spring clip connectors as opposed to the binding posts utilized for the other channels). Connectivity is also enhanced slightly with the addition of a component video input and output.
VSX-1123 - $629

Rounding out the lineup is the top dog VSX-1123 at $629.99. What more could Pioneer give you, one might ask? Well for starters, you get a marginal increase in power, from 80 watts per channel to 90 watts and a bump up to 8 HDMI inputs and 2 outputs. The second HDMI output can be a clone of the first or from a second separate source. The VSX-1123 exorcises all of the chintzy spring clip connectors in favor of binding posts for all channels (including front heights/wides), and offers a set of pre-outs for the front left and right channels as well as a bump to two subwoofer pre-outs. Overall, we'd say this isn't too bad for an extra $100 over the VSX-1023.
But, things continue to get better. The VSX-1123 can convert all video sources to HDMI via a Marvel QDEO chip (and eschews the VSX-1023's component video output), and it can actually upscale content to 4K. On the audio side, Pioneer offers support for DSD audio via its USB input and upgrades MCACC to the advanced version for improved quality. Meanwhile, in terms of controlling and using this feature-ridden receiver to its fullest, Pioneer is giving you an upgraded control application, iControlAV2013, as well as AVNavigator, an interactive two-way manual for your PC or Mac which lets you push a button and get directed to that portion of the manual in real time.
Conclusion
For those who haven't been shopping in the A/V receiver market for very long, you might be shocked as to how far your dollar goes these days in terms of feature sets. For $430, you can get a 5.1 receiver that can stream music from a variety of sources, be controlled by your smartphone, and a host of other cool tidbits. Stepping it up to $630, you add in just about everything else you'd hope for in a modern receiver, including pre-outs for your front left and right channels to hook up an external amplifier, more HDMI inputs than you can shake a stick at, independent Zone 2 HDMI output, 4K upscaling, etc. There's a heck of a lot to like here, and the price of entry isn't all too bad considering what you get. It makes you wonder though, "what the heck are these guys going to do next year?"

Unless otherwise indicated, this is a preview article for the featured product. A formal review may or may not follow in the future.