Integra DTC-9.4 Processor and DTA-9.4 Amplifier Review
Integra DTC-9.4 Processor and DTA-9.4 Amplifier Review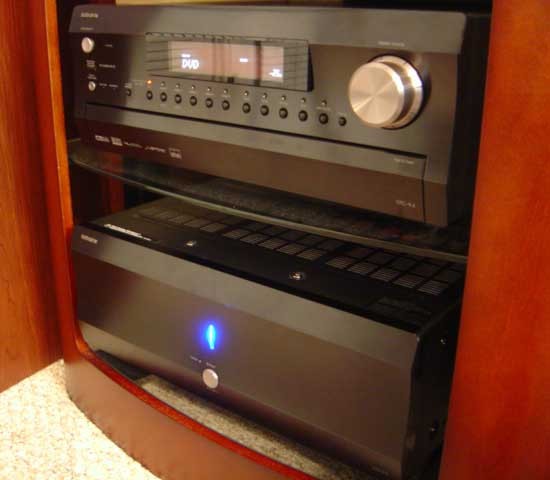 Integra DTC-9.4 Processor and DTA-9.4 Amplifier
Product Name: DTC-9.4 DTA-9.4 Processor and Amplifier
Manufacturer: Integra
Performance Rating:
Value Rating:
Review Date: January 30, 2004 18:00
MSRP: $ 5000
DTC-9.4 Preamp/Processor - MSRP $2000

DSP: THX Surround EX, Dolby Digital EX, DTS-ES Discreet 6.1, Dolby Pro Logic II, DTS Neo:6, DTS 96/24, Dolby Headphone, Theater-Dimensional, New Dual 32-bit DSPs
DACs: 192 kHz/24-bit x 8
Audio Inputs: 7.1 RCA multi-channel, 8 pairs analogue RCA (including phono), 5 optical S/PDIF (including 1 front), 3 coax S/PDIF
Audio Outputs: 7.1 RCA multi-channel, 7.1 XLR multi-channel, 2 optical S/PDIF, 4 pairs analogue RCA (includes Zone 2 pre-outs)
Video Inputs: 2 component RCA (60Mhz), 5 composite RCA, 5 s-video
Video Outputs: 1 component RCA (60Mhz), 4 composite RCA (includes Zone 2 & monitor), 4 s-video (includes Zone 2 & monitor)
Misc Inputs/Outputs: Ethernet RJ45 (Net-tune), IR in/out, 12V trigger (Zone 2/A/B), Onkyo RI port, bi-directional RS-232 port.
Frequency Response: 5Hz - 100kHz +1/-3 dB (CD in Direct mode)
SNR: 110 dB (Direct mode) IHF A 0.5 V input
Dimensions: 17-1/8" x 6-7/8" x 17-11/16" (435mm x 175mm x 449mm)
Weight: 20.9 lbs (9.5 kg)

DTA-9.4 Class-D Amplifier - MSRP $3000

Continuous Power: 120W/240W into 8-ohms/4-ohms x 7 (2 channels driven)
Dynamic Power: 162W/267W/350W into 8-ohms/4-ohms/2-ohms (2 channels driven)
THD: 1 % at rated power (1 kHz), 0.01 % at 1 watt output (1 kHz)
Frequency Response: 10 Hz to 60 kHz, +1 dB/ –3 dB (8 ohms)
SNR: 115 dB (IHF-A, 1 V input / unbalanced or 2 V input / balanced)
Damping Factor: 25 at 8 ohms, 1 kHz
Inputs: 7 RCA multi-channel, 7 XLR multi-channel
Power Consumption: 5.3 A
Dimensions: 17-1/8"" x 6-7/8"" x 17-13/16" (435mm x 175mm x 453mm)
Weight: 39 lbs (17.7 kg)
Pros
Aesthetics
A/V input routing
IntelliVolume input level matching
Flexible bass management options
HDTV-compatible component video upconversion
Net-Tune PC-audio streaming connectivity
Cons
Difficult custom remote control programming
No sub out in two channel "pure audio" or "direct" mode
Integra DTC-9.4 and DTA-9.4 Introduction
Previously, Audioholics reviewed the Onkyo TX-SR601 and found that to be a good value for a mid-fi receiver. We also reviewed the high-end Integra RDC-7 pre-processor. Naturally, it made sense for us to review the unit that would fall somewhere in between the two and thus we requested the DTC-9.4 pre-processor. Integra was kind enough to send us the DTA-9.4 so we could mate the unit with its 7-channel Class-D "partner". Here's a quick summary of the specifications of the DTC-9.4 and DTA-9.4:
We had no prior experience with the Integra line of processor and Class-D amplifier products. The Integra Research RDC-7 processor made its way into our Reference System 2 and the Onkyo TX-SR601 proved to be able to hold its own and even take a slight edge over many other $500 receivers. Our review of the DTC-9.4 and accompanying DTA-9.4 proved that entry-level separates are still competing for attention in the audiophile community and that some of the new competing flagship receivers will most likely have a continuous fight to stay ahead of the curve.
Confused about what AV Gear to buy or how to set it up? Join our Exclusive Audioholics E-Book Membership Program!