Integra Research RDC-7 Processor Review
Integra Research RDC-7 Processor Review
by
Steve DellaSala
—
September 15, 2003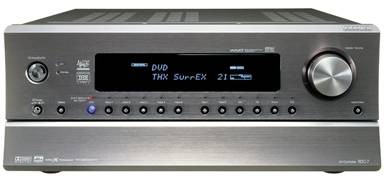 Integra Research RDC-7
Product Name: RDC-7
Manufacturer: Integra Research
Performance Rating:
Value Rating:
Review Date: September 15, 2003 19:00
MSRP: $ 4500
Formats: THX Ultra-approved with Dolby Pro Logic, Dolby Digital (with THX EX), DTS

Audio inputs: 5 digital coaxial, 1 AC-3 RF digital coaxial, 3 digital TosLink, 9 analog L/R, 1 analog 7.1-channel throughput, 1 RIAA phono

Video inputs: 6 composite, 6 S-video, 3 component

Audio record outputs: 2 tape, 2 video recorder

Audio outputs: unbalanced (RCA) and balanced (XLR) for each L/R, Center, Subwoofer, L/R surround, and L/R rear surround (2 outputs each for unbalanced L/R and Center), Zone 2 L/R, 1 digital coaxial, 1 digital TosLink

Additional inputs/outputs: RS-232 port, A&B assignable 12V trigger, Onkyo RI remote repeater output, main and Zone 2 remote repeater inputs

Analog input/output impedance: 50kohms/470ohms

Signal/noise: Phono, 80dB (IHF A, 5mV input); CD/Tape, 100dB (IHF A, 0.5V input)

FM sensitivity: 17.2dBf, 2.0µV (75ohms IHF)

Voltage requirements: 120V, 60Hz

Dimensions: 1711/16" x 711/16" x 175/16" (WxHxD)

Weight: 35.7 lbs.
Pros
Audiophile-Quality Preamp Suitable for Critical Music Listening
Professional-Grade Video Signal Switching without Picture Quality Degradation
THX Ultra2 Certified, THX Surround EX 7.1-Channel Decoding
Apogee Master Clock for High Quality D/A Conversion
Above Average SNR; Analog 106dB @1V and 100dB @ 0.5V
Dual differential Burr Brown PCM 1704 DAC's for front channels
On-The-Fly Speaker Level Adjustments for multi-channel inputs (stored)
On-The Fly Speaker Level Adjustments for digital inputs (stored)
8 Balanced XLR Outputs
Cons
Lower grade single-ended DAC's employed on center channel, subwoofer channel, and surrounds
No component video up-conversion
No On Screen Display through component video
Master volume control is only accurate to +/- 1dB
No bass management or digital delay compensation for external inputs
No sub out in 2-channel direct mode
Pink Noise test tone off by +1db volume in center and -2db volume in surrounds
Mediocre remote control
Integra Research RDC-7 Introduction

Few people understand the structure of Onkyo and their related companies. Onkyo Corporation, located in Osaka Japan , has two other divisions, each with more refined products that meet the performance expectations of Audiophiles. These two divisions include Integra and Integra Research. Many confuse Integra and Integra Research as being one in the same, but that's not the case. Integra Research is the newest division of Onkyo that specializes in high-end audio products. Since their inception, they have introduced three home theater components which were jointly developed with several US companies. The line-up consists of the Integra Research RDC-7, a 7.1-channel THX Surround EXT audio/video preamplifier/processor; the RDA-7, a US-designed and manufactured seven-channel THX power amplifier with each channel rated at 150 Watts; and the RDV-1, a premium DVD player with a broadcast-quality video section. All three models are THX Ultra® certified. The A/V processor and DVD player are IEEE-1394 capable, and the processor's operating system and surround formats are upgradeable via software that can be uploaded from a PC. The RDC-7 processor's electronics have also been modularized for future hardware upgrades. This ensures that these products will not be rendered obsolete by the introduction of new surround formats.
The three Integra Research Home Theater components were jointly developed in partnership with two U.S. audio and video technology firms: Apogee Electronics Corp., Balanced Audio Technology. Integra Research also worked closely with a team of custom installers to ensure their products meet the needs of that customer base.
Confused about what AV Gear to buy or how to set it up? Join our Exclusive Audioholics E-Book Membership Program!