Aragon Soundstage Processor Review
Aragon Soundstage Processor Review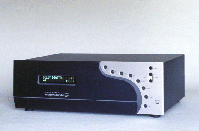 Aragon Soundstage Processor
Product Name: Soundstage AV Processor
Manufacturer: Aragon
Performance Rating:
Value Rating:
Review Date: June 01, 2003 19:00
MSRP: $ 3999
| | |
| --- | --- |
| Metric Specification | Value / Specification |
| Low Level Connections: | Unbalanced / Balanced |
| Power Output (8W): | 200 watts/ch continuos all channels driven |
| Power Output (4W): | 400 watts/ch continuos all channels driven |
| Damping Factor (Zload/Zout): | > 500 |
| Frequency Response: | 5Hz - 200KHz ± 3dB |
| Voltage Gain: | 28 dB |
| Slew Rate: | > 120 V/usec |
| Input Sensitivity: | 1 Watt Output at 120 mV |
| Input Impedance: | 22 KW |
| Low Noise, Toroidal Power Xformer: | 2.5 KVA |
| Power Supply Capacitance: | 150,000 uF |
| Output Devices: | 12 power BJT's / Ch |
| Dimensions: | 19" x 7 1/2" x 23 5/8" |
| Weight: | 107 lbs. |
Pros
Insanely good build quality
High-end components
No gimmicky technology
Conservative power ratings
Company History
Aragon began in the late 1980's, headed by Tony Federici, who studied Analytic Philosophy and Economics at Oxford University. Their goal was to create a high end, no compromise audio company that would revolutionize the industry.
Aragon has since then evolved to a world class highly respected high-end audio company for both domestic and international marketplaces. Their approach has always been sound quality first with no added gimmicks. Rather than following industry trends, they set them. They don't believe in simply concocting a device that has more buttons and lights than the bridge of the Starship Enterprise. Instead, they produce hardware that is as sophisticated as the Enterprise, yet easy enough for a Klingon warrior to operate.
Becoming familiar with Aragon over the past few months has been an enlightening experience for me. I have rarely come across an audio company with such a passionate commitment in producing quality products that perform superior to their competitors regardless of price. Two of these products that really opened my eyes, and also closed them with tears of joy, are:
Aragon Soundstage digital preamp/processor
Aragon 8008X5 multichannel power amp
These two products serve as excellent examples of the companies commitment to:
Quality of craftsmanship: ( i.e. 3ù4" aluminum paneling black anodized and finished by hand, solid aluminum knobs, wave soldering of components, etc)
Utilization of the best electronics: (i.e. epoxy sealed 1% resistors, Teflon jacketed wiring in signal paths, low ESR power supply Capacitors, etc)
No gimmicky technology: (i.e. Excessive DSP processing yielding echoed and unnatural sound while destroying the imaging and realism of the soundstage)
Realistic claims on specifications of performance: (i.e. All Aragon amps are conservatively rated for continuous power, not dynamic power, with all amps driven at full bandwidth simultaneously for 8/4/2 ohm loads)
Confused about what AV Gear to buy or how to set it up? Join our Exclusive Audioholics E-Book Membership Program!