Sherbourn 5/1500A 5-channel Amplifier Review
Sherbourn 5/1500A 5-channel Amplifier Review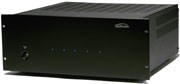 Sherbourn 5/1500A
Product Name: 5/1500A
Manufacturer: Sherbourn
Performance Rating:
Value Rating:
Review Date: June 14, 2003 19:00
MSRP: $ 2000
Monoblock construction
400VA toroidal transformer (one per channel)
20,000 microfarads of capacitance per channel
500-square-inch heatsink per channel
Auto turn on
Auto biasing circuit
Balanced XLR and gold-plated RCA inputs
8 bipolar output transistors per channel
30-amp current capacity per channel
Detachable IEC power cord
Anti-clipping circuitry
12V DC trigger
Sherbourn 5/1500A Introduction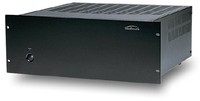 Multi channel amplifier choices seem to be endless these days. In a market flooded with a multitude of brands and models, it can be a difficult choice for a consumer to select the optimal product to suit their needs. Sherbourn however makes this choice quite simple with their latest five (5) channel power amplifier offering. For a mere $2000 you get a combined total of 1000 watts or $2 / watt in 8 ohms, or $1.33 / watt in 4 ohms. This price / power ratio makes the new Sherbourn 5/1500A one of the best values on the market. According to Sherborn, the 5/1500A incorporates electrical tweaks for sonic performance enhancements over the original and highly successful 5/1500 predecessor. In addition, the 5/1500A includes XLR balanced inputs and the ability to rack mount the unit via the front panel. With this refined model (over the previous 5/1500 at least), the Sherbourn amplifier offers a new breed of power amp to the audio enthusiast. This 80-lb, 200 watt/channel, 5-channel powerhouse is packed with a wealth of electronics to guarantee sufficient power and refined sound quality for any home theater system.
The 5/1500A' s chassis is also available in a two-channel version. Model 2/600A (retail is $1250.00) can be used as a straight 200 watt per channel 8 ohm (300 watts at 4 ohms) stereo amplifier or as part of a 7.1 system. There is also a model 1/300MB mono block (retail is $650.00) which is literally one of the 5/1500A's modules housed in a separate chassis. Two 1/300MBs can be bridged into 8 ohms to output 400 watts.

Sherbourn 5/1500A Company Overview
| | |
| --- | --- |
| Associated Test Equipment | Description |
| RBH 1266-SE with Status Drivers | Main Speakers, 3 way Tower |
| RBH 661-SE with Status Drivers | Center Channel |
| RBH 61-SE with Status Drivers | Rear Channel |
| RBH 1010-SEP | 350 watt dual 10" powered subwoofer |
| Panasonic DVD A310 | DVD Player |
| Sonic Frontiers | Anthem AVM-2 DD/DTS Preamp Processor |
| Monstercable | 12 AWG |
Brief Company History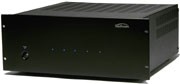 Sherbourn was founded in 1998 by Ron Fone and Engne 'Tang'. The partnership is purely synergistic with 'Tang' heading up all aspects of design, engineering, manufacturing and technical support and Fone doing likewise for all commercial functions. 'Tang' was originally involved in engineering design with established audio companies such as NAD¯ and Proton¯. In 1983, he moved to the USA and joined forces with Acoustic Research¯, then headed by Fone, to manage the engineering development of an electronics line. 'Tang' formed his own company in 1993, where he primarily designed subwoofer power amplifiers for some of the most well known companies in the industry.

Ron Fone, originally from England, moved to the USA in 1979 and for the next eight years presided over Acoustic ResearchTM. His involvement in the industry includes heading up TeraTM (a high end video company) and McIntoshTM, where he is credited with taking the famous company from its traditional two channel posture into the exciting world of multi channel home theater. After a period at A/D/S/TM where he again inspired many innovative products, he and 'Tang' began discussing their long cherished dream of starting their own company. In 1998, they founded a small and personable high end audio company that is known to us today as Sherbourn.
When you call Sherbourn, you don't get the typical answer machine, voice mail system, or even a secretary. Instead you get to speak personally with founder Ron Fone or a member of his technical staff. This is a quality not common today with audio companies. Then again, Sherbourn is not a common audio company. Continue to read on to find out why...
Set-Up
I initially wanted to demo this new amplifier on my brother's home theater system, which is very similar to mine, because he was lacking a good 5 channel power amplifier and I wanted to convince him on the merits of owning one. Removing this metal monster out of the box wasn't easy for my brother, since he is not a bodybuilder and has limited strength capabilities. Being the good Samaritan that I am, you know assist the weak, I volunteered to hoist the amp up on his shelf for him. Connection to the preamp and speakers was quite simple, as the connectors and ergonomics were well laid out.
When I powered the unit on, I noticed a buzzing sound from all of the speakers. I disconnected the other 3 terminal devices of his system such as the preamp and subwoofer, and noticed the buzzing remained; leading me to believe the problem could be within the amplifier. What I actually discovered was that the problem was not within the amplifier, but within the electricity of my brother's house. I connected a 3 to 2 prong adaptor to the power amp and resolved the buzzing problem. It turned out that my brother's home had a pesky ground loop that you always hear about but think it will never happen to you. Going forward, I resolved his electrical problem by securing a better earth ground between the two outlets he was using for his home theater system.
The Sherbourn 5/1500A gets my Quality of Parts Approval.
Go to the next pages to find out why.
Sherbourn 5/1500A Power Supply and Features
Perhaps one of the most important aspects of an amplifier is its ability to deliver stable and continuous DC power to the output transistors. The Sherbourn 5/1500A is extremely generous in its ability to deliver power. The unit is divided into 5 equal mono-block amplifiers (see picture below), each able to produce 200-Watts of continuous power at 8-ohms and 300-Watts of continuous power at 4-ohms (20 Hz to 20,000 Hz). The power for each channel is provided by individual 400-VA transformers combined with two 10,000-uf low ESR capacitors (20,000-uf total per channel). Combining the specifications of each mono-block amp totals to a staggering 2,000 VA equivalent transformer with 100,000-uf capacitance, thus the reason for its robust power and weight.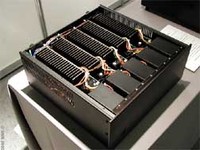 One could argue that a disadvantage of a mono-block design is that the two channel power is limited by the use of small multiple power supplies as opposed to a single and much larger power supply reserve found on other multi channel power amplifiers. Normally there is truth to that fact, assuming there are enough current capable output devices to handle the extra power without running into thermal runaway. However, the Sherbourn is an exception in this case, since it offers more high current output devices (8 per channel), power supply capacitance, and transformer power to each channel with its mono-block topology for under $2k, than any other 5-channel, single power supply designed amplifier in and above its price range that we have seen. As an example, I evaluated an Acurus 5 channel amplifier (A200x5), which also retailed for $2000, that utilized a single 1KVA or so power transformer and combined power supply capacitance of only 46,000uF.

In my opinion, this amp didn't even hold a candle to the Sherbourn with respect to dynamics and raw deliverable power in low impedance loads. At best, the amplifier section from the Acurus was a slight improvement over a typical top of the line home theater receiver.
Transistor Output Devices
A good power supply is useless without an ample output stage to take advantage of it. There are 40 bipolar transistor output devices in operation; 8 on each channel in push pull configuration, all working hard to provide clean power to the speakers. The transistors are kept cool with a whopping 2500-square inches of heat sink, 500-square inches per channel. It's no wonder this unit never breaks a sweat when cranking five 4-ohm speakers. This amplifier does an impeccable job at driving low impedance loads, reminding me of an ideal voltage source. Many lesser amps tend to wimp out when speaker impedance halves. The Sherbourn welcomes the challenge and remains quite musical, with plenty of headroom for the task.
Features & Ergonomics
There are a few extra features in the Sherbourn, which includes balanced input and automatic signal sensing. I don't usually find much merit to the "balanced inputs" of amplifiers unless the entire design from input to output is dual differential. The real benefit of a fully balanced system is the cancellation of 2nd and 3rd order harmonics. However, implementing a fully balanced amplifier involves more component cost and thus reduces profitability margins. Since the Sherbourn amps are conservatively designed to operate in the most linear region of the VI curve, include a push pull topology, and utilize the right amount of feedback, the design is not so limited. I can't fault Sherbourn on the single ended output stage implementation because 99% of the audio industry does this, and reserves dual differential amplifier designs only for the most expensive, cream of the crop models offered.

The intent of balanced inputs in this case is to help minimize RF injection from other sources, which could be beneficial for some applications.

The front panel is made for a standard 19" rack interface at a height of 7". The depth of the unit is 17.7 inches and every bit is used to pack in the electronics, although still managing to leave sufficient room for air flow around the massive heat sinks. The only negative I see with this unit is that it takes two normal people to lift it onto your entertainment center, or one bodybuilder.
Warning; be certain that the shelf to be used 
for this amplifier is sufficiently supported.
Sherbourn 5/1500A Performance and Conclusion
The true test of any amplifier is its sonic performance, and there is no doubt that this unit indeed delivers as expected. The dynamic response from the speakers was like nothing I have heard with any other amplifier in this price range. The bass reproduced by this amp was enough to shake my brother's home and cause the neighbors dogs to bark. What made this amplifier even more appetizing is the fact that all 5-channels are equally matched so that when listening to DTS music, for example, every speaker is alive with equal dynamics. Listening to DVD movies was equally impressive as such was the case with the U-571 DTS DVD. The depth charges rattled our heads so much that they nearly caused multiple concussions. You just cannot obtain these type of dynamics on flagship $3500 home theater receivers.

There was little or no audible coloration or distortion detectable in the balanced, flat responding sound characteristics produced by this unit. Tonality was accurately reproduced and delivered to the speakers with more than ample power reserves. Soundstage was well focused with little to none of the congested feel that many lesser solid-state amplifiers often exhibit. The 5/1500A managed to do a great job at keeping control when pushed very hard without excessively adding any harshness to the program material.
Conclusion
When choosing a multi channel power amp for your surround sound system, I recommend defining budgetary and performance expectations. Be weary of specifications as they are not always what they are cracked up to be. Be certain that the amplifier(s) you are evaluating rate power in a comparable fashion. $2K is a highly competitive price point for multi-channel power amplifier manufacturers. There are countless options to choose from, but they are not all necessarily equal in performance and build quality From our experience, the Sherbourn 5/1500A is perhaps the best value in five (5) channel power amplifiers to date. It is a dynamic solution that is capable of driving difficult speaker loads with poise and refined control, and leaves little to be desired.
The Score Card
The scoring below is based on each piece of equipment doing the duty it is designed for. The numbers are weighed heavily with respect to the individual cost of each unit, thus giving a rating roughly equal to:
Performance × Price Factor/Value = Rating
Audioholics.com note: The ratings indicated below are based on subjective listening and objective testing of the product in question. The rating scale is based on performance/value ratio. If you notice better performing products in future reviews that have lower numbers in certain areas, be aware that the value factor is most likely the culprit. Other Audioholics reviewers may rate products solely based on performance, and each reviewer has his/her own system for ratings.
Audioholics Rating Scale
— Excellent
— Very Good
— Good
— Fair
— Poor
| Metric | Rating |
| --- | --- |
| Frequency Response Linearity | |
| Measured Power (8-ohms) | |
| Measured Power (4-ohms) | |
| Multi-channel Audio Performance | |
| Two-channel Audio Performance | |
| Build Quality | |
| Fit and Finish | |
| Ergonomics & Usability | |
| Features | |
| Performance | |
| Value | |