Velodyne SMS-1 Subwoofer Parametric EQ System Review
Velodyne SMS-1 Subwoofer Parametric EQ System Review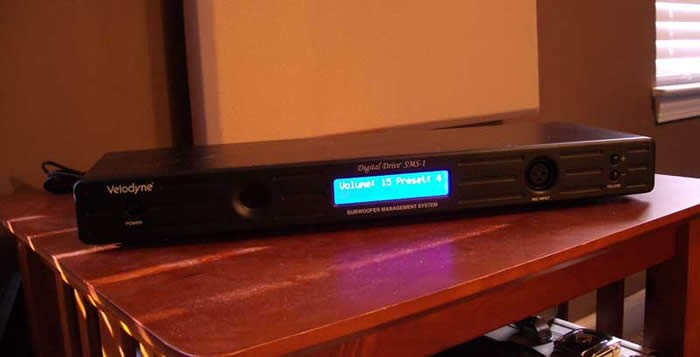 Velodyne SMS-1 Subwoofer Parametric EQ System
Product Name: SMS-1 Subwoofer Parametric EQ System
Manufacturer: Velodyne Acoustics
Performance Rating:
Value Rating:
Review Date: April 09, 2006 19:00
MSRP: $ 749
Operating Frequency Range: 15Hz - 200Hz
LCD display: Indicates volume, preset and operating modes (Auto-EQ, mute, night-mode)
Modes: Auto or manual parametric EQ
Remote: IR remote control
THD: < 1%
Digital Presets: 6 presets for customized listening modes and EQ defeat
Digital Phase: 0° to 180° (variable in 15° increments)
High-Pass Crossover: 80 Hz (6dB/octave slope)
Low Pass Crossover: 15 Hz - 200Hz (adjustable) 6 dB/octave initial, to 48dB/octave ultimate
Subsonic Filter: 15 Hz - 35 Hz (adjustable) 12 dB/octave initial, to 48 dB/octave ultimate

Polarity: Adjustable (+/-)
Auto On/Off: Yes
Inputs: Balanced (XLR), Line-level (RCA), Speaker-level
EQ Outputs: Line-level (RCA), Balanced (XLR)
Other Outputs: Thru-put (RCA), High-Pass (RCA) (fixed at 80 Hz)
Crossover Bypass: Yes
Daisy Chain Feature: Yes
Accessories: Rack mount ears, full feature remote control, power supply with cord, Digital Drive accessory kit consisting of mic, tabletop mic stand, mic windscreen cover, mic stand adapter, 6 ft audio cable, 12 ft video cable, 20 ft XLR mic cable
Dimensions: 2.0" H x 16.5" W x 6.5" D (no rack ears)
Warranty: 2 years (parts/labor)
Weight: 17 Pounds
Pros
Automatic or manual subwoofer calibration
On-screen display
8-band fully parametric EQ
Includes microphone and various mounts
Multiple SMS-1 units can be daisy-chained
Works with any subwoofer
Cons
3rd octave smoothed frequency response graph
Non independent EQ'd subwoofer outputs
Inaccurate (aggressive) auto calibration
Velodyne SMS-1 Subwoofer Parametric EQ System Introduction
We were introduced to the Velodyne SMS-1 system at the CEDIA show in Indianapolis last year and were instantly impressed with its potential for improving how subwoofers interact with the room. The SMS-1 is basically Velodyne's flagship Digital Drive room correction software offloaded into a standalone system that allows it to be used with any (even *gasp* non-Velodyne) subwoofers. The SMS-1 is essentially an 8-band parametric EQ with variable frequency, Q, and gain that shows you a real-time smoothed graph of the room's low frequency response from 15Hz to 200Hz via an on-screen display.
What does this mean for you? Well, in a practical sense, those of you desiring the most out of your subwoofer and room can make changes to your system in real-time and see the results on-screen. Additionally, once you've found the optimal positioning and phase settings, you can provide the final touches to your bass response using the integrated EQ system – taming room modes and eliminating some of the peaks and dips that are inherent to almost every system.
Confused about what AV Gear to buy or how to set it up? Join our Exclusive Audioholics E-Book Membership Program!