Remote Control Extender Review
Remote Control Extender Review
Very seldom do I catch myself uttering the word "genius" silently to myself as I'm reviewing a piece of equipment. I have to say, I had my doubts about the Remote Control Extender when it was first brought to my attention last month. How can an IR remote control be automatically converted into a wireless RF remote simply by installing a battery/transmitter device in the unit itself? It just didn't make sense until Bob Dolatowski, President of Next Generation Home Products, Inc explained his product to us in detail.
A New Way of Learning Remote Codes -The Technology

For an IR remote control to be turned into an RF remote several things have to take place:
The remotes IR codes must be converted into RF signals or the remote must somehow have its commands interpreted and transmitted as RF commands
A receiver must then take those RF commands and convert it back into an IR signal
The IR signal must be transmitted to the awaiting home theater equipment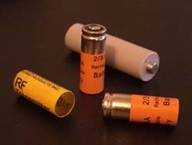 The Remote Control Extender uses a truly unique method to convert remotes into RF. Instead of actually converting the IR signals through an external box or device that would have to strap to the front of the remote, this system embeds a tiny RF transmitter into the battery compartment which "listens" to the remote control's internal RF commands. All remote controls send out low level RF commands when they are used. The Remote Control Extender picks these up at close range, interprets them, and transmits them to the base station for rebroadcast as IR commands. Since the transmitter is stored in the battery compartment it was essential to shrink it down small enough to allow for a reduced size 1.5V AAA battery to work with it. To accommodate some larger remotes that use AA batteries, an additional sheath was developed that slides over the rechargeable battery and transmitter, allowing it to work in the larger battery compartments.
Editor's Note: Why This Product Differs from Powermids and Other Remote Extenders


The Remote Control Extender from Next Generation Home Products is nothing like traditional remote control extenders. The difference is that there is NO IR RECEIVER. The transmitter is located within the battery compartment and picks up the remote's internal RF frequencies - sending them to the "space ship" receiver. Why is this significant? Because you do not have to point your remote at an IR receiver!

With this system you can walk anywhere in the house and use the remote, not just relocate to a different room where you have to carefully take aim at a remote IR receiver. This system is light years ahead of the others on the market and, as such, should not be put into the same category.
The Receiver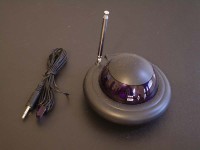 I quickly dubbed the receiver "The Spaceship" for obvious reasons (see inset). I am fairly certain that I did not coin that particular nickname for it as it didn't even trip up the manufacturer when I referred to it that way. The bubble-shaped receiver is powered by 12VDC from the included AC adapter and is very unobtrusive, measuring just over 2" tall and under 4" in diameter. The triple IR blasters on this unit are so strong, we recommend placing this device at the back of the room in line-of-sight to your equipment, provided it's no more than 25-30 feet away. This is easier than trying to place the unit closer to your equipment and working with what are sure to be steeper angles for the IR path. If your gear is in a closet, then you may need to creatively place the included external bright eye emitter or purchase an inexpensive IR distribution system.
Using the Wireless Remote Control Extender
This is where the genius comes into play. Next Generation Home Products did all the work for you. All you do to use the system is plug in the receiver, pop in the transmitter and included 2/3 AAA battery and go. If your remote uses AA batteries, slip the assembly into the included AA sheath. Go to a different room in your house and your remote will still send the necessary commands to your equipment - almost magically - there is nowhere in particular you have to point it. It is so easy and brainless that I really recommend getting one for each room, remote or system in your home. Why one of these isn't already in every serious home theater on the planet is a mystery to me.
Remote Control Performance
I was able to test many different remote controls, including some from M itsubishi, Yamaha, Optoma, and Denon. Next Generation Home Products states that the remote will work with every single OE M product remote on the market. The extender also now works with Logitech's Harmony line of remotes as well as the Pronto Neo. Are there any negatives? Sure. They are still working on the Home Theater M aster M X line - something I would love to see completed soon, as I use the M X-700 in my system. I also found it did not work with Integra's Chad remote which accompanies the Integra DTC-9.4 processor and it also, surprisingly, did not work in the remote supplied from my cable company to operate the Scientific Atlanta Explorer 8000HD high definition DVR. Fortunately for me, I can simply program that remote into my Harmony - and then use the system with the Logitech Harmony remote to control that particular device.
I walked the remote extender all over my home and it seemed to be unstoppable, successfully transmitting through walls, floors, etc in my 2200 square foot multi-level beach house. Concrete walls may offer different results, but if you've got frame construction, you're likely in a good position to get some great use out of this system.
Conclusion
The most criticism I can produce for this product is its poor marketing. You really don't understand how cool the product is just from reading the box or included instructions. In fact, you might be inclined to think it is snake oil or some elaborate hoax. At best, you'll assume it's just another IR extender. Nothing could be further from the truth. This transmitter works better than advertised and is quite possibly one of the coolest things you can do to spice up your system's usability. Its unique ability to read and transmit remote signals using only a battery/transmitter device is astounding and insanely practical. Including an extra rechargeable battery is a nice touch and the fact that it can work well with AA or AAA remotes puts the cherry on top.
With a retail price of just $59, we highly recommend this product to anyone wanting to free themselves from the constraints of an IR-based system. I, for one, have enjoyed the time spent with this product and feel it to be a worthy addition to anyone's home theater.
The Score Card
The scoring below is based on each piece of equipment doing the duty it is designed for. The numbers are weighed heavily with respect to the individual cost of each unit, thus giving a rating roughly equal to:
Performance × Price Factor/Value = Rating
Audioholics.com note: The ratings indicated below are based on subjective listening and objective testing of the product in question. The rating scale is based on performance/value ratio. If you notice better performing products in future reviews that have lower numbers in certain areas, be aware that the value factor is most likely the culprit. Other Audioholics reviewers may rate products solely based on performance, and each reviewer has his/her own system for ratings.
Audioholics Rating Scale
— Excellent
— Very Good
— Good
— Fair
— Poor
| Metric | Rating |
| --- | --- |
| Network Features/Performance | |
| Ergonomics & Usability | |
| Ease of Setup/Programming/Integration | |
| Features | |
| Performance | |
| Value | |
Confused about what AV Gear to buy or how to set it up? Join our Exclusive Audioholics E-Book Membership Program!