MX-700 Remote MX Editor Software Programming
MX-700 Remote MX Editor Software Programming
So How Do We Begin?
Unlike other programmable remote controls there is no way to program the MX-700 (or accompanying sidekick remote) apart from the MX Editor software, available as a free download at www.hometheatermaster.com . This is by design as the MX-700 remote control is meant to be a professional OEM product, intended for high-end home theater installations and enthusiasts who want the best money can buy. The remote controls actually used to come in 3-packs, but are now available in single units packs with a CD-ROM containing the software and instruction manual. The only paper "instructions" are more of an overall feature set which you can then leave with the user as a short overview on the general use of the remote control (once you've programed it for their equipment.) If you're looking for something that doesn't require a computer interface, consider the MX-500, and if RF is your bag, then the MX-800 gives you all the functionality and power of the MX-700, but with an RF interface so you don't have to physically point the remote control at your audio equipment.
Programming of the remote control is accomplished through the use of the MX Editor software which links to the MX-700 (and Sidekick) via an RS-232 to 1/8" mini TRS cable. Only 3 pins of the cable are really used, and we'd recommend getting additional cables directly from Home Theater Master if you need more (for instance, if you bought an OEM 3-pack to split with friends.) Replacement cables are only $10.
Using the MX Editor Software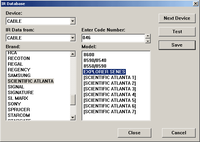 Except for a couple quirky interface issues, using the MX Editor software was a breeze. You are basically dealing with a visual representation of the MX-700 remote control, with access to all of the buttons and a database of IR commands from many industry remote controls. The first thing to do is run a 'Live Update' from the help menu to get the latest firmware, IR codes and software updates. I found the IR database to be fairly complete, though it lacked exact name-matching entries for my HK FL-8350 CD player, my Toshiba 32A40 TV, and my Sony DVP-550D DVD player. When I say it lacked exact name-matching entries, it had entries for an HK FL-8550, a generic Toshiba, and a Sony DVP-550 (actually, come to think of it, my RX-V3000 was referred to as an 'RX-3000'). The Sony and the Yamaha were typos, while the HK referred to a similar CD player model. In either case, using these codes enabled me to have the MX-700 programmed fairly quickly with the IR database codes.

Customizing After Applying the IR Database Codes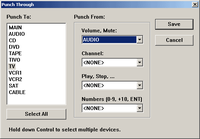 It would be great if that was all there was to it, but then again, I could have bought a 5-in-1 remote control from Home Depot if that's all I wanted. No, the power of the MX Editor software is in what you do after you apply the IR database codes. Your next step will be to decide what modifications to make to enable your system to be operated most efficiently from the MX-700. Here are some basic suggestions for a geral approach to what I feel is a practical programming setup:
Assign Punch-throughs for volume and mute functions - this enables to to access your receiver volume in all modes of operation. There's nothing more frustrating than watching a DVD or cable TV and having the volume control your television instead of the receiver.
Keep it simple - there's a reason you have customizable buttons via the LCD. Don't assign receiver controls to number buttons in the hopes that you will eventually memorize your custom set up. Use the LCD labels and build a sensible remote that anyone in the family can use. My wife picked up the MX-700 after I programmed it and was using it without any guidance form me in less than a few minutes.
Program all functions of each remote into the MX-700. You have up to 4 screens for each device. Use them so you never have to pick up the original factory remote, even if it's for some obscure function like angle or audio options on your DVD player. I was careful to program all of the setup functions of my RX-V3000 so that level controls and menu functions could be accessed without going back to the original remote.
Put the most commonly used functions on the bottom of the first custom LCD page. This is the easiest place to reach. The higher up you go, the higher you have to stretch your hand to reach the buttons.
Put the most commonly used functions on the first screen. You don't want to hit the 'PAGE' button unless you have to, so put all your common functions on the first screen.
Create a device named "DSP" and place all your DSP programs on that LCD screen. This allows you to access DSP modes from any input mode without having to go to a sub-menu of the receiver page. You'll probably want the DSP to be in the receiver pages as well, so I actually asliased the DSP functionality to the new page (more on aliasing later.)
All in all, you can really get alot out of the MX Editor software. Next, we'll go into some specific programming tasks you'll use im programming the remote control to work for you.
Confused about what AV Gear to buy or how to set it up? Join our Exclusive Audioholics E-Book Membership Program!