Philips Pronto TSW9500 In-wall Control Panel First Look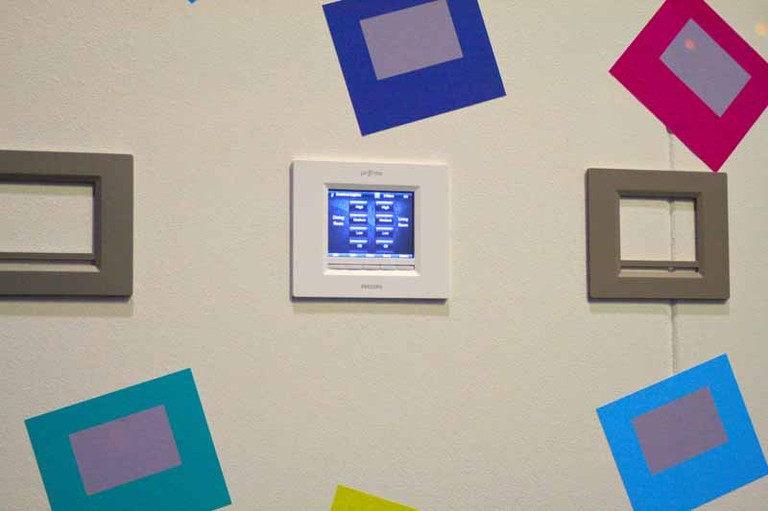 Philips Pronto TSW9500 In-wall Control Panel
Summary
3.5 inch QVGA touch screen
Ethernet connection
Power over Ethernet support
IR output for IR routing
Mini USB connector
Executive Overview
Philips Pronto previewed its new TSW9500 in-wall control panel. The TSW9500 is the first in-wall solution offered by Pronto and has been designed to utilize the same configurations that have already been created for the TSU9800 and TSU9600. With the TSW9500, integrators now have the option to add a stationary in-wall Pronto control panel to their systems, which is ideal for home control solutions such as AV equipment, lighting, IP-based cameras and shades.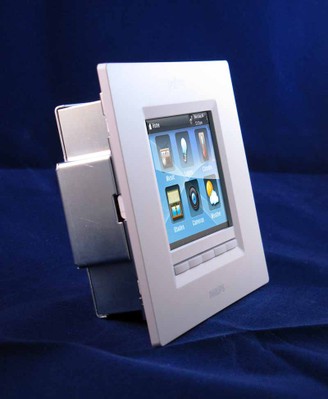 Pronto's TSW9500 boasts a 3.5 inch QVGA touch screen with a sleek, modern design with a 100 percent customizable interface to meet the needs and demands of each specific installation. For commonly used applications, the TSW9500 features five hard buttons that can be programmed freely based on the desires of the homeowner. Fully compatible with current Pronto control panels, and the RFX9400 and RFX9600 extenders, the TSW9500 also features the ProntoScript 2-way technology. The TSW9500 allows for full integration with a home's current system, and gives installers an upgrade option for existing customers as well as create more opportunities for new projects, including commercial applications.
What's more, to enable faster installation times, configurations that have already been created for Pronto's TSU9600 and TSU9800 handheld control panels can be simply downloaded to the TSW9500 using Pronto's ProntoEdit Professional software. The smart conversion will reorganize all hard button functions that were present on the handheld, so conversion becomes "plug and play".
"What makes the TSW9500 so unique and exciting for installers is its seamless integration of two-way communication. The numerous ProntoScript modules that exist for the TSU9600 and TSU9800 are readily available for the TSW9500. Integrators will save a lot of time since no specific configuration needs to be created and no programming needs to be done."
- Rudy Musschebroeck, marketing manager for Philips Pronto
The TSW9500 provides an Ethernet connection, supports power over Ethernet, and a separate entry for power is also available, along with an IR output for IR routing. For easy programming, a mini USB connector is accessible from the front of the control panel.
The TSW9500 can be installed on any surface such as brick, plaster or drywall with a smart mounting mechanism and a separate wall box. Available in various front plate colors (white, ivory, black, silver and almond), the TSW9500 will fit in with any décor. The TSW9500 will be available in November with an MSRP of $799.
For more information about Philips Pronto, please visit www.pronto.philips.com.

Confused about what AV Gear to buy or how to set it up? Join our Exclusive Audioholics E-Book Membership Program!
Recent Forum Posts:
Warpdrv posts on September 25, 2010 11:22
Getting a 404 error on the article…
Post Reply