NextGen Remote Extender Genius Review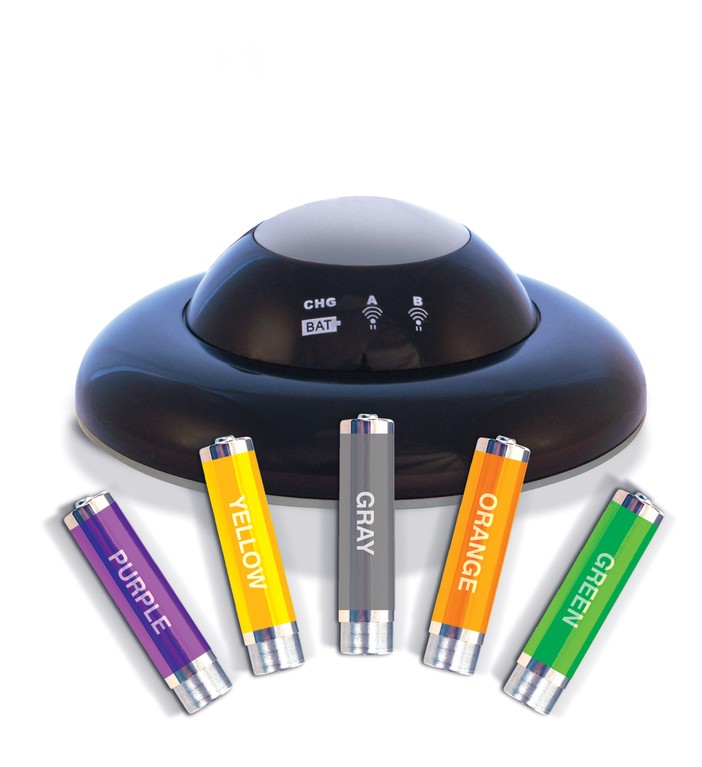 Remote Extender Genius
Summary
Transmitters included: 1

Recharging capability: 2 batteries

Battery format: 2 x 2/3 AA

IR emitters: 3 (triple eye)

IR emitter ports: 2 (38kHz and 56kHz, or 2 x 38kHz)

Transmitter Frequencies: 5 available, color coded

Device Control: ID-able for up to 5 identical devices

Executive Overview
It's been some time since we reviewed the Remote Control Extender from NextGen. Back then they were Next Generation Home Products, but now they are just NextGen and have expanded their market to include HDMI cables and adapters, remote control extenders, Cooling fans and more. The "and more" includes some pretty far out products that they work on which may or may not come to market. A perfect example of this would be their prototype voice activated remote control which they showed off to us at CEDIA last year. As for the right here and now, NextGen is shipping their remote Extender Genius, an upgrade over their original Remote Control extender in that it offers all the reliability of their original extender, plus allows for expanded control of up to five same brand components independently. I'd like to think that I came up with the name, because "GENIUS" is how I described the first RF Remote Control Extender, for which I have been quoted extensively by the company!
The Remote Extender Genius allows you to go from room-to-room and control your components from over 70 feet away. That's far enough for all but the largest homes I'm familiar with. For the most part, this type of technology is most often used with systems whose hardware is stored in a closet or separate from from the viewing or listening space. In this way, you don't have to have direct line-of-sight to your equipment, you simply connect everything and you're good to go.
Original Remote Control Extender vs. Remote Extender Genius
| | | |
| --- | --- | --- |
| | Remote Extender Plus | Remote Extender Genius |
| Transmitters included | 1 | 1 |
| Recharging capability | 1 battery | 2 batteries |
| Battery format | 2 x 2/3 AA | 2 x 2/3 AA |
| IR emitters | 1 | 3 (triple eye) |
| IR emitter ports | 1 (38kHz or 56kHz) | 2 (38kHz and 56kHz, or 2 x 38kHz) |
| Transmitter Frequencies | 2 (418, 433 MHz) | 5 available, color coded |
| Device Control | ID-able for up to 2 identical devices | ID-able for up to 5 identical devices |
As you can see, the Remote Extender Genius adds some more flexibility over the Remote Extender Plus, particularly in the area of IR and RF assignability.
Setup and Installation
The way this works is that you load the included transmitter into your target remote, along with a rechargeable battery that ensures your remote still gets the power it needs to operate. Next, you position the included "3-eye" IR emitters so they will connect with the IR receivers of your AV equipment. Three emitters is usually enough, and you can always back them off to cover more than one piece of equipment with a single emitter. The three emitters are tied together in a parallel cable that can be separated as needed to allow each emitter to be placed onto the front of your gear. This allowed NextGen to save money on connectors on the base and it will work for a majority of users whose gear is all together in a single AV rack or shelf.
The receiver looks like a miniature spaceship, with a half moon dome on top and a wider, black base. It includes a charger so you can periodically bring your included 2/3-sized AA rechargeable batteries up to speed and avoid any potential problems.
Using the Remote Extender Genius
The system works through walls, closet doors and (in our particular example) for devices stored within a closed entertainment system cabinet. It is the perfect way to solve one of the most common media room problems we've run into. What we like about the NextGen product is that it's about as close to "magic" as you'll ever get. The transmitter literally picks up the microtransmissions sent by your IR remote and then translates that into RF signals that can be read by the receiver. To sync the transmitter and receiver you simply press the top of the receiver's dome once and then press a button on the remote to initiate the pairing.
We used the system in a typical AV installation that involved a DVD player, cableTV set top box and Samsung television. Setup took all of 5 minutes and we were off and running. The IR emitters placed easily enough and once everything was wired in we found it a simple task to reduce wire clutter and get everything out of sight - this went for the flying saucer-shaped receiver as well (which is a bit ridiculous-looking in our opinion).
Unlike other remote control extenders, you don't have to attach anything to the front of your remote or be limited to using your remote in one room. And by simply installing extra battery transmitters, you can convert as many remotes as you want. The Genius works with virtually every remote control!
Quick Specs:
Works with most AA and AAA remotes

Receiver has built in charger and comes with (2) 2/3 AA specially sized rechargeable batteries.

Available in 5 frequencies

3-eye IR emitter included

"Green" energy-efficient power supply

(2) emitter outputs (56k & 38K or both 38K)
Conclusion
NextGen's Remote Extender Genius is a great upgrade to their original Remote Control RF Extender and a very simple way to take yor IR remote control system to new levels. At this stage of the game, it's my opinion that no one should have to deal with teh hassles of IR - there are simply too many optins. If you have a remote or remotes that you already enjoy, there is no reason not to cxonsider upgrading to RF. If you don't need the advanced features of the Remote Extender Genius, then the Remote Extender Plus is a bargain at nearly half the price. We'd highly recommend both.
For more information please visit www.netxgen.us.

Confused about what AV Gear to buy or how to set it up? Join our Exclusive Audioholics E-Book Membership Program!
Recent Forum Posts: