NEEO Universal Thinking Remote and Smart Home Controller Preview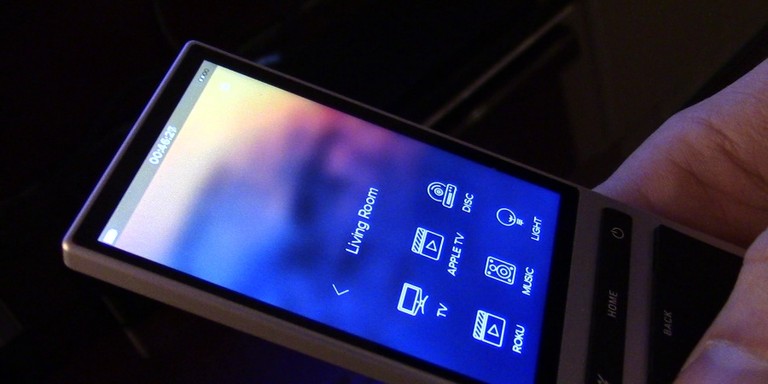 NEEO Thinking Remote: The Perfect Remote?
Summary
Remote
3", 480x800, 291 ppi IPS touchscreen display (for reference, and iPad is 264 ppi)
ARM Cortex M4 single core @ 168MHz
Custom NEEO OS
32 MB RAM
Wi-Fi 801.11b/g/n and 802.15.4 (6LowPAN)
1200mAH Replaceable Battery
Dimensions (HxWxD): 7.1 x 1.9 x .36", .17 lb
Brain
30,000 supported devices including Roku, Apple TV, Sonos, Philips Hue, Cablebox,
Include IR extender with 12' cord and standard 3.5mm jack
1.2 GHz dual-core ARM A7
1GB RAM
10/100 BASE-T Ethernet
Fan-less design
360 degree IR blaster design
HDMI CEC
Wi-Fi 801.11b/g/n and 802.15.4 (6LowPAN)
Smart Home Protocols: Z-Wave Plus, Thread, ZigBee
Dimensions (HxDia): 0.9 x 4.1", 0.2lb
Executive Overview
The NEEO Thinking Remote is more than a Universal remote.  Sure, it controls your Audio/Video gear in a way that few universal remote have before, but it also has smart home support for Z-Wave, ZigBee, Thread, Wi-Fi, and Bluetooth.  It's a solid, great looking remote that combines a few, key tactile buttons with a touchscreen.  The remote comes with a solid charging cradle and communicates with the NEEO Brain that serves as a Smart Home controller (no additional smart home hub needed) and IR repeater.
 NEEO Thinking Remote Control Sneak Peek for Home Theater and Smart Home CES 2016

We were lucky enough to sit down for over an hour with NEEO Co-Founder and CEO, Raphael Oberholzer.  Raphael shared some really fun stories about a side of product design that you just don't hear from the big companies.  If you want to hear about the time the NEEO team got kicked out a department store where they were testing remote commands, or had to track down some stolen prototypes that could have fallen in the competition's hands, you should check out the blog at NEEO.com
While much of our conversation and demo can't be detailed in this article due to press embargo, and the fact that many competitors would love more insight into what NEEO has up its sleeves, what we can tell you about is still mighty impressive.  On the A/V side, what sets the NEEO remote apart is its smart physical design and focus on discrete remote commands.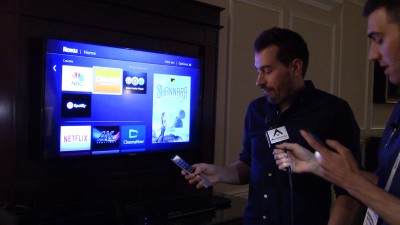 NEEO was in action at CES 2016, it even worked with the Hotel TV.
If you've never thought about the physical design of your remote before, try this experiment.  Grab the closest remote in your home.  How many of the buttons on the remote have never pressed?  How many only get pressed once per month, or once per year?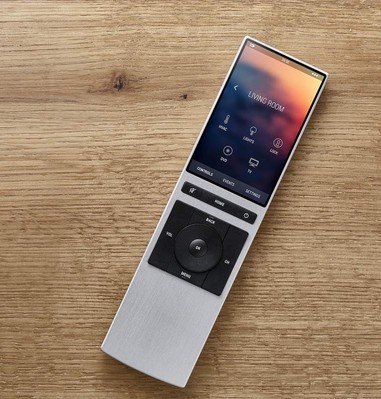 The NEEO Thinking Remote combines tactile buttons and a touch screen.
NEEO has gotten rid of unused buttons that clutter up the remote face.  Instead, the only tactile buttons are common functions like volume and navigation that can change function depending on what device you are controlling.  All the lesser used or more complex functions are relegated to a beautiful, high pixel-density, thin bezel touchscreen.  The touchscreen is beautiful, responsive, and energy efficient thanks to a custom OS that's allows NEEO to measure battery life with typical use in weeks, not days or hours.
One of the biggest problems with existing universal remotes is their database, especially when it comes to discrete power commands.  Most universal remote only have toggle commands; if your TV is off, it turns on, and if it's on, it turns off.  Where this causes problems is if your already watching your TV when you start a new activity.  If you've programmed your remote to toggle the power as part of an activity, instead of turning on, your TV turns off - the opposite of what you want.  With the NEEO, thanks to a database of over 30,000 devices, the command is issued as a discrete power on command.  If the TV is already on, it stays on.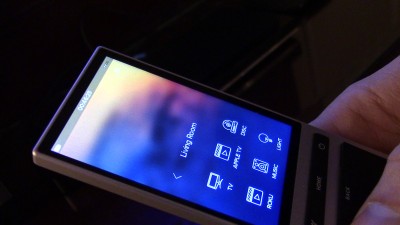 NEEO Recipes for each device
Things get really powerful when you combine the features of your Home Theater with your Smart Home, and let the NEEO Brain control everything.  NEEO calls these actions "Recipes", which should be familiar to the IFTTT (If This, Then That) crowd. There are several examples on the NEEO website, such as "Good Morning."  You can set your NEEO so that, at 7:30am, the lights on - but not all the way up.  It will turn on your Sonos, fire up your morning Spotify playlist, and turn up the temperature in your bathroom so that it's not ice cold.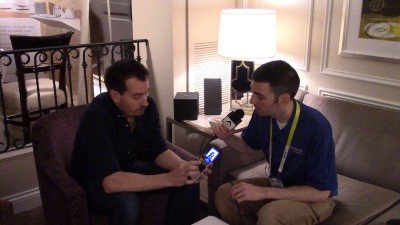 The NEEO Remote and Brain work together to control your Smart Home. 
Bring it On!
At CES, we were able to see all of this in action and get hands on with the hardware.  The remote and brain was polished and production ready, right down to the included accessories and packaging.  I would not have been surprised to see this remote in a high-end audio room at 2-3 times the price.  In fact, if this had an Apple logo on it, we'd say that it would be all the tech media would be talking about.  Of course, it all comes down to functionality, and with the hotel TV, along with a Roku, Apple TV, Sonos, and smart home light dimmer, the folks at NEEO were able to demonstrate a number whole home control features that would have required a day with a custom installer not that many years ago.
NEEO started with a working prototype that they used to launch a Kickstarter campaign.  As a testament to the need for a great, full-featured universal and smart home remote, the Kickstarter goal was reached in less than 3 hours and eventually became the most funded smart home project in Kickstarter history.  Since then, the small yet dedicated team has be refining the product, adding new features, ramping up for production, and will soon deliver the first remotes to their Kickstarter backers and early pre-orders.  You can still get your pre-order in by visiting NEEO.com.  After seeing firsthand what NEEO can do, our only disappointment is that we'll have to get inline behind the Kickstarter backers to get our own when they ship.

Confused about what AV Gear to buy or how to set it up? Join our Exclusive Audioholics E-Book Membership Program!
Recent Forum Posts:
highfigh posts on February 12, 2019 16:47
Matthew J Poes, post: 1296674, member: 85392
And…here we are, February of 2019, Control4 has bought NEEO, I am 3 months into a review of a now defunct piece of hardware! Cool product, but I have to be honest in saying that 3 years after it's release, it still had some room to grow. It was less than perfect.
At least you didn't do the research, install a few and find out they were sold, possibly making them go away, become unavailable or undergo changes that make it a no-go for your business. Like EERO being bought by Amazon.
I'm so sick of this crap!
If people weren't concerned about Alexa gathering data, using EERO will just make that easier since the app allows monitoring, re-configuring and rebooting. Now, I have to find out if I need to warn my customers about it.
super great.
Matthew J Poes posts on February 06, 2019 23:41
gene posts on February 06, 2019 23:16
Matthew J Poes posts on February 06, 2019 15:06
And…here we are, February of 2019, Control4 has bought NEEO, I am 3 months into a review of a now defunct piece of hardware! Cool product, but I have to be honest in saying that 3 years after it's release, it still had some room to grow. It was less than perfect.
MR.MAGOO posts on March 11, 2016 02:00
If Neeo really does hit the market I'd try it as long as I can return it for a refund should it prove as disappointing as the Logitech Harmony One.
Post Reply