Full Review
A well-executed macro will get the attention of your friends and relatives quicker than a $50,000 home theater system.
We reviewed the Logitech Harmony H688 remote back in July and gave it rave reviews for its excellent ergonomics, programming and programming user interface. As Logitech releases more remote control styles we promised to keep you updated so you can make informed decisions as to which to consider purchasing. For a detailed review of the Harmony Remote programming experience and website interface, we'll ask you to read our previous review . If you want to see what the Harmony 676 remote offers and how it compares to the H688 - please read on.
Build Quality and Ergonomics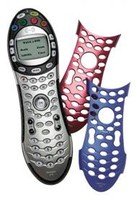 There were no surprises here as the 676 remote control is really a slightly modified version of the H688 remote control. What is different, however, is an adapted button layout and removable face plates that come in three colors: aluminum, metallic red and metallic blue. I actually preferred leaving the default aluminum colored faceplate on, however this is a neat touch that will allow some fun customization to the remote.
One thing I was very pleased about was the rearrangement of the buttons. The H688, while still ergonomic melded all of the buttons together into a single conglomerate of shapes. Pretty, but not well-suited for tactile memorization. The new Harmony 676 remote control both moves some things around and also isolates each button, allowing you to "feel" your way around the remote without looking.
The 676 moved the DVR/DVD fast forward/rewind/skip/play/pause/stop controls to the top where they can be more easily accessed. I really liked this change since I use those keys quite a bit during the course of watching DVR-recorded shows. In place of four almost joined dedicated activity buttons at the top of the remote, the 676 uses 3 rounded, separated buttons which use icons instead of text - a nice touch since I renamed my original activity buttons.
The center joystick and 'OK' button are unchanged and the buttons that surrounded it in the H688 are redistributed around the center position with the volume and channel controls dropped down a bit. Both of those buttons use a comfortable, familiar rocker design found in many other remotes. It works and it's good on the fingers.
The now separated custom LCD buttons are nice, though sometimes it doesn't feel as if they are being fully depressed. This is more of a feel issue and not a performance issue as the commands always seem to be sent.
Use and Impressions

Overall the Harmony 676 remote feels better to me than the H688, mostly because of the new button layout and my desire to always be able to use most functions of the remote without looking at it. It performs well, similar to the H688 and offered no surprises or unusual behavior patterns. To be honest I prefer this to the H688, but I have run into others that like the additional activity button and more uniform layout of the former. To each his own, but both are excellent remotes and that's a good thing.
I promised not to rehash programming since I covered that in depth in our original Harmony H688 review , so I'll just say that Logitech doesn't appear to be cutting any budgets. The Harmony remote controls' online database is as updated as ever and finding newly-released devices was no problem with few exceptions. For example, Yamaha's RX-V2500 was not in the database a couple months ago, but it is now located under the choices for "Stereo Receiver". In either case, the online system is still top notch and possesses quite possibly the world's largest database of manufacturers' remote control codes.
Conclusions
I think Logitech is doing a great job managing the Harmony line so far and hope to see additional remotes in the future that capitalize on this well-executed franchise. My home theater would be less impressive without Harmony's "one-button" solution to macro programming. I have left the Harmony 676 with my mother-in-law, my babysitter and visiting guests. None has exhibited a problem using it after about 10 seconds of instruction. If you think that your home theater is completed with just good quality A/V equipment, think again. If you really want the 'wow' factor, bring in some friends, have them sit down and then press a button. When your CD player stops the current CD, the HDTV comes on, the DVD player queues up and the movie starts to play, they'll look at you like you just parted the red sea!
Logitech Harmony 676 Remote Control
MSRP: $229.95
Harmony by Logitech
2355 Skymark Avenue
Suite 200
Mississauga , Ontario
L4W 4Y6
Canada
Toll Free: 866.291.1505

About Logitech

Founded in 1981, Logitech designs, manufactures and markets personal peripherals that enable people to effectively work, play, and communicate in the digital world. Logitech International is a Swiss public company traded on the Swiss Stock Exchange (LOGN) and in the U.S. on the Nasdaq National Market System (LOGI). The company has manufacturing facilities in Asia and offices in major cities in North America , Europe and Asia Pacific.
The Score Card
The scoring below is based on each piece of equipment doing the duty it is designed for. The numbers are weighed heavily with respect to the individual cost of each unit, thus giving a rating roughly equal to:
Performance × Price Factor/Value = Rating
Audioholics.com note: The ratings indicated below are based on subjective listening and objective testing of the product in question. The rating scale is based on performance/value ratio. If you notice better performing products in future reviews that have lower numbers in certain areas, be aware that the value factor is most likely the culprit. Other Audioholics reviewers may rate products solely based on performance, and each reviewer has his/her own system for ratings.
Audioholics Rating Scale
— Excellent
— Very Good
— Good
— Fair
— Poor
| Metric | Rating |
| --- | --- |
| Build Quality | |
| Ergonomics & Usability | |
| Ease of Setup/Programming/Integration | |
| Features | |
| Performance | |
| Value | |
Confused about what AV Gear to buy or how to set it up? Join our Exclusive Audioholics E-Book Membership Program!