THX - Managing Bass Modes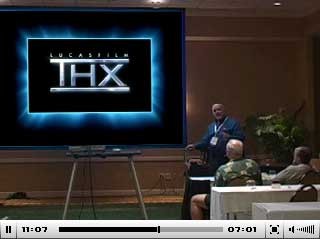 Summary
Product Name:

Video Interview

Manufacturer:

THX, Ltd

Review Date:

July 10, 2008 22:25

First Impression:

Pretty Cool
Speaker: John Dahl

Produced by Clint DeBoer, Editor-in-Chief of Audioholics
Videography & Editing by Eric Shelton
Executive Overview
At our 2007 State of the Union Event, John Dahl from THX discussed room modes (or peaks) and various ways to deal with them, including the use of multiple subwoofers, room treatments, and certain isolation and bass-trapping products. This year's event is shaping up to be filled with even more great presenters and demo rooms for all attendees. As this is one of the few events open to the general public where you will be able to enjoy multiple manufacturer demo rooms and hear from industry giants, you'll want to hurry and register for the event before it's too late.

This video gives a great overview of what it takes to tame the frequencies in your room below 200Hz - where the room really makes itself known. Taming bass response in a room is important as it can really make or break a sound system.
Additionally, with proper calculations, you can model how a room will interact with bass frequencies and better position your seating positions to . Among suggestions, John offers 5 tips to getting better control over your bass.

Choose a room with dimensions that are 5% different from each other
Don't position any seats in areas which have peaks or dips
Place subwoofers in such a way as to better diffract energy in the room
Use mechanical bass treatments (must be an active or resonant device in order to work)

The LAST thing you can do is equalize the room

This is a video every bass-head should watch and learn from. Everyone can do at least some of these steps in order to get better bass response and smooth out the bass so that you achieve better sound and a much more pleasing home theater experience.
You'll see presentations like this live at the 2008 State of the CE Union event in Orlando Florida. This year's event is being hosted at the Walt Disney World Swan and Dolphin Resort & Hotel. You can get more info on registering for the event and booking a room here.

Unless otherwise indicated, this is a preview article for the featured product. A formal review may or may not follow in the future.
Cinebass posts on July 12, 2008 17:36
jocaviacousticpanels dot com

hi

look at the absorbants, resonator section, "roundbasscorners"
cool stuff
available in many colors
120cm high; 22kg
Hemholtz resonator inside.
helps my demo room 2 going lower in FQ with less room resonance
ideally you need 4-8 of these ! stacked by 2 vertically, in each corner
it sucks down the corner increase and helps increase the nulls.
i also have a raiser. can't watch a movie without a raiser
much more cinematic.
jostenmeat posts on July 12, 2008 14:45
Cinebass, post: 432802
- Hemholtz resonators in corners (jocavi acoustics)

How exactly do Helmholtz resonators work? They can be as much a detriment as a boon, correct?
I built a riser that is surely acting as one. I didn't buy fiber/wool to fill it with. Very large, 2x6's, but plywood instead of mdf. The commercial carpet is already stapled, and I don't think I'll ever figure this stuff out as it must be so depenent on room dimensions and measurements… but bringing it up in case that anyone can make a simple summation for lesser AVers.
I've finally implemented some HF bass traps for the HT. Four for the front. Anything helps it seems.
It seems that Gene knew exactly what he was doing in building his. I've noted with my riser that the tactile response is minimal, and I have a strong impression that the resonance area is of a higher frequency than I would like. The resonant/tactile frequencies are pretty minimal in amplitude, at least to the extent of being able to feel them with any great significance.
https://www.audioholics.com/tweaks/do-it-yourself-diy-topics/multifunction-theater-seat-riser
Its just things I've noted in my movie watching, and Im pretty happy so far. But things could always be improved I suppose.
Cinebass posts on July 12, 2008 12:13
some comments:

hello
1. indeed would be great if there's some way to see the slides
2. i have good results using this lay out:
- Hemholtz resonators in corners (jocavi acoustics)
- a line of identical subs at front wall, test different distance from the front wall though. can have dramatic effect; use identical subs when doing multisubs layout !!
- i always prefer having large front capable speakers so bass is differentiated and respects the movie mix: tighter bass for the LR and deeper longer waves from the subwoofers (.1 channel). this gives a way more natural and "impact rich" sound
3. placing subs at each mid wall works but can often be impractical in a typical HT
4. two vertical lines of subs also has great results but can also be a problem to setup/ besides there's almost no manufacturers (except Divatech (biosonic wall) and ATC in Germany who do this) or i think one or two ultra high end hifi speakers manufacturers. I wish velodyne, sunfire, jbl would do these.
Yet having two big towers with twin 12 or 15'' gunners and a floor line of subs and resonators give tremendous results.
jliedeka posts on July 11, 2008 18:54
That was good information but some of the slides were hard or impossible to see. Also, I wish he would have gone into more depth about mechanical bass absorption. It's something I'm looking into. I suppose that could be a talk in and of itself.

Jim
gene posts on July 11, 2008 11:25
What about Nodes? They're more difficult to deal with no?
I have had some luck dealing with room nodes via active equalization but if you need to boost more than a few dB to fix it, DON'T do it! Sometimes changing the phase relationship between multiple subs just a bit can work, other times it simply makes it worse at a different seat. This is why its important to measure the entire listening area, not just the money seat when setting up a system.
Post Reply
Confused about what AV Gear to buy or how to set it up? Join our Exclusive Audioholics E-Book Membership Program!