Emotiva New Amps & Processors at 2012 Audioholics GTG Event
Emotiva New Amps & Processors at 2012 Audioholics GTG Event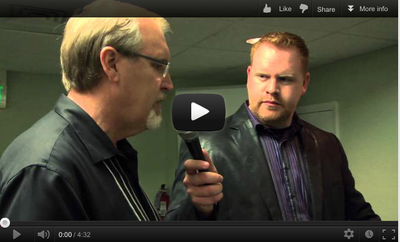 Emotiva Amps & Processors at 2012 Audioholics GTG
We visited the Emotiva room and were fortunate enough to catch Dan Laufman for an interview. Dan at Emotiva had so much to show off this year at the 2012 Audioholics Get Together that we really needed to have him tell us, in his own words, what products were new. Dan complied and, in fact, Emotiva had several different things they were showing off at the show. First off Emotiva was showing off the differences between its Ultra Series amplifiers its X-Series amplifiers and its Reference Series amplifiers. All three five-channel amps were present at the show with their tops removed so attendees could see the guts inside. This showed of the Emotiva build quality which was consistent across all 3 models. Emotiva merely varied the components used within the amplifier to achieve different output power and amplification levels. The prices went up as you climb higher in the line, with the UPA-500 priced at $399, the XPA-5 at $899, and the XPR-5 at $1999.
Possibly the most exciting product Emotiva was demoing at the show was the XMC-1 processor. This is a 7.2 channel surround sound processor (yes, the one everyone has been eagerly awaiting for quite some time now.) It's been under development for 2 years and this was the first time it had been demoed outside of Emo-Fest. This is Emotiva's Reference level processor that will be shipping at the end of the year (or quite possibly the beginning of next year - we'll see). The price? $1499.
Which brings us to the XPS-1, the differential reference stereo preamplifier. It features a phono preamp that's reference quality, and it's fully balanced from ins to outs. Bass management, remote control... this is a fully featured reference stereo preamp. This product is actually shipping right now and it retails for $899.  We don't know of any other two-channel preamp at even close to this price with this feature set.
In the rack (and driving the demo room) Emotiva was demonstrating its UMC-200 which is the company's entry level 7.1 processor. This is an Ultra Series processor and it features full automatic room correction, fast HDMI switching, HDMI CEC, ARC, integrated Bluetooth for your iPod or smart phone... and it was all coupled with the UPA-7 Multi-channel Power Amp,. The pair can be purchased for under $1000 with the typical Emotiva deals you see. This is true receiver-killer and a great setup.
Emo drove their system with X-Ref speakers. The XRT-6.2 towers, X-Ref subwoofer and XRC-6.2 center and X-Ref surrounds.
They were basically showing what you can get from a sub-$1000 front end, an inexpensive Blu-ray player and an Epson LCD projector & screen. All-told, we think this was a great example of a really affordable yet powerful A/V system.
Confused about what AV Gear to buy or how to set it up? Join our Exclusive Audioholics E-Book Membership Program!
Recent Forum Posts: