Denon 2005 Summer Conference - S-Series Home Theater Systems
Denon 2005 Summer Conference - S-Series Home Theater Systems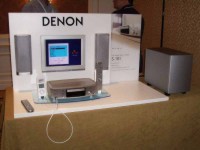 As the home theater-in-a-box market continues to grow (for example, it showed $800 million in sales this year as opposed to $450 million in sales for A/V receivers) it is apparently clear that consumers are  very interested in small form factor 2-channel and home theater systems. Denon is addressing this market in full force with its new S-Series home theater pre-packaged systems.
The design targets are simple:
remote control that is simple, yet extensive (dual functions for "daytime" and "power" users)
key lighting for ease of use and function feedback
activity-based menu system for allowing user control over device functions in an interactive, dynamic way
inviting, intuitive controls
The first two systems developed by Denon in the S-Series are the S-101 and the S-301. The S-301 features an acrylic and aluminum front face, round form factor on all sides, "sexy" blue lighting accents, and an arched appearance for style and compactness.
In appearance, the S-101 differs only in color, lack of acrylic facia materials and orange illumination in lieu of blue.
The speakers are slim and designed to produce excellent sound for both movies and music. The goal was to make this a well-rounded system that outperforms, as well as out-functions the competition.
Some very notable features (a complete list and comparison chart is below):
The 8" subwoofer enclosure contains all amplification and connects to the main unit via a single DB25 "umbilical" (which also supplies power to the main unit). As a result, the sub module is the only component that needs to be supplied power
The S-301 has a perforated aluminum grill while the S-101 has a fabric grill
An aluminum shelf speaker stand as well as a wall bracket are included (the wall bracket stands the speaker off from the wall to a depth equal to the majority of plasma displays)
The speaker connector is upgradable and can be removed with an included key. Aftermarket or extended length wire can be used by installers, though speaker wire is included in the system
There are four (4) wires total to connect the entire system
The unit is designed to function under the principal of "1-key operation"
The S-301 includes HDMI 1.1 and SACD/DVD-Audio playback capability as well as Faroudja processing for upconversion of inputs to 480p (HDMI supports OSD, but does not upconvert composite or s-video input)
The S-301 essentially has a built-in DVD-2910, including AL24 processing and dual 216 MHz video DACs
Remote control is pre-programmed to handle all known satellite and cable TV boxes (including SA and Motorola)
Both units can control and pass audio and video from a connected iPod (see below)
iPod Connectivity
The S-101 and S-301 also add some incredible iPod functionality. It includes control and command of iPods through the use of a proprietary cable (included) and will put the iPod data on the screen (looks just like a full-color representation of what you would see on the iPod). The iPod will even charge while plugged into the systems. The cable does perform digital to analogue conversion - this was necessary in order to comply with Apple's DRM needs. If you use an iPod Photo you will get pictures along with any soundtrack you wish to play along with it - all through the cable. Remember, the remote control is able to control the iPod at this point - this is VERY cool. The system works with 3rd or 4th generation iPods or iPod Minis. You can simply use the mini stereo plug (included, no remote control or charging obviously) for older units.
Without any further ado... here is the full feature chart for the two units.
2005 S-Series Feature Chart
Feature

S-101

S-301

Availability

July '05

August '05

SRP

$999

$1599

Finish/Front Display and Key Lighting

Bright Silver/Orange

Dark Silver/Cool Blue

Front panel construction

Aluminum Plate

Solid Aluminum/Acrylic

Power Output; Watts per Channel into 2ch

50

70

Subwoofer Amplifier Power

100

140

Dolby Virtual Speaker Decoding

Yes

Yes

Dolby Headphone Decoding

Yes

Yes

Dolby Pro Logic II Decoding

Yes

Yes

dts Decoding

Yes

Yes

WMA9/MP3 Decoders

Yes

Yes

HDCD Decoder




Yes

AL24 Processing for Stereo/Direct Modes




Yes

Analog Devices SHARC 32-bit DSP

Yes

Yes

JPEG/Kodak/FujiFilm Photo Viewer

Yes

Yes

CD/Video CD/CD-R/RW

Yes

Yes

DVD-R/RW, +R/+RW Conditional

Yes

Yes

SACD and DVD-Audio Multi-Channel Decoder - DVS applies on top for 2.1 playback




Yes

Progressive Scan DVD Player - 480p only

Yes




Progressive Scan DVD Player featuring DCDi Engine by Faroudja FLI-2310




Yes

HDMI Output with selectable scaling - 480p/720p/1080i




Yes (1)

Video D/A Converter

Integrated 10bit/54MHz

Dual 12bit/216MHz

ADV-7314

Video Conversion to Component

Yes

Yes

Video Conversion Composite to S-Video and down

Yes

Yes

Composite Video Inputs

2

2

S-Video Inputs

2

2

Composite/S-Video/Component Outputs

1 each

1 each

Analog audio inputs

3 (including mini-jack)

3 (including mini-jack)

Digital Inputs

1 Opt, 2 Coax

1 Opt, 2 Coax

Digital Outputs

1 Optical

1 Optical

Analog to Digital Conversion - Burr-Brown PCM-1803 (24-bit/96-kHz)

Yes

Yes

iPod Proprietary Input (Cable supplied)

Yes

Yes

USB Input for Portables/Flash Players




Yes

Analog Mini-jack input for portables

Yes

Yes

56 Station Tuner Presets

Yes

Yes

RDS - Radio Data Services

Yes

Yes

On Screen Help Menu with System Setup

Yes

Yes

Advanced Setup Option Available

Yes

Yes

DSP Controlled Boundary Gain Compensation - auto adjusts by speaker placement (On wall, shelf, etc)

Yes

Yes

Headphone Output

Yes

Yes

Night Mode

Yes

Yes

Cinema EQ - adjustable to compensate for different Room Acoustics

Yes

Yes

RS-232C Port - Third Party Control




Yes

+12v Trigger Output




Yes

Remote In/Out Ports




Yes

Preprogrammed Dual Faced Design Remote with Main Function Glo-Keys

Yes

Yes

Remote Control Dimensions (mm) Width/Height/Depth

50/233/19

50/233/19

Center Unit Dimensions (mm) Width/Height/Depth

380/97/250

380/97/250

Denon Original Speaker Cable/Connector - Cable can be upgraded

Yes

Yes

Denon Original Cable - Center Unit to Sub

Yes

Yes

Main Speaker Configuration

2 way/2 drivers

2 way/3 drivers

Mid-Bass Driver Compliment, per cabinet

3.5" x 1

3" x 2

Tweeter Compliment, per cabinet

.75" Polymide x 1

.75 Soft Dome x 1

European Design and Tuning

Yes

Yes

Main Speaker cabinet material

Metal Compound Mold

Metal Compound Mold

Main Speaker Baffle material

Mold with Fabric

Aluminum/Punched Metal

Main Speaker Magnetic Shielding

Yes

Yes

Main Speaker Frequency Response

80Hz-30kHz

80Hz-30kHz

Main Speaker Dimensions (mm) Width/Height/Depth

133/335/76

133/335/76

Subwoofer Diameter

8"

8'

Subwoofer Cabinet Material

MDF

MDF

Subwoofer Magnetic Shielding

Yes

Yes

Subwoofer Dimensions (mm) Width/Height/Depth

236/370/485

236/370/485
There is so much to say about this units. Take special note (above) of RS-232C support as well as 12V trigger output for the S-301. The S-301, in addition to iPod functionality can control a Rio or other portable USB-based players or flash devices through the inclusion of a USB port that will also charge the unit while connected. SImply connect the device and the S-301 can navigate the content with its on-screen display. The remote functions automatically control the playback of the device contents.
These pictures show you some of the compatibility and flexibility of these new systems. This home theater product is designed to go head to head with a certain name brand product that you would probably recognize. Just in terms of appearance, features, flexibility, and ease of use I believe it could stand to alter the marketshare numbers significantly.
Confused about what AV Gear to buy or how to set it up? Join our Exclusive Audioholics E-Book Membership Program!