Planter Speakers - That Sound Good!
Planter Speakers - That Sound Good!
Filed under: Loudspeakers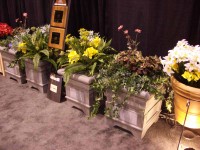 Planter speakers
This year at EHX, Madison Fielding introduced the "world's first environmentally correct" outdoor speakers. Made from five year renewable Maine White Cedar and hand crafted in the United States, their speakers made the statement that you can design and build great products while at the same time conserving natural resources.
I know that this is what most of my friends think about when selecting loudspeakers... OK, maybe not - but these speakers are cool nevertheless.

Madison Fielding claimed that their classic lattice work white cedar planter and architectural speakers have a very natural musical sound and a design that blends seamlessly into any outdoor setting while rendering the actual speakers transparent to the eye.
Model

Mini Flagstone

Flagstone
Speakers

1" soft fabric dome diaphragm tweeter, 4" midrange, 8" poly rubber edge subwoofer

(Note: Special order for 180o sound. Includes additional midrange and tweeter)

1" AUDAX dome tweeter and 4" midrange, 10" Madison Fielding subwoofer
(Note: Special order for 180o sound. Includes additional midrange and tweeter)
Frequency Response

40Hz to 15kHz +/- 3dB

35Hz to 20kHz +/- 3dB
Power Handling

125 Wrms

150 Wrms
Recommended Amplifier Power

50 to 125 Wrms

5O to 150 Wrms
Sensitivity
89 dB - 1W/m

89 dB - 1W/m
OHMS

8-ohms

6-ohms
Crossover

12 dB - 3 way
type Butterworth

12 dB - 3 way
type Butterworth

Dimensions
21" H x 20" W x 20" D (w/top)
23" H x 22" W x 22" D (w/top)
Weight
50 lbs (ea)
65 lbs (ea)
Suggested Retail Price

$2250.00 (pair)

$2995.00 (pair)