MB Quart Ships Zurich Series Loudspeakers
MB Quart Ships Zurich Series Loudspeakers
Filed under: Loudspeakers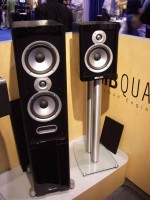 MB Quart Zurish Loudspeakers
MB Quart announced immediate availability of its Zurich Series of value-driven loudspeakers systems. Comprising MB Quart's new Zurich Series are In-Room, In-Wall and In-Ceiling audio solutions for custom built-in home-theater systems. The Zurich Series offers 10 models which include powered subwoofers, In-Wall and In-Ceiling designs, and at the opposite end of the spectrum, in-room floor-standing tower-style and a bookshelf loudspeaker. Designed to complement other MB Quart speaker products with a balanced timbre, the new Zurich Series offer upgrade sound-quality, high-efficiency and high ease of installation
MB Quarts Zurich Series offers matching powered subwoofers in 200-Watt D-Class 10-inch and 300-Watt D-Class 12-inch designs. The 10-inch ZSW 10 powered sub has an MSRP of $599.95 and the larger version, the powered 12-inch ZSW 12, will be introduced at $699.95.
Leading the Zurich line-up are three in-room speakers, a large tower, a small bookself and a center-channel speaker design. All Zurich Series speakers will be offered in a satin black wood grain cabinet finish. The top Zurich Series floor standing tower model, the ZF-1, is $449.95 MSRP each, followed by the smaller ZF.5 tower design, available at $299.95 MSRP. The matching Zurich center-channel loudspeaker, the ZFC, retails for $299.95 MSRP.
The installer friendly In-Wall & In-Ceiling Zurich Series loudspeakers are the entry level designs of MB Quart's new line-up. Uniquely, the enclosed Zurich In-Walls and In-Ceiling designs offer the ability to "get smaller" simply by removing part of the speaker back-box. This feature solves many installer problems when working in the unknown confines of a retrofit home.
MB Quart Zurich Series products are top-performing value In-Wall and In-Ceiling speaker systems. All Zurich two-way In-Wall and In-Ceiling speakers feature the removable back-side enclosures. Available in 5-¼", and 6-½ -inch designs, the new In-Wall Zurich ZUR 5.25 IW's are $129.95 MSRP each, the larger Zurich ZUR 6.25 IW's are $149.95 each MSRP.
The new Zurich In-Ceiling speakers are available in both 5-¼", 6-½ -inch In-Ceiling designs. There are two 6-½ -inch In-Ceiling speakers , one conventional and the other a dual-input dual-mono design The new Zurich In-ceiling ZUR 5.25 IC's are $129.95 MSRP each, and the Zurich ZUR 6.25 IC's have an MSRP of $159.95, while the ZUR 6.25 IC' DMs have an MSRP of $169.95.
For more information please visit www.maxxsonics.com.