Impact Acoustics 6x2 Component Video Matrix Switcher
Impact Acoustics 6x2 Component Video Matrix Switcher
Filed under: Miscellaneous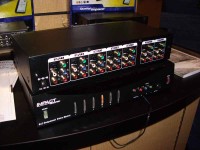 6x2 Component Video Matrix Switcher
Impact Acoustics launched a brand new 6x2 matrix routing switcher at the 2007 EHX show. The box allows you to route any of six source devices to either (or both) or two TV/monitors. With this box users could connect DVD players, cable boxes, gaming consoles, satellite boxes, and more and allow simultaneous or discrete output to two displays (like a projector and flat panel television).

The Component Video Selector offers six component video inputs, six stereo audio inputs, and six optical TOSLINK inputs. The selector can switch all of these inputs to either of the two outputs. It also comes complete with an infrared remote control that features discrete commands (including discrete power commands) to make programming complex macros into universal remote control systems a much easier process.
Features & Specs
Component video inputs: 6 (5 rear, 1 front)
Component video outputs: 2 (rear)
Analogue Audio Inputs: 6 (5 rear, 1 front)
Digital Audio Inputs: 6 TOSLINK (5 rear, 1 front)
Analogue Audio Outputs: 2 (rear)
Digital Audio Outputs: 2 (rear)
Compatible with all interlaced or progressive scan analogue component video signals
Video bandwidth: 300MHz

Dimensions: 13.5" x 7" x 2.5"
Weight: 4 lbs
For more information please visit
www.impactacoustics.com
.