Gefen Home Theater Scaler
Gefen Home Theater Scaler
Filed under: Miscellaneous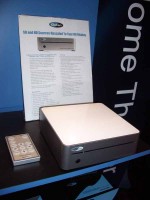 Home Theater Scaler
At EHX, Gefen demonstrated a new Mac Mini-lookalike scaler (there are three in the series) that allow different video sources access to the same HDTV display through a single interface. Each one enables multiple audio/video sources to be connected to the same display at the same time with users switching between them via IR remote. All three allow up/down video scaling in all HD resolutions ranging from 480i up to 1080p for the most gorgeous visuals available today, regardless of your interfaces. And all three perform a seamless analog to digital conversion of audio and video signals so you don't have to worry about format conversion.
The Gefen HD Mate Scaler ($399) combines computers and HDTVs for the ultimate home entertainment system. It comes equipped with DVI video and TOSlink audio input, and two component video and RCA audio inputs. A DVI signal is outputted, with separate digital and analog audio outs, delivering pristine HDTV resolutions up to 1080p with mirrored audio in both formats.

The Gefen Home Theater Scaler ($449) connects different HDTV sources to any display or projector equipped with HDMI. It supports two HDMI inputs each with TOSlink and S/PDIF audio ins, and two component inputs each with RCA audio ins. Each source is output in HDMI format, with mirrored audio in S/PDIF and TOSlink formats. Analog audio is digitized before output, and HDCP compliant resolutions are supported up to 1080p.
The Gefen Home Theater Scaler Plus ($499) offers an ideal solution for gamers, allowing composite/s-video, component and two HDMI inputs, each with complimentary audio ins, to be output to any HDMI display. It scales HDTV resolutions up to 1080p and incorporates audio delay compensation to match lips-sync of video and audio automatically.
Product Matrix
| Product/Model | Price | Ship Date |
| --- | --- | --- |
| HD Mate Scaler | $399 | Current |
| Home Theater Scaler | $449 | Current |
| Home Theater Scaler Plus | $449 | End of March |
All of Gefen's new Scalers are available to order online at
http://www.gefen.com
where detailed information on the scaling solutions may be found.