Demo Alley - RBH Sound, Auralex, projectiondesign and Screen Research
Demo Alley - RBH Sound, Auralex, projectiondesign and Screen Research
Filed under: Editorials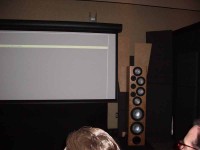 RBH Sound T-30LSE
As with all EHX Expos, Demo Alley is a chance to see some major manufacturer's products in action. There were several rooms we checked out, and some we were very impressed with. The best way to cover this section of the show is to go, room by room, through the experiences we had.

RBH Sound, ADA, Auralex, projectiondesign, Screen Research and Tributaries
On the corner was the first conglomerate of companies, led by RBH Sound and ADA (Audio Design Associates). RBH had an impressive demo -  attendees  voted them the Best Overall demo (which I  personally agreed with with respect to sound quality).
The demo utilized RBH Sound's new T-30LSE speakers along with 66-SE/R hybrid dipole/bi-pole surrounds. Powering the biamplified main speakers were RBH Sound's SA-400s (for the bass) and a gigantic ADA amplifier for the mids and tweeters. ADA also made up the rest of the electronics. All told, according to Daren Egan, RBH Sound's VP of Marketing, around 3400 Watts of power were available to power the dynamics of the system.

Screen Research supplied an acoustically transparent screen and Tributaries provided the cable jewelry for the system. Projectiondesign contributed an Action! model three 1080 projector and demos were initiated from a PC system.

The Demo
Drum Line
This demo featured excellent tactile response mixed with crisp, tight "sticking" sounds as the drum line snapped out their performance on teh front snares and accompanying bass drums.
James Bond: Die Another Day
In this demo, we were treated to heavy use of the diffuse surrounds which enveloped the room as bullets and richochets flew around the 3D soundstage. The effect was astonishingly convincing. In the scene we witnessed, hovercrafts and explosions could literally be felt through the floor. There were other demos, however we'll stop here lest we go on forever...
While we loved the audio demonstration, we did note that the projectiondesign Action! model three 1080(p) DLP projector exhibits very pronounced rainbow effect during the demo. Typically I allow for a certain amount of RBE in a DLP system, however the projectiondesign system was so bad that a mere glancing of the eyes across even 1/3 of the screen width on  just about any scene resulted in rainbows. I could hope the system was somehow faulty, but it appeared to simply be an effect of the particular optical system utilized in this projector.