Demo Alley - JVC Professional Products
Demo Alley - JVC Professional Products
Filed under: Editorials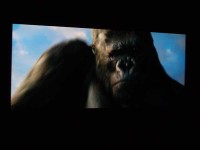 King King HD DVD
By far the most impressive video demo to me was JVC's demo of their new DLA-RS1 1080p LCOS projector. This is the one of the best pictures I've ever seen and the projector costs only $6295 (MSRP). At this price it's by far the best picture I've seen under $10,000.

JVC had two systems configured - and there was no audio system to distract from the viewing. The "Mac Daddy" system included a Schneider anamorphic lens which took the native 16:9 anamorphic 2.35:1 edition of King Kong and stretched it to fit the full cinematic screen. The effect was a tremendously crystal clear picture that looked absolutely amazing. A $3000 Silicon Optix video processor made sure that the scaling was pixel perfect.
The secondary system sported the idential projector, but without the video processor or Schneider lens. The picture was still pretty good and indeed, sollidified the fact that this is one projector that should be seeing the inside of a lot of theaters this year.
The DLA-RS1 incorporates JVC's D-ILA chip technology in a 3 panel design, eliminating the color separation and "rainbow" effects found in competing technologies. Each of the three D-ILA chips has a native resolution of 1920 x 1080 allowing the projector to fully display a full HD 1080p signal without scaling. JVC's new optical design provides a native contrast ratio of more than 15,000 to 1.
The DLA-RS1 can be used in a variety of room environments due to its adjustable 80% vertical and 34% horizontal shift lens. The manual zoom lens has a range of 1.4:1 ∼ 2.8:1, making it suitable for screens up to 200 inches wide in a typical home theater. The projector is finished in a sleek black cabinet with a non-reflective front panel to eliminate light reflections onto the projection screen.
The DLA-RS1 is equipped with an HDMI input and accepts full HD 1080p signals provided by Blu Ray and HD-DVD players. Component and analog inputs are also provided. The unit can be externally operated by popular home theater automation contollers via its RS-232 port.
Projector Specs
Native 1920 x 1080 resolution
D-ILA™ New Three Chip technology
15,000: 1 High Contrast Ratio without using Iris by new optical engine
Outstanding Gray-scale reproduction
Wide Lens Shift Range (V: 80%, H: 34%)
Zoom Lens with 2 times Throw Ratio (1.4:1-2.8:1)
Various Input Signals (2xHDMI, Composite, S-Video, Component)
Low Fan Noise only (27dB)
RS-232C
Sleek black cabinet with black non-reflective front panel
For more information, please visit pro.jvc.com.