Demo Alley - AIX Records (iTrax), Intel, HDSMA & B&W
Demo Alley - AIX Records (iTrax), Intel, HDSMA & B&W
Filed under: Editorials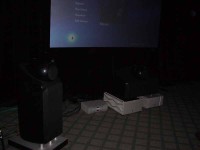 In checking out the AIX Records demo we were greeted to Dr. Mark Waldrep's own 5.0 "full-range" B&W 800-series system which he uses to mix his high-resolution, dynamic tracks. Boulder provided the amplification and power was available in spades. Mark has been a friend of ours ever since I was able to spend some time with him and his wife Mona on the 2005 Home Theater Cruise. His mixes are some of the most clean-sounding, uncompressed tracks we've ever heard and it's nice to see a recording and mix engineer dedicate himself to the pursuit of higher-quality music.
The demo included several tracks Mark utilized to demo his vision for high resolution music. His emphasis was on the need for a better and more future-proof delivery method. After all, he has the digital uncompressed files - tehy just need to get into the hands of users. As with most inventions, necessity caused him to innovate - and iTrax was born. iTrax is an online site Mark is developing where people will be able to purchase and download uncompressed files for their HTPC systems.

These demos were queued up on a Inteset HTPC running Windows XP Media Center Edition. This allowed Mark to browse and play his collection fo DVD-Audio mixes in both Audience and stage mix perspective (he typically provides both on his DVD-Audio discs.)
Mark also played a few HD videos mastered in 720p and Runco was running its new 1080p DLP model which provided an excellent picture on the Stewart Luxus Deluxe projector screen.