Yeah, We Do That Too
Filed under: Editorials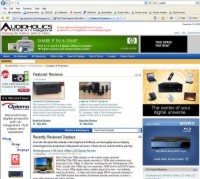 This year at CES marked just another "rung" in our ladder towards what we're casually calling Audioholics 2.0 . We've now assembled what we comically refer to as "The Dream Team" - myself, Gene DellaSala, Tom Andry, Tony Leotta and J. Walker Clarke and Eric Shelton. With this team of guys we're really able to cover a ton of ground at these shows and provide a tremendous amount of information to our readers about a lot of products. We also do it in a ridiculously short amount of time (sleep is SO overrated!). It's not perfect, of course - and we can't report on everything - but we do a fair amount of work and we can only get better.
As for Audioholics 2.0 - we'll, let's just say that it's coming along nicely and will be rolling out in various sections starting around February. To summarize - we're adding a lot of great new features and making it a lot easier to access information, support and tools to help anyone with their love of home theater. With regards to CES, Audioholics 2.0 led us to introduce videos into our 2007 show coverage. This is the first time we've done this, and we intend to keep it light, portable and fun. There are plenty of high-end, industry giants bringing 50-pound camera rigs with lighting and fashion models. Our approach is a lot more casual and geared towards being... well, more interesting. We're excited about this stuff and it should show. If readers want sterile news reporting they can call up their local CBS station or go to some of the other websites. We're going to have a bit more fun. The downside is you may not have scripted audio and the lighting may not be perfect - but we'll guarantee there will be a decent amount of information mixed in with plenty of entertainment value.
This approach, of course, won't be limited to just live show coverage. Audioholics is introducing video into other aspects of the new website. We'll be providing new and engaging content that focuses on setup tips and breaking down some of the more confusing topics associated with audio and video installations. Far from the stale "here is the product X, isn't it pretty" reporting found elsewhere, Audioholics is planning a more interactive approach. We're not boring people ourselves, and this isn't a boring industry - why should our videos be any different?
Back to CES. As we brought together audio and video for the first time, look for future trade shows to more handily integrate this content together - making it very easy to access video footage of products we're providing information on. Some of this content will be entertaining and irreverent - but all of it will be engaging and informative. This is 2007 and the Internet is no longer a place where static and one-way content is going to be "good enough" for what we feel is required in this industry.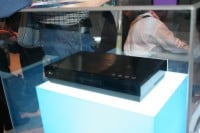 But what about this particular show? Well, we saw lots of great things. Obviously LG's new hybrid "Super [Duper] Multi Blue" player was one of the talks of the show. With a very small amount of information, however, we're hoping it doesn't turn out to be a lot of buzz over nothing. If the price is right and the quality is there we may have a winner. Tom fell in love with a portable speaker system from Yamaha. It's powered by the USB bus thanks to a charge capacitance style power supply - no external DC power needed. And it has 20 watt peak capability per channel - meaning it was loud and dynamic enough to easily be heard on the show floor. Don't have a PC to power it? No problem, it also runs on AA batteries and loses all its wires completely. Gene, of course, went bananas over the Denon separates - largely because we've been bugging them to make them for over 2 years. Now that they exist - and the specs are absolutely off the charts - this is one set of products Gene will be dreaming about until the ~May release. The rest of the A/V enthusiast community should be ecstatic as well since many of these new features will be quickly trickling down through the rest of Denon's line over the next year. Tony really enjoyed the Philips amBX gaming system that blew air at you and provided backlighting to further immerse users into the game experience. He also dug the Panasonic BL-PA100 HD-PLC Ethernet Adapter which allows wired access points around your home or office via the power system. Plug it into an outlet on one end, and another unit into an outlet somewhere else and you can run a network without running any cables! Jay really dug the Terk Ultra Wide-Band (UWB) Wireless HDMI Transmitter. If they can pull off sending HDMI 1.2a to a display wirelessly at up to 10 meters this is sure to be one of the big hits of the year - especially at only $299. Eric was captivated by Westinghouse's platform-independent 22-inch 3D gaming monitor (pre-release and as of yet unnamed). It doesn't rely on special application development to deliver realistic 3D gaming, but simply provides drivers to control OpenGL and Direct3D compatible graphics. All you need is a video card with dual outputs (just about all of them on the market support this) and you're ready to don your polarized glasses and get started. We all saw it in action and it's very cool - especially since it reverts back to 2D at the touch of a button.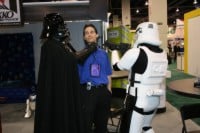 But what was the best item at the show? By far it had to be Nikko's 2/3-scale R2-D2 projector/AV system. The robotic Artoo is the perfect enthusiast's toy and is controlled from a Millenium Falcon remote with sound effects and realistic detailing. It moves, it projects (wall or ceiling), docks your iPod, allows users to connect up a video gaming system, makes sound effects, and even has rechargeable batteries for up to 3 hours of use (the projector and MP3 playback require the R2 unit to be plugged in). Of course, having Darth Vader and a Stormtrooper in full Lucasfilm-licensed costumes also helped drum up excitement at the booth.
This show was fun - and we're even more excited about what's to come. Now if you're chomping at the bit to learn more, just realize that we're releasing more information as quickly as we can - and in a way that doesn't "jump the gun" too soon on what we feel are some very exciting new developments.