Westinghouse L2410NM 24
Filed under: Televisions & Displays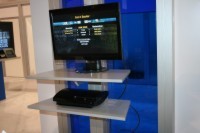 Westinghouse sported a complete new line of high-end LCD computer monitors, but their 24" model attracted our attention immediately. Some of the Westinghouse-specific technologies include: AllGlass design that incorporates a minimal bezel, HD-Grade panels that utilize high-quality HDTV glass and DayBright panel technology for more flexible daytime or nighttime viewing.
The 24" L2410NM (Available January 2007; MSRP $699) is aan attractive multifunction monitor designed to bring elegance and sophistication to the desktop or home office. The main specs are:
1920 x 1200 resolution
16:10 (8:5) aspect ratio
1000:1 contrast ratio
6.5ms response time (gray to gray)
Ultrawide 175-degree viewing angle
Multi-function monitor with HDMI-HDCP, YPbPr (with audio), CVBS/s-video with audio, PC/VGA with audio input
For more information please contact www.westinghousedigital.com .